Jury finds Paul Burks guilty on all counts (Zeek Rewards)

Paul Burks trial has concluded, with a jury finding him guilty on all four indictment counts.
He faces up to 65 years in prison and a $1 million fine. U.S. District Judge Max Cogburn will sentence him at a later date.
After all those delays, all those nonsensical filings and all the weak arguments about Zeek Rewards not being a Ponzi scheme… turns out of course it is. And Paul Burks is wholly responsible.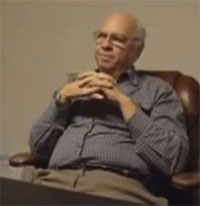 After a trial lasting just over two weeks, it took a jury about three hours to return a unanimous guilty verdict.
Burks had only a few days ago filed a motion seeking acquittal on the tax fraud count, which is presumed to have been denied.
At 67, any sentence imposed by Judge Cogburn will see him spend the rest of his natural life behind bars.
A fitting end to the mastermind of one of the largest MLM frauds in history.
Over at the defense table, Burks sat low in his seat. He wore a dark gray suit and hearing aids.

While (the prosecutor) described him as "pretty slick" and "pretty smooth," the partially bald and gray-haired businessman stared straight ahead.
Taking to the stand himself, Burks described Zeek Rewards as
a runaway train … with more activity and craziness than I could possibly even imagine.
As to the whole Zeek Rewards paid out 50% of its revenue argument, Burks' attorneys argued
ZeekRewards paid out more than half the $939 million it generated.

Burks never intended to cheat anyone. Mistakes in judgment don't make up fraud.

In his heart and in his mind, he must intend to defraud. That's not what the facts show.
The prosecution however were having none of it.
Every fraud has a fairy tale. ZeekRewards (was) a "simple flim-flam" that, fueled by greed and the internet, "got out of hand."

While ZeekRewards did pay out hundreds of millions in earnings, its actual obligations were more than $3.3 billion.

Burks and his co-conspirators had no choice other than to use the payments from new investors to pay off the old.

Meanwhile, ZeekRewards kept promising that "everybody wins. Only 12 percent of the investors did.
In a statement issued following the guilty verdict, U.S. Attorney Jill Westmoreland Rose said;
"For nearly two years, Burks used deceit and dishonesty to engineer an extensive Ponzi scheme that amassed millions of dollars from thousands of victims, many in the Western District.

This massive scam is one of the largest in breadth and scope ever prosecuted by this office. I want to remind the public to steer clear of 'get rich' schemes.
Here at BehindMLM we began tracking Zeek Rewards in 2011. In our September 21st review of Zeek Rewards, I concluded that there was little about the scheme's business model that made sense.
A followup published two days later examined the investment nature of the business. As far as I know, BehindMLM was the first to go public with a detailed synopsis identifying Zeek Rewards as a Ponzi scheme.
And boy was the backlash from the MLM industry turbulent…
Five years, one hundred and sixty-seven articles and thousands of reader comments later, the closure Paul Burks' guilty verdict brings is certainly satisfying.
As at the time of publication a sentencing date has yet to be scheduled. Burks remains free on bond in the interim.
Stay tuned…