Dawn Wright-Olivares pleads guilty to fraud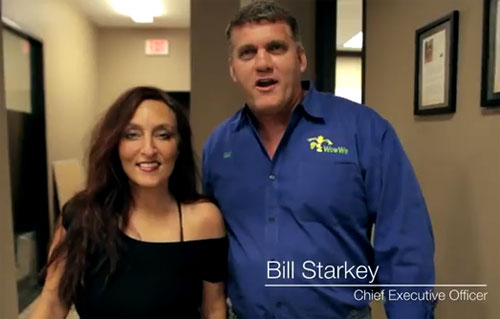 When I approached Dawn and her team to come on board with iWowWe, I did so because they are the absolute best in the industry and broke every record in MLM history. I was honored to meet her and am THRILLED that they came on board with iWowWe.

Cases like these are how innovative business models get worked out. That doesn't mean there was any "wrong-doing", regardless of the final outcome.

Bottom line: I've known Dawn and seen her work for years. She's a brilliant — BRILLIANT — marketer, with first-hand experience in the increasingly challenging regulatory environment, and that's why I hired her.

Bill Starkey, iWowWe CEO defending his decision to hire Dawn Wright-Olivares in June 2013

It was widely believed that criminal charges in the Zeek Rewards Ponzi aftermath wouldn't be laid until the civil action had concluded, but yesterday the SEC filed a surprise criminal suit against Zeek's Dawn Wright-Olivares and stepson Daniel Olivares.
"(Dawn) Wright-Olivares was a marketing and operational mastermind behind the scheme and Olivares was the chief architect of the computer databases they used," said Stephen Cohen, an associate director in the SEC's Division of Enforcement.

"After they learned ZeekRewards was under investigation by law enforcement, they accepted substantial sums of money from the scheme while keeping investors in the dark about its imminent collapse."
Despite the public facade the company put on in its final days, with plans to push ahead with a gala affiliate event in full swing, the SEC's comments paint a picture of desperation to squeeze as much money out of the company's all too willing affiliate-base.
Wright-Olivares had noticeably disappeared from the public eye in Zeek Rewards' last months, I guess counting all that invested affiliate money she was depositing into her own bank account became a full-time job.
The SEC alleges that Wright-Olivares served as the chief operating officer for much of the existence of ZeekRewards.  She helped develop the program and its key features, marketed it to investors, and managed some of its operations.  She also helped design and implement features that concealed the fraud. 

Olivares managed the electronic operations that tracked all investments and managed payouts to investors.  Together, Wright-Olivares and Olivares helped perpetuate the illusion of a successful retail business.
The attempts to mask the Ponzi nature of Zeek Rewards are well-documented on this site. With the help of BehindMLM's readerbase, I followed Zeek Rewards for eleven months before the SEC shut them down.
With most of the MLM industry cheering Zeek Rewards on (what little criticism was made within the industry was rarely public pre-shutdown), this was no easy task.
Even today there remain staunch supporters of Zeek's executive management, as evidenced by Bill Starkey's comments above. Today Wright-Olivares name does not appear on the iWowWe website and the YouTube video announcing Starkey's hiring of her has been marked "private". Whether Wright-Olivares and "her team" still work at iWowWe is not clear.
In anycase, for her part in orchestrating the biggest MLM Ponzi scheme the industry has seen to date, Dawn Wright-Olivares was charged by the US Attorney's Office with investment fraud conspiracy and tax fraud conspiracy.
She plead guilty.
The defendant agrees to enter a voluntary plea of guilty to Counts One and Two as set forth in the Bill of Information, and admits to being in fact guilty of securities fraud conspiracy as charged in Count One and tax evasion as charged in Count Two.
In pleading guilty, Wright-Olivares accepts that
the statutory minimum and maximum sentences for each count are as follows:

Count One (securities & wire fraud conspiracy): a maximum term of five (5) years imprisonment, $250,000 fine, or both, and no more than three years supervised release.

Count Two (tax fraud conspiracy): a maximum term of five (5) years imprisonment, $250,000 fine, or both, and no more than three years supervised release.
She hasn't been sentenced yet, but is bound to the conditions of her plea agreement, under penalty of having the above sentenced increased.
The Defendant understands that the statutory maximum for the offenses of conviction (120 months) recognizes the cooperation she has and will continue to provide to the United States which is a material term of this plea agreement.

If requested by the United States, but only if so requested, the defendant agrees to cooperate with the United States, including but not limited to the following:

a. The defendant will provide truthful information about the subject charges and about any other criminal activity within the defendant's knowledge to any United States agent or agency that the United States designates.

b. The defendant will testiff truthfully in any trial, hearing, or grand jury proceeding, including, but not limited to, testimony against any co-defendants, as the

United States designates. Should the defendant testiff at the request of the United States, the defendant hereby waives payment of any witness fees or expenses.

c. The defendant will be reasonably available for debriefing and pre-trial conferences as the United States may require.

d. The defendant will provide to the United States all documents or materials of any kind in the defendant's possession or under the defendant's care, custody, or control relating directly or indirectly to all areas of inquiry and investigation.

e. The defendant understands that the United States desires only truthful and accurate information and testimony and, in fact, that knowingly giving false information or testimony can be prosecuted as an additional criminal offense.

f. The defendant will not violate any federal, state, or local law, or any order of any court, including any conditions of pretrial, pre-sentence, or post-sentence release.
There's a bunch of other conditions in the plea agreement, but those are the main take aways. In summary, Wright-Olivares has to take off the batman cape-shawl and squeal on everyone else involved in Zeek.
As a result of Wright-Olivares co-operation, the following sentencing suggestions have been filed, as agreed upon by both parties:
The amount of loss related to Count One is in excess of $400,000,000. In light of the loss amount and the statutory maximum for the offenses of conviction (120 months), the parties have not determined the portion of the loss that was known to or reasonably foreseeable by the defendant.
120 months puts us at the full 10 years in jail, but again it's ultimately up to the courts to accept this sentencing suggestion. Wright-Olivare's cooperation might result in the US Government recommending a reduction in sentence, but again that's up to the courts.
In addition to jail time, further restitution (payment to Zeek Rewards victims) is also on the cards (to be determined at a later date).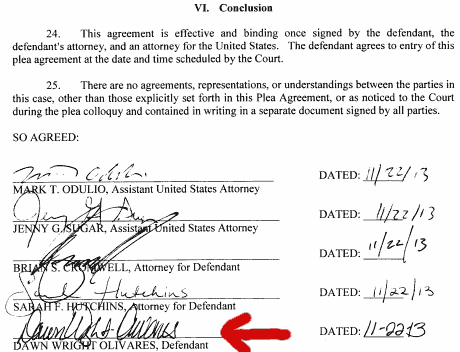 Daniel Olivares has entered into a similar plea agreement, however he's only up for securities fraud conspiracy ($250,000, five years jail time).
On top of the criminal charges filed by the North Carolina US Attorney's Office, Wright-Olivares has already agreed to settle charges filed by the SEC.
The SEC's complaint charges Wright-Olivares with violating the registration and antifraud provisions of Sections 5 and 17 of the Securities Act, and Section 10 of the Exchange Act and Rule 10b-5.

The complaint charges Olivares with violating Section 17 of the Securities Act and Section 10 of the Exchange Act and Rule 10b-5.  To settle the SEC's charges, Wright-Olivares agreed to pay at least $8,184,064.94 and Olivares agreed to pay at least $3,272,934.58 – amounts that represent the entirety of their ill-gotten gains plus prejudgment interest.

Payments will be made as part of the parallel criminal proceeding in which additional financial penalties could be imposed in a restitution order.
With all of the restitution added up on top of the settlement charges (plus interest), I think it's pretty clear that neither Wright-Olivares or her family are going to walk away with from this with any profit.
How that works legally I'm not sure (there's only so much they can pay back before there's literally nothing left), but it'll be interesting to see play out.
As far as I know nothing has been filed yet on Paul Burks, but you know it's coming. As evidenced by Dawn Wright-Olivares plea agreement being signed in late November, there's a delay in proceedings and when they are made public.
Looking at the full co-operation demanded of Wright-Olivares, if I had to guess it looks like they're going to dig up as much dirt on Burks' personal involvement in Zeek Rewards before criminal charges are eventually filed.
Can you hear the thunder, Mr. Burks?
Footnote: Details on the Dawn Wright-Olivares settling SEC civil charges are up on the SEC website, plea agreements were sourced from DigTriad.
Update 28th October 2015 – Dawn Wright-Olivares was scheduled to be sentenced yesterday, but apparently the hearing has been postponed.
Sentencing for Dawn Wright-Olivares, a former Zeek Rewards' executive who pleaded guilty in February 2014 to investment-fraud conspiracy and tax-fraud conspiracy, has been postponed, the office of U.S. Attorney Jill Westmoreland Rose of the Western District of North Carolina said today.

Wright-Olivares, whose age was listed as 45 by federal prosecutors at the time of her guilty plea, was to have been sentenced yesterday at 2:30 pm EDT before U.S. District Judge Max O. Cogburn Jr., according to thegovernment's Victim/Witness site for the Zeek Ponzi- and pyramid case.

No new sentencing date has been scheduled for Wright-Olivares, prosecutors said.
Stay tuned…