Wish Club Review: Magazine-based TelexFree clone?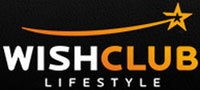 Wish Club claim to be part of the "Asblkeu Group", which was launched in late 2013. Asblkeu Group is apparently based in Spain, however no further credible information is known about the company.
The Wish Club website only provides the following vague marketing spiel:
Asblkeu Enterprise was founded in September 2013 in Madrid (Spain), with the mission to bring the consumer a great revolution in the world of information demand.

Asblkeu is the enterprise who controls a group of companies created with the same goal as Asblkeu's : take care of every one of the processes, particularly quality control focused on the potential global markets businesses, as well as trading, multi-services, MMN, international publishing or advertising industry segmented in print and digital media, online shopping , e- commerce and its own brands.
A link to what is supposed to be Asblkeu's website is provided on the Wish Club website ("asblkeu.com"), however clicking it reveals nothing more than a diagnostic message: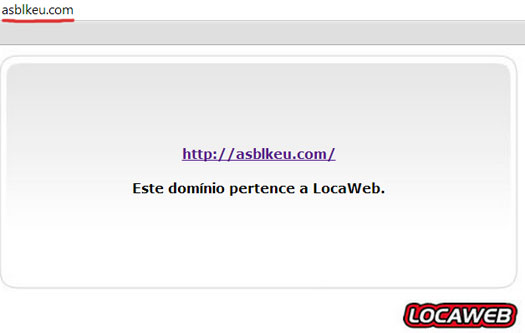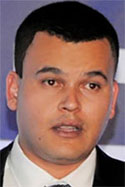 Credited as the President of Wish Club is a one Mr. Ezequiel Hipólito (right).
Despite the claim that Hipólito"came into contact" with the MLM industry "from a very young age", I was unable to find any online record of MLM business activities prior to the launch of Wish Club.
Exactly when Hipólito started in the MLM industry and what companies he has previously belonged to are a mystery. Whether or not he actually owns Wish Club is also unclear (I doubt it).
Read on for a full review of the Wish Club MLM business opportunity.
The Wish Club Product Line
Wish Club has no retailable products or services.
When an affiliate signs up to the company and pays membership fees, they are given subscriptions they can then resell. Wish Club set a suggested retail price of 29.90 EUR for an annual subscription.
Whether this takes place within Wish Club or if an affiliate is left to conduct external transactions is unclear.
Each Wish Club magazine subscription includes one printed edition (a single month) and 12 digital editions (for the other eleven months). Why only one printed edition a year is available is unclear.
The Wish Club Compensation Plan
The Wish Club compensation plan revolves around the recruitment of affiliates who spend money on packages:
Standard – 225 EUR (generates 100 points)
Master – 1125 EUR (generates 500 points)
In exchange for their money, Wish Club pay affiliates a passive weekly ROI and various recruitment-orientated commissions.
Wish Club Affiliate Membership Ranks
There are nine affiliate membership ranks within Wish Club. Along with their respective qualification criteria, they are as follows:
Bronze – generate 1000 points
Silver – generate 3000 points
Gold – generate 6000 points
Sapphire – 20,000 points
Ruby – 50,000 points
Emerald – 100,000 points
Diamond – 200,000 points
White Diamond – 400,000 points
Black Diamond – 1,000,000 points
Subscription Resell Commissions
Wish Club affiliates earn retail commission on the sale of Wish Club magazine subscriptions to non-affiliates.
How much of a retail commission is earnt per subscription resold, depends on how much a Wish Club affiliate paid in membership fees:
Standard (225 EUR) – 8.90 EUR
Master (1125 EUR) – 13.03 EUR
Whether this commission is tracked within Wish Club or is external to the business opportunity is unclear.
Investment ROIs
Each package purchase acts an investment position within Wish Club. The company advertises a 15 EUR ROI per Standard package invested in, and 75 EUR ROI per Master package.
Wish Club state this ROI is paid in exchange for "managing advertising campaigns for BackMidia", but fail to state what this involves. I suspect it can be translated into "spam the internet with useless classified ads".
Recruitment Commissions
Wish Club pay out a direct commission on the recruitment of new affiliates. Commissions are paid out when a newly recruited affiliate pays their membership fees, with how much they pay determining the commission paid out:
Standard (225 EUR) – 15 EUR ($20 USD)
Master (1125 EUR) – 75 EUR ($100 USD)
Residual Binary Recruitment Commissions
Wish Club pay recruitment commissions using a binary compensation plan. A binary compensation plan places an affiliate at the top of two positions. These two positions form the start of two binary sides, left and right: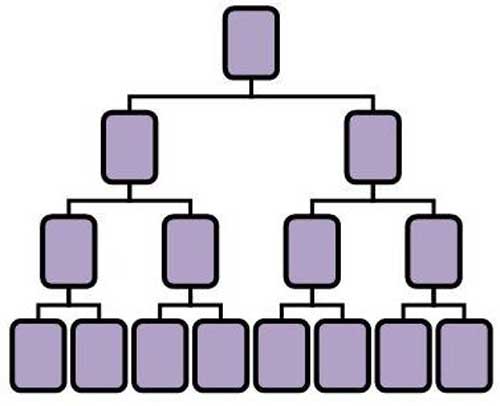 Each filled position on either side of the binary represents a recruited Wish Club affiliate. Commissions are paid using a 1:1 pairing ratio, paying out 15 EUR ($20 USD) each time a new filled position on the left is matched with a new filled position on the right.
Wish Club cap binary positions at 22 pairs a day (330 EUR).
An additional "Trio Bonus" is paid out for every three new positions matched on either side of the binary (a 3:3 ratio). The Trio Bonus pays out 44 EUR per Trio pairing (2 groups of three on either side), and is capped at 768 pairs a day.
Note that both binary commissions are calculated daily. All filled binary positions can only be used once per commission payout (once for the single pairing and again for the Trio pairing).
Unilevel Recruitment Commissions
Each package purchase comes with a series of "advertising center" positions. A Standard package comes with one advertising center, a Master comes with five.
Each advertising center generates an 8 EUR per month passive commission in the Wish Club compensation plan. This equates to an 8 EUR per Standard package affiliate and 40 EUR per Master package affiliate.
Wish Club track these commissions using a perpetual 1-up pay plan. An affiliate's downline is tracked using a unilevel compensation structure.
A unilevel compensation structure places an affiliate at the top of a unilevel team. All personally recruited affiliates are placed directly under them (level 1).

If any personally recruited affiliates go on to recruit new affiliates of their own, they are placed on level 2 of the original affiliate's unilevel team. If any level 2 affiliates recruit new affiliates they are placed on level 3 and so on and so forth down a theoretical infinite number of levels.
Commissions are paid out depending on what membership package is purchased (either 8 EUR for a Standard or 40 EUR for a Master).
An affiliate receives a monthly commission for the first, third and fifth unilevel position they generate under them. The second, fourth and sixth position commissions are passed up to their upline (the affiliate who recruited them). From the seventh position onwards, every perpetual fifth position created is passed up to an affiliate's upline.
This continues down newly recruited affiliates, with all affiliates passing up the same second, fourth, sixth and every fifth position thereafter to the affiliate who recruited them.
Note that positions are ranked in the order they are recruited, irrespective of whether a Standard or Master package is initially purchased. Also note that if an affiliate purchases more packages (and thus advertising centers) after joining, they stay within the unilevel position (a new position is not created).
A 22% matching bonus is available on the earnings of recruited affiliates, payable down 8 levels of recruitment.
How many levels an affiliate is paid down depends on their Wish Club affiliate membership rank:
Sapphire – 22% on three levels
Ruby – 22% on four levels
Emerald – 22% on five levels
Diamond – 22% on six levels
White Diamond – 22% on seven levels
Black Diamond – 22% on all eight levels
Rank Achievement Bonus
Upon hitting affiliate rank promotion in Wish Club, the company rewards affiliates with following bonuses:
Bronze – 50 EUR ($68 USD)
Silver – 100 EUR ($137 USD)
Gold – 160 EUR ($220 USD)
Sapphire – a Mont Blanc fountain pen
Ruby – a Macbook Air and iPhone 5s
Emerald – a "Caribbean cruise"
Diamond – (a trip to) Hawaii
White Diamond – (a trip to) Singapore and Thailand
Black Diamond – 33,000 EUR ($45,431 USD)
Joining Wish Club
Affiliate membership to Wish Club costs 49 EUR ($67.50 USD).
Wish Club affiliates are also required to purchase one of two "packages":
 Standard – 225 EUR ($309 USD) or
Master – 1125 EUR ($1548 USD)
A monthly fee is also attached to each package:
Standard – $16 USD
Master – $80 USD
Which pack an affiliate chooses to purchase dictates how much they can earn in the Wish Club compensation plan (see above).
Note: Apparently there is an unadvertised higher membership level called "Star Master" or "Starred Master", it costs in excess of $7000 upfront and then $400 a month to maintain. It is supposedly the equivalent of five standard Master accounts in a bundle.
There is no information on the Star/Starred Master account in the official Wish Club compensation plan material.
Conclusion
It's not at all surprising to realize that if you calculate Wish Club's required payments and ROIs in USD, you pretty much get a clone of TelexFree.
Affiliates pump in $300 or so per position (TelexFree was $299), or $1548 for an AdCentral family a "Master package" position, and then collect a $20 or $100 a week passive ROI. The binary commissions Wish Club offer act as your standard Ponzi referral commission on investments.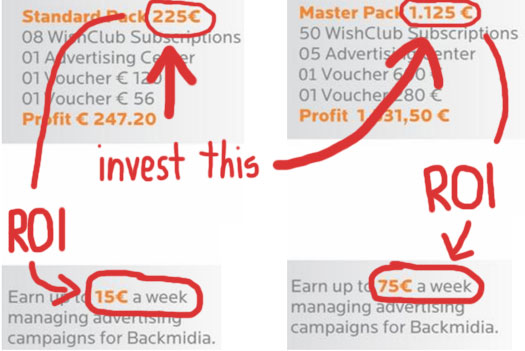 Granted TelexFree didn't have the whole pass-up component to their compensation plan, but then they didn't charge monthly membership fees either, which are quite obviously being used to fund that the pass-up commissions (they're monthly recurring, and so is the membership fee payment).
Oh and you'll of course have to replace the facade of TelexFree's VOIP packages, with the facade of Wish Club's magazine subscriptions.
Supposedly Wish Club's magazine is being published by the company "Wish MZ" (who also come under the awkwardly named Asblkeu Group. There's no mention of what's in the Wish Club magazine over at the Wish MZ website, however a bunch of seemingly random "news" articles do appear on the site.
I checked a few of them and found they were just ripped from third-party sources, often without citation. You can verify this yourself, head over to "wishmz.com", click a random article and highlight a random sentence or two. Punch this into Google and you should be able to work out where the Wish MZ "author" copy and pasted from (note that the articles don't appear to have one source in some cases, they are Frankenstein articles mashed together).
One thing I did notice was the "magazine" subdirectory to serve content off the Wish MZ website:

I imagine the content is reflective of what one can find in Wish Club's magazine.
The take-away?
Nobody is paying Wish Club 29.90 EUR a year for rehashed information that's available for free.
Had Wish Club magazine of been a legitimate publication, they'd no doubt soon find themselves swimming in plagiarism related cease and desists. One must of course remember however that Wish Club's magazine exists solely to act as a cover for what is otherwise a blatant Ponzi scheme.
Wish Club affiliates join the company, pay their participation fee and then invest in one of the offered packages. These packages deliver a weekly ROI, with new affiliate funds simply used to pay off existing affiliate's weekly ROIs.
An additional pyramid scheme element exist, by way of the monthly membership fees and pass-up component of the compensation plan.
Given that Wish Club are exclusively targeting Spanish, Portuguese and English-speaking demographics, it's more than obvious this it was designed as a "competitor" to TelexFree.
I suspect those running it were participants of TelexFree (or one of the other clones out there), and figured they were ready to try their own hand at scamming people.
As with all Ponzi schemes, once new affiliate recruitment stops or slows down, the company will run out of funds to pay out existing ROIs. Packages in Wish Club don't seem to have a ROI cap, so this is likely to happen sooner than later.
That's if regulators don't step in first, which is a strong probability given the recruitment cross-over between Wish Club and TelexFree – and the fact that regulators are now likely to be on heightened alert for reload scams, following the SEC shutdown of TelexFree.
Have the Portuguese, Spanish and English-speaking demographic TelexFree targeted learnt anything from what for many was their first Ponzi experience?
Time will tell…