New Zealand Commerce Commission investigating WMI

To say the last few months have incredibly turbulent for Wealth Masters International would be somewhat of an understatement.
As the company barrels towards its upcoming Muai m2 conference in early December, wave after wave of troubles have crashed and broken on the WMI's door step.
Back in July, Deanna Latson quit WMI throwing the company's already delayed nutritional division, WMI Pure into chaos.
Then, just last month an explosive email exchange between former COO Mary Dee and WMI co-founder Karl Bessey revealed some troubled inner workings of the company.
This month has fared no better for Wealth Masters with longtime Vice President of Marketing, Michael Hamburger fleeing WMI for Brent Payne's Avant, and the announcement that the SEC in the US had launched an investigation into Wealth Masters of their own for possible 'securities violations'.
With November not even half over, on top of all this now comes the breaking news that Wealth Masters International is now also under investigation by New Zealand's Commerce Commission.
In a letter sent out to a New Zealand based WMI member, the Commerce Commission reveal they are investigating Wealth Masters under suspicion that the company has breached New Zealand's 'Fair Trading Act' by running a 'pyramid scheme'.
The Commission state that the investigation has come about because the Commission 'received a complaint in respect to Wealth Masters International (WMI) and its activities in New Zealand'.
The Commission goes on to  state that this complaint has originated from either 'the public, competitors and/or through its own market surveillance', however they do not explicitly specify which is the case.
Possibly hinting at the outcome of the investigation, the Commission specifically notes the outcome of the Norwegian Gaming Board's investigation into Wealth Masters, which took place earlier this year.
This investigation ultimately concluded that Wealth Masters International was a pyramid scheme and resulted in the effective cease of operations and banning of Wealth Masters International in Norway.
In writing to the WMI member, the Commission asks for the following information to be provided;
Is there a joining fee and if so what is it? What does it include?
Please advise what products you have purchased and details of what is included. Please also advise the costs.
Please advise what products are able to be sold by you and the costs. What is available to purchasers for their money?
How do you achieve your earnings through WMI?
How much of your income is generated through product sales and how much by recruiting new members?
How many products have you sold and how many members have you recruited?
Were any promises made in respect to potential income before you joined? If yes, what were they?
Are you currently still operating and what is your general experience with the WMI operation including training and support?
The letter is dated the 20th of October and requests that the above information be provided to the Commerce Commission by November 7th, four days ago.
Perhaps the most worrying question for Wealth Masters International and its members out of the above list is request number 5;
How much of your income is generated through product sales and how much by recruiting new members?
Having already acknowledged the Norwegian Gaming Board's investigation, it's worth noting that in the Gaming Board's assessment of Wealth Masters, they concluded that
revenues in WMI primarily come from the recruitment of members, not the sale of products.

You should not work for the money, but let the money work for you. This is mentioned together with the advice to not to be careful, but invest a lot immediately, to gain success quick. If you are careful and patient you will fail.

The concept of letting the money work for you instead of you working for the money is considered by Lotteritilsynet to be enrolling a lot of people who again enroll a lot of people, which makes automatic earnings possible without any personal effort.

WMI is a business model similar to a pyramid scheme where a payment is required to achieve income mainly deriving from enrolling new members, and not from retail sale of wares or services
With WMI deploying a global business model that does not differ geographically and with the Commerce Commission analysing Wealth Masters against a criteria that looks remarkably similar to Norway's Gaming Act, it would appear that this precedent would strongly indicate a foregone conclusion regarding the Commissions investigation.
Still, at this early stage with the Commission asking the most rudimentary of questions ('is there a joining fee?') of WMI's New Zealand members, it is obvious that the Commission's investigation is still in its infancy.
A copy of the letter sent out by the Commerce Commission is made available below (click to enlarge);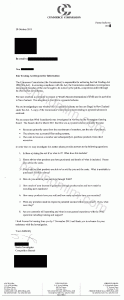 Stay Tuned.