WMI sues former corporate staff. Ariix to blame?

In late 2010 Wealth Masters introduced a marketing system for its members called 'WMI Marketing'.
WMI Marketing's implementation was largely credited to then Vice President of Marketing at Wealth Masters, Michael Hamburger.
Hamburger left Wealth Masters for Avant in late October/early November 2011 and roughly a week later WMI went on the offensive sending out a 'Corporate Staff' list to any free article directory or press release site they could find.
Titled 'FACT OR FICTION; WHAT DO THESE 27 HAVE IN COMMON?', with the recent very public exodus of several key corporate management staff, Wealth Masters sought to introduce some of its lesser known corporate executives to the WMI memberbase.
Two particular names of interest on that list are Jesse Musick and Pat Berry.
Why?
Sometime between December 23rd and 29th 2010, Wealth Masters launched legal action against the pair of marketers and their company, 'Office VP LLC'.
On their Corporate Staff page, WMI list Jesse Musick as a marketing partner and 'co-creator of all the software systems that make Marketing Central run'. Pat Berry is similarly credited as 'one of the co-creators of WMI's Map Your Life system in Marketing Central'.
Despite Michael Hamburger being the public face of WMI Marketing during his time at Wealth Masters, following Hamburger's departure Musick and Berry appear to have taken up that mantle.
Well, at least until Wealth Masters slapped them with a 'Contract – Consumer/Commercial/Debt' lawsuit in Texas' Fort Bend County Court.
I had a look over at the Fort Bend Country Court website and couldn't see any information on the case, so the particulars at this stage remain a mystery.
If Musick and Berry were only responsible for the day to day operations of WMI Marketing, one would think they were receiving money from Wealth Masters through their company Office VP rather than vice-versa.
Looking at the specific type of lawsuit filed by WMI, that being a contract dispute, perhaps the legal dispute revolves around the breaking of a contractual agreement between WMI and Office VP.
A strong indication this might very well be what has happened is the fact that Musick and Berry's company Office VP, appears credited at the bottom of a replicated website apparently operated by Rick Billings as part of the greater LeaderElite network.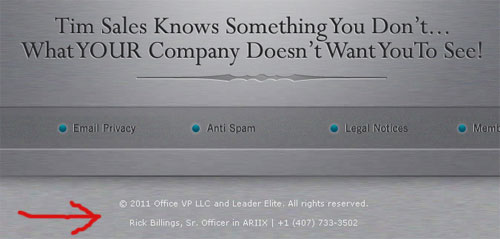 Rick Billings' replicated page credits him as a 'senior officer' for Ariix and features a capture video by Tim Sales.
At the time of publication, copyright of the LeaderElite replicated website is attributed to
© 2011 Office VP LLC and Leader Elite. All rights reserved.
A quick Google search reveals that there are currently at least 177 websites all pushing a similar replicated capture page as Rick Billing's own Leader Elite page.
These pages all appear to feature the same Tim Sales capture video and whilst I don't know if there's any specific business relationship between Tim Sales and Office VP, the exclusivity of Leader Elite only being used to promote Ariix (Tim Sales is a master distributor of Ariix) would strongly indicate there is.
The signup page for LeaderElite confirms this exclusivity by listing the backoffice of Ariix as a non-optional monthly subscription service as part of the purchase of a Leader Elite capture page: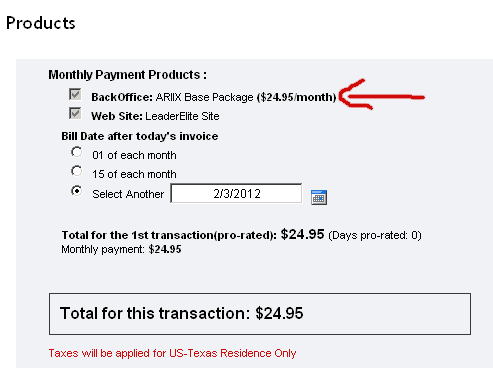 This would at the very least suggest OfficeVP are taking processing some of Ariix member's payments for their official company backoffice.
Getting back to WMI, it's no secret that after losing corporate management members Deanna Latson and Mary Dee last year to Ariix – there is absolutely no love between the two companies.
In an email exchange between Mary Dee (former Wealth Masters Chief Operating Officer) and WMI President and co-founder Karl Bessey shortly after Dee left WMI for Ariix, a furious Bessey warned Dee that Ariix was
destined to self destruct as you are all a bunch of liars and thugs. It (Ariix) will certainly fail…you cannot do business this way and survive.
Putting all this together, if I had to take a punt I'd say that Wealth Masters recent legal action against Office VP has something to do with the existing contract between Office VP and WMI.
I don't know if there was an exclusivity clause in the contract agreement between Jesse Musick, Pat Berry and WMI, but I figure that these two, through their company Office VP, doing any work for Ariix would be more than enough to make WMI management fly into fits of rage.
Currently Musick and Berry both still appear listed as corporate staff over at Wealth Masters – I wonder how long that'll last.
Update 4th January, 2012 – A few more pieces to the puzzle:
1. Back in November 2011, shortly after Hamburger left and after WMI published its corporate staff list (roughly a week later), Wealth Masters announced a partnership with
Jeff Lerner, creator of the newly launched TopTierIncome.com (TTI) marketing system.
This would indicate that WMI severed all ties with Office VP and booted out Musick and Berry sometime between Michael Hamburger leaving in late October and Lerner joining on November 14th.
This is confirmed by the following statement from WMI:
NOTE: Office V.P. is no longer an approved vendor and you will want to cancel any monthly charges immediately to prevent double billing.
Which was put out on December 28th, 2011 on the company website.
The exact date of termination of Office VP as an approved vendor of WMI however is not given, but would have to be sometime in November, prior to Lerner's arrival with his own 'Top Tier Income' marketing system.