Kingdom777 blame affiliates for WCM777 Ponzi

When a Ponzi scheme starts to suspect it might be large enough to attract the attention of regulators, typically one of two things happens:
The owners, who may or may not be publicly known, disappear and either shut the company down or hand it over to someone else… or
Psuedo-compliance is brought in, with the company washing its hands of any wrong-doing and henceforth blaming its affiliates for promoting the opportunity "out of compliance" and misrepresenting it.
The idea behind the second one is the operators pretty much figure regulators shutting them down is a done deal, so they figure they'll pretend they had no idea what was going on and just blame everything on their investors.
Guess which option WCM777 Ponzi operator Phil Ming Xu opted for?
Both…
After announcing a few days ago that WCM777 was changing its name to Kingdom777, along with plans to 'register its stock with SEC', Kingdom777 released a new directive that squarely blames its affiliates for the WCM777 Ponzi scheme.
Dated January 7th 2014, Kingdom777's "Announcement of innovations, rules and procedures" opens with
Some members failed to represent WCM777 correctly and distorted our vision and mission to be a social capital company whose goal is to build a global community of trust and love.

We are solely a social capital company, which adopts MLM only as a marketing strategy but does not make MLM its primary business nor purpose.
Easy to say after you've accepted thousands of dollars in investment from affiliates the world over… and I can't say I've ever heard of a Ponzi scheme referred to as a "global community of trust and love" – that's definitely a new one.
As a result of their affiliate's misrepresentations of the Ponzi scheme, Kingdom777 are implementing some familiar psuedo-compliance:
It is strictly prohibited to promote or be associated with the company / brand, such as the creation of domains or sub-domains (WCM777, WCM, WCM Kingdom , Kingdom777, 777, Kingdom Point, Kingdom Card, Kingdom Pay, World Capital Market, or similar), websites , blogs, chats , videos, publications in any electronic media or social network, use of images or any printed material, use of phrases that allude to getting rich quick, or images purporting luxury or wealth.

In short, any form of promoting that does not abide by the new standards of communication and disclosure is prohibited. More details to be published by January 31, 2014.
As for all the WCM777 Ponzi promotional content already out there?
All currently existing materials with the name / brand / reference to WCM and / or WCM777 and / or similar, should be removed from the Internet by January 31, 2014. Members shall be under penalty of suspension, blocking or expulsion of those Distributors of WCM777.

If insisting in infringing or not complying with current standards then the new code of conduct and procedures which will have the power to oversee and systemically apply the penalties provided for in our rules and regulations, as well as, to prepare and publish such rules and regulations after Kingdom777 launch until January 31, 2014 with approved our code of ethics.
Despite Xu's claims that Kingdom777 is now being run by James Tenorio in the US, from the language above, quite clearly the company is still being run by Xu and his Chinese buddies.
Oh and the January 31st "code of ethics" should be a hoot to go over when it's released. Post haste!
How WCM777/Kingdom777 affiliates feel about being blamed for WCM777 being a Ponzi scheme is unclear. As above, Xu is now threatening anyone who discusses and/or promotes the scheme (that they can identify) with termination.
This is inline with sister Ponzi scheme Better Living Global Marketing, who also require affiliate investors to agree to not promote the scheme in public.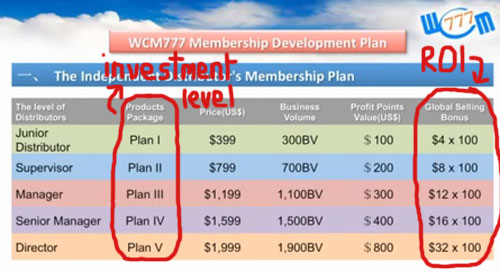 With WCM777 openly advertising the ROIs available through participation in the scheme, you've got to love the logic behind the company blaming it's affiliates for WCM777 being a Ponzi.
At the end of the day Phil Ming Xu and friends ran a business whose model accepted investment from affiliates and promised a fix ROI. Whatever the company's affiliates did after that is irrelevant.
Nevermind the fact that without affiliate promotion WCM777 would have run out of funds to pay out existing affiliate investors ages ago.
In other Kingdom777 news it appears that the company might have finally attracted regulatory attention in Brazil. Responding on the 8th of January to claims recently made by TelexFree regarding their suspension in Brazil, the Prosecutor's Office of Consumer Protection issued the following warning about a "Chinese company":
In view of the fact that news, brought to our attention by people who have invested in foreign Ponzi schemes and not received promised returns, especially by a Chinese website, it is worth clarifying that investors should be aware that a standard does not exist in cyberspace.

There have only been a few examples of cases filed by investors in the Brazilian courts (involving) foreign schemes. (In the case of) the Chinese (company), investors should be aware of the difficulties this represents.

These legal issues should serve to alert everyone of the risks they run (when investing in such schemes).
According to Alexa, 15% of the visitors to WCM777's website were from Brazil (second only to Russia at 25.5%). After changing its name to Kingdom777, currently 12.4% of visitors to the website are from Brazil.
Although it's not mentioned by name, I think it's pretty clear which Chinese company Acre's Prosecutor's Office of Consumer Protection is talking about. Although Better Living Global Marketing is also run from Hong Kong, the company never really took off in Brazil, with the US and South Korea accounting for 67.9% of the company's website traffic.
Based on my tracking of the industry, WCM777 and Better Living Global Marketing are currently the two biggest MLM Ponzi schemes in operation today.
In addition to being shutdown and declared illegal in the US state of Massachusetts, WCM777 has already been banned in Colombia and Peru.
Will Brazil be the next South American nation to put a stop to Phil Ming Xu's Ponzi empire?
Stay tuned…