Was Amplifei sold off as a non-profitable company?

Last month it emerged Robert Oblon had sold off Amplifei to LaCore Enterprises.
Details of the state of Amplifei have since emerged, suggesting the company failed to turn a profit.

Oblon (right) launched Amplifei in early 2021. The launch followed a off a messy separation from his previous company, Elepreneurs.
Robert Oblon was removed from the Board of Directors and stripped of his position of authority as a result of gross financial misconduct.

He voluntarily resigned to avoid punitive legal actions arising from his malfeasance.
To lure in distributors, Amplifei touted a Founder's Pool to prospective Happiest Pack affiliates.
Signing up to Amplifei with a Happiest Pack would set you back $1000.
Amplifei's Founder's Pool was made up of 5% of monthly company-wide sales revenue. Shares were limited to 1000 and pool qualification ended February 28th, 2021.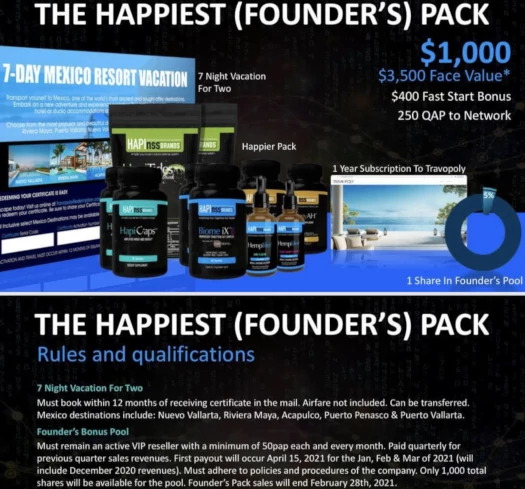 A "7-day Mexico resort vacation" was also advertised.
As per the above official promo, to qualify for the Founder's Pool an affiliate had to qualify as Active with 50 PV a month.
The Founder's Pool would be paid out to qualified Happiest Pack affiliates quarterly, beginning April 15th, 2021.
April 15th 2021 came and went and the first Founder's Pool was not paid out. Nor was it paid out for the remaining quarters of 2021, or the first quarter of 2022.
In fact to date, nobody in Amplifei has received a share of the Founder's Pool – or the advertised Mexico vacation.
When questioned about the Founder's Pool not paying out, Robert Oblon offered the following response: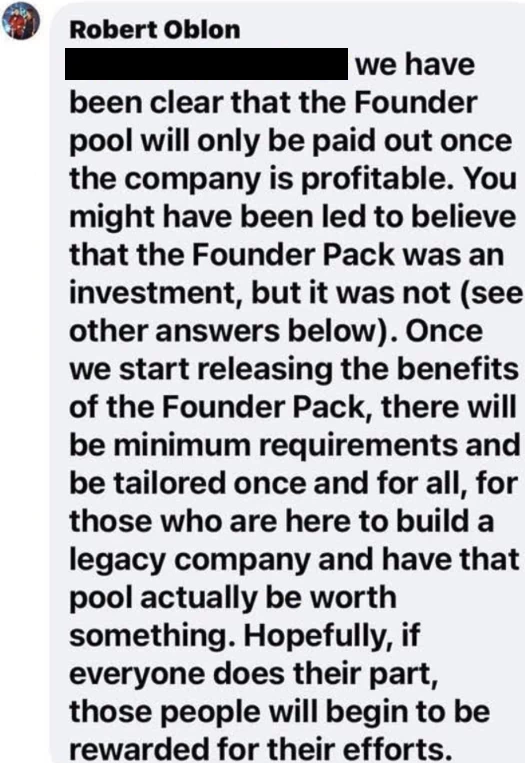 We have been clear the Founder Pool will only be paid out once the company is profitable.
This was not the premise Amplifei's Happiest Packs had been marketed or sold on.
Oblon would later admit Amplifei Happiest Packs were sold as an investment: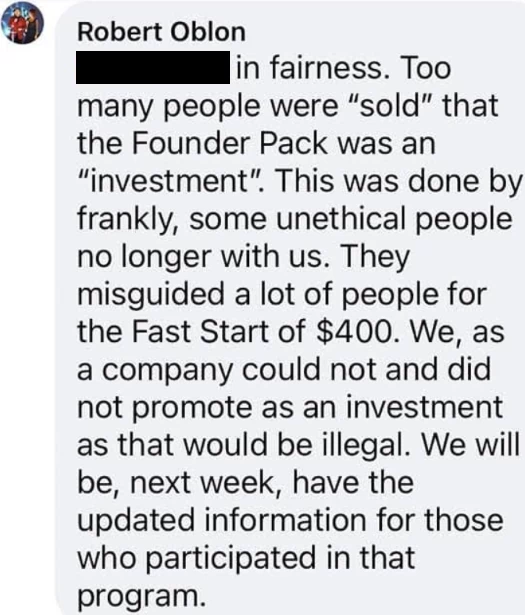 While it was collecting $1000 per Happiest Pack sold, Amplifei did nothing. It was only when addressing non-payment of the advertised Founder's Pool that the subject came up.
Following an "audit", Oblon's "profitability" clause would be narrowed to a 50% compensation threshold.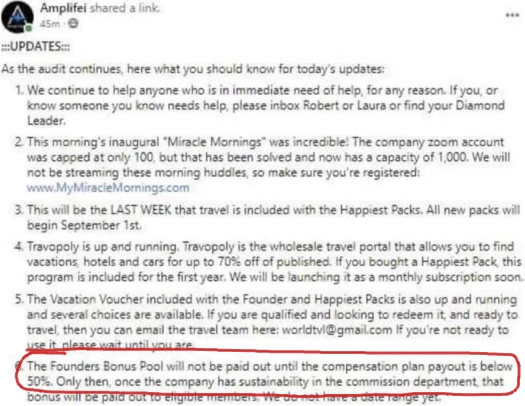 Capping commissions and bonuses at a percentage of company-wide revenue isn't unusual. But rather than not pay anything out, commissions and bonuses are typically scaled down till the previously stated threshold is reached.
With these Founder's Pool changes and continued non-payment, some Happiest Pack distributors felt they'd been cheated.
On the premise they'd been bait and switched, distributors began asking Amplifei for a refund.
In correspondence seen by BehindMLM, one distributor was told a refund would be issued – if they  to returned all product included in their Happiest Pack.
This was roughly a year after the pack had been purchased.
Another distributor, part of a group that had been terminated for complaining, was told;
The Company will not respond to any further communication from you on this subject.
Possibly fearing a regulatory investigation, in mid to late 2021 Amplifei went into damage control with a "Founder's Pack Release Agreement".

Key terms of the agreement were:
releasing Amplifei and Oblon of any legal liability pertaining to Amplifei's Happiness Pack (also referred to as the "Founder's Pack");
notifying Amplifei of any subpoena pertaining to the agreement or Happiness Packs in general;
not disclosing a refund had been offered to anyone; and
not disclosing or discussing the release agreement itself with anyone.
Those that signed the agreement were refunded their initial $1000 cost. How many Amplifei distributors the release agreement was offered to and how many took the company up on it is unknown.
As late as January 3rd 2022, Amplifei was still dodging Happiest Pack refunds requests from distributors.
This brings us to Robert Oblon's sale of Amplifei to LaCore Enterprises last month.
Given Amplifei failed to pay the Founder's Pool once, one can assume the company wasn't profitable.
How much LaCore Enterprises bought Amplifei off Oblon for has not been publicly disclosed.
What we do know is Oblon has stayed on as an executive and, through the Uforia Science merger, is once again is offering pool shares.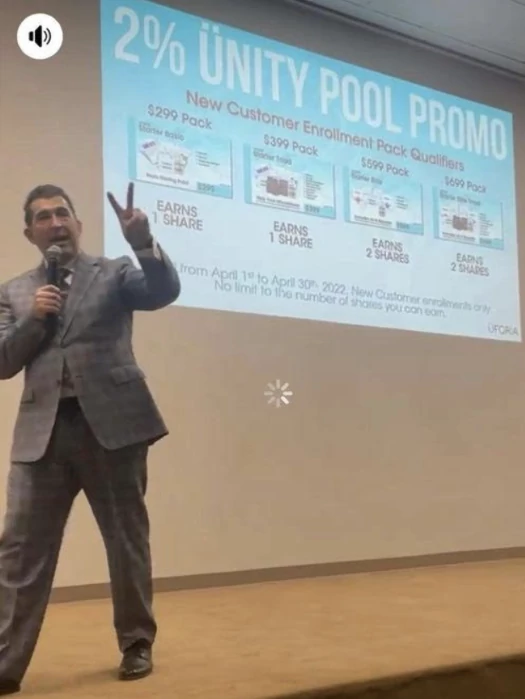 As opposed to Happiness Packs, this time around shares are tied to the sale of product packs. These packs can be purchased by retail customers or recruited affiliates.
I went looking for specifics on the Uforia Science's Unity Pool Promo but came up blank. Based on the marketing behind Oblon in the screenshot above though, Unity Pool shares pay on 2% of Uforia Science's company-wide revenue.
There is no mention of profitability or a 50% commission threshold.
Uforia Science's Unity Pool Promo runs from April 1st to April 30th, 2022. Whether shares are paid this time around remains to be seen.
While Amplifei distributors seemingly got screwed, Oblon personally made whatever as the owner of Amplifei throughout 2021.
He got paid again selling the company to LaCore Enterprises. And Oblon now continues to get paid as a Uforia Science executive.
An unknown number of Amplifei distributors were lucky to get back the $1000 they paid for the packs, but only if they signed away their rights. Failing which affected distributors were terminated for complaining and/or told they didn't qualify for a Happiest Pack refund.
The promised Amplifei Founder's Pool was never paid out.
Seems like there's only one "happy" party here. And it's not Amplifei's founding distributors.