USFIA key figures involved in China Week 2016

As far as we know, John Wuo is still under investigation for Political Reform Act violations.
Wuo was a key figure in the USFIA Ponzi scheme, which primarily targeted Chinese investors under the guise of GemCoin cryptocurrency investment.
A serving politician in California at the time, the subsequent scandal ultimately saw Wuo resign from the Arcadia City Council.
Wuo has since laid low and to date has not been named in proceedings against USFIA founder Steve Chen.
He has however recently turned up in a flyer for China Week 2016.
China Week 2016 is scheduled to kick off on May 7th in Los Angeles.
As described by China Week itself, the event sounds like an opportunity for the Chinese government to promote China in the US:
CHINAWEEK is an annual, week-long series of events aimed at bringing the most current, relevant,
multidisciplinary information about China and Chinese culture to the western world.

The event is a scalable approach to helping Americans better understand and access China and the corresponding opportunities.

CHINAWEEK, in partnership with prominent Los Angeles based institutions, seeks to increase understanding of and access to China, foster cultural and economic opportunities, and strengthen relationships between the citizens of the US and China.

By reintroducing China to the western world via Los Angeles, we create a new dialogue and strengthen bonds between two great nations.
Although unrelated in a business sense, it's worth pointing out that similar rhetoric was used to market USFIA.
Scheduled to kick off on May 7th, Wuo appears as part of "the team" behind China Week. Specifically, Wuo is listed as an "Honorary Board Member".
Coincidentally (or not), Kim Holland makes an appearance as a member of China Week's Advisory Board. She is also credited as a member of the Executive Board.
Courtesy of hyper-local blog the Sierra Madre Tattler, here's Holland and Wuo on stage at a USFIA promotional event: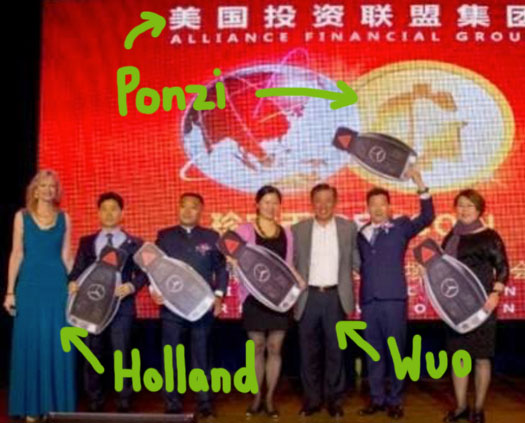 On her Facebook profile, Holland cites herself as working 'at Bilingual Chinese/English Emcee and Public Speaker, Entertainment Finance, LLC and Metavergent'.
In the China Week 2016 brochure, Holland is credited as CEO of Metavergent.
Metavergent had a website up until October, 2015. I tried to suss out what the company was about but no information was available.
The same month the Metavergent website went offline, Epoch Times outed Holland as a member of USFIA's "inner circle".
Try as I might, I was unable to find any suggestion that China Week 2016 was holding Ponzi awareness events.
Which is a bit of a shame. What with two prominent members of one of the largest schemes to defraud Chinese investors in the US, Wuo and Holland's expertise on Ponzi promotion tailored to Chinese audiences could generate significant awareness in local communities.
Wishful thinking I know…