Protesters cancel USFIA GemCoin gala in Ontario, California

August 28th saw USFIA hold a GemCoin gala at the Ontario Convention Center in California.
As per USFIA marketing material:
Domestic teams- joining at $10,000 and sponsor $30,000 will be reimbursed for 4 days accommodation.

International teams-joining at $10,000 and sponsoring $50,000 will be reimbursed for 7 days accommodation as well as flight.

The conference will be at the Ontario Convention Center. The attendance will be limited to 1300 people. First come first serve basis.
Unfortunately for USFIA a bunch of angry protesters rocked up to the event, leading USFIA to cancel the gala: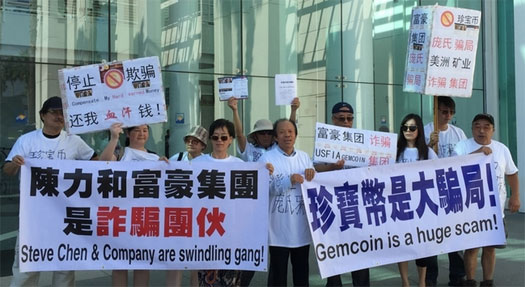 Clearly unhappy with the USFIA GemCoin Ponzi scheme, the protestors were existing USFIA investors wondering where their money has gone.
Recounted one protestor who invested $70,000 with USFIA to the Epoch Times (auto-translate):
Chen Li (Steve Chen) said they were Chinese experts in amber. Dominican Amber, the quality is very good, with only half of the ex-factory price to sell us have such a good thing.

I was very pleased that he added that the future market will be very amber. Well, will rise 64-fold.

We thought we got both (GemCoin) units (and) amber, (which was) very good.

(Chen) also and we said, two months later our units could be bought and sold. Every business does not exceed 10% on the line.

The results up to now, a penny sell, we bought a piece of paper. Not even paper , just air.
A relative of the protester purportedly also sunk $280,000 into Steven Chen's "on the side" EB-5 visa fraud scam.
Some of the protesters at the gala claim they haven't been able to access invested funds for over two years.
Of note is that Arcadia City Councilman John Wuo featured on the USFIA gala marketing material: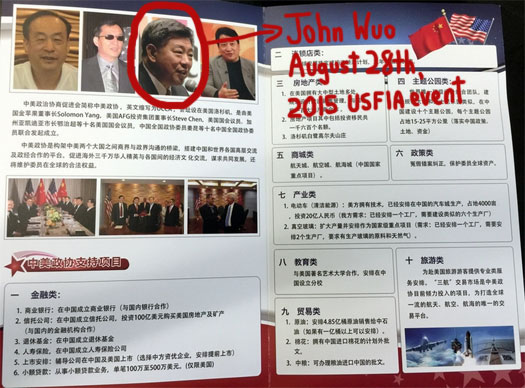 Wuo maintains he "knows nothing" about GemCoin and claims to have not received any compensation from USFIA or Steve Chen.
Whether or not Wuo attended the August 28th GemCoin event is unclear. Ditto why his photo was used to promote the event, when he claims to have nothing to do with GemCoin or USFIA.
Epoch Times sought comment from Steve Chen in response to USFIA's GemCoin scheme being that of a Ponzi, but none was forthcoming.
Whether or not US regulators are currently investigating USFIA is unclear. Stay tuned… (additional reporting from NTD)