USFIA affiliates call for assasination of Ponzi whistleblowers

In an apparent continuation of the threats of violence that saw USFIA protests called off (prior to its regulatory shutdown), USFIA investors in China and Malaysia have called for two whistleblowers to be assassinated.
The disturbing revelations see the fallout of USFIA, who ran the $32 million dollar GemCoin Ponzi scheme, turn distressingly ugly.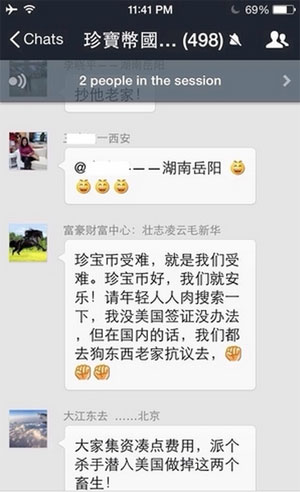 Epoch Times has uncovered the story,  with captured screenshots of a WeChat chat group of almost 500 GemCoin investors exhibited as chilling evidence (shoutout to Kasey Chang for translating).
According to Screencap of WeChat, various Gemcoin members in XiAn, Beijing, Hunan, Quenming, and Malaysia are advocating online that they want to engage "human flesh search engine" and want to "do away" with the two Gemcoin investors that turned mole.
A "human flesh search engine" is an Asian term for an online public vigilante search, typically used to identify persons unknown who commit reported crimes.
That GemCoin investors are evoking the term on individuals blowing the whistle on crime, is the height of irony.
What GemCoin investors want to do with the identity of the investors they believe brought down USFIA starts off innocent enough:
One with screenname 富豪财富中心:壮志凌云毛新华 (USFIA Wealth Center / Dream for the sky Mao Xing Hua) wrote:

"Gemcoin's misfortune is our misfortune. Gemcoin's safety is our happiness!

Young men start the human flesh search engines. I don't have a US visa, but if they're in (the) country (China), heck we'll go protest in front of this SOB's house!"
Do I think it absurd that Ponzi investors would picket the house of a whistleblower? Sure, but (at least in the US), they'd be free to do so (with respect to local residential laws).
The discussion in the GemCoin WeChat Group however soon deteriorates, with open calls for assassination.
Another with screenname 大江东去 (Great River Headed East) wrote:

"Let's crowdfund up some money, send a killer to the US and do away with the two bastards!"
In the wake of the SEC's allegations that USFIA is a $32 million dollar Ponzi scheme, other USFIA investors offered up somewhat confusing commentary:
Another from Hunan wrote "XXX did not only made enemy of Chief Chen, but made enemies of 500K strong Gemcoin family!"

Another wrote "We Gemcoin family should also release some news to battle with XXX!"

A 懒羊羊 (Lazy Sheep) from XiAn wrote "US media is doing free publicity for Gemcoin. Let them tell everybody about Gemcoin."
Confusing perhaps, until you look at the information being disseminated by USFIA to its Chinese investors.
Gemcoin in the meanwhile released "498th webinar and transcript" on 9/30, and on 10/1 wrote on a Sina blog that the raid was a "routine SEC audit", that "if you open a restaurant in the US and people complained about your food's unsanitary, then health department will visit your restaurant.

It's perfectly routine." on 10/2 on an audio sharing service "Himalaya" there was an audio "Chief Qian post-UN-meeting important talk".
That of course doesn't justify calls for assassination, but with USFIA purportedly dismissing the SEC's complaint as a "routine audit", you can sort of see where the otherwise absurd less threatening chatter is coming from.
With Ponzi regulation in Asia a long drawn out process, that is often instigated far too late, what it will take for GemCoin investors there to full appreciate the extent of which and how they were scammed, is unclear.
In the meantime, perhaps emboldened by Steve Chen's invitation to top USFIA investors to shoot guns at his Quail Ranch, there's apparently an evident faction of USFIA investors who aren't adverse to making death threats against those they believe are responsible for USFIA's shut down.
If it ever sinks in that they were infact taken for a ride by Steve Chen and his fellow USFIA insiders, who knows just how serious this might get.
In the meantime, what protections authorities in the US are extending to those who assisted them in their USFIA investigations, if any, are unclear.
Stay tuned…