Threats of violent retribution see USFIA protest abandoned

The GemCoin situation in Arcadia continues to deteriorate, with the latest seeing a planned protest called off due to threats of violence.
The protest, to be staged outside of Arcadia City Hall tonight was to be picketed by USFIA investors.
The investors, who collectively have lost hundreds of thousands of dollars investing in USFIA's GemCoin Ponzi scam, told reporters they
feared violent retribution against both themselves and their families.
Most of the USFIA protesters are Chinese immigrants, with threats made against family living abroad well within the realm of possibility.
At a seperate press-conference earlier this week, USFIA protesters
expressed concern for their safety as a result of publicly airing their concerns, noting the cache of firearms allegedly stored at Chen's office complex and his home.

A photo obtained by Arcadia Weekly shows Chen in possession of a long-range, high-power riffle. Other photos feature men described as associates of Chen posing with a shotgun and a machine gun.

One Gemcoin investor, who confirmed recent media reports that he has been in contact with the Arcadia Police Department as well as the FBI, claimed a man he identified as Baoping Zhang, Chen's "bodyguard and head of security," threatened to kill him in April 2014 for attempting to recover his investment.

With the help of a translator Jason Ning recounted his experience with Chen, Wuo and Gemcoin, which began in September 2013 and culminated with an incident at Chen's company headquarters in which Ning alleges Zhang aimed a gun at his head and threatened his life.

Sam Huang supported Ning's allegation, claiming Chen's security chief bragged to him about threatening Ning with a gun.
Who specifically made the alleged recent threats against USFIA protesters is as of yet unclear.
Around the same time the protest was called off however, USFIA issued a press-release denying they were running the GemCoin Ponzi scheme.
Headed by a GemCoin logo and presented in point-format, the USFIA release reads: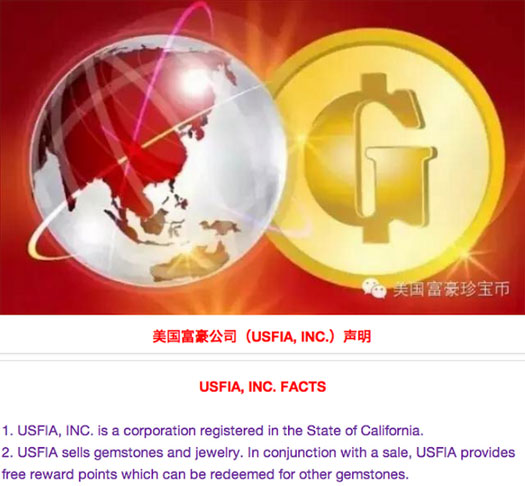 USFIA INC. is a corporation registered in the US state of California.
USFIA sells gemstones and jewelry. In conjunction with a sale, USFIA provides free rewards points which can be redeemed for other gemstones.
USFIA uses distributors to actively sell products and to earn commissions on the sale of products. No commissions are paid out on the recruitment of others.
Please refer ONLY to the company's official website for real and accurate information related to the products, distribution, and reward points.
USFIA employs a professional security company to ensure the safety of our products which are on display at USFIA's headquarters in Arcadia, California.
All our products are genuine gemstones, and the company has the ownership of gemstone mines.
The company is not an investment company, instead it is a gemstone selling company.
"GemCoin" is a soon-to-be-registered cryptocurrency product. USFIA does not sell "GemCoin", rather "GemCoin" is being pursued by a separate entity.
USFIA is not offering EB-5 visas.
If I may be blunt, quite frankly the information above is complete and utter bullshit.
BehindMLM reviewed USFIA back in June and found GemCoin investment offered through an MLM business opportunity.
A multitude of marketing material cited USFIA as the owner of GemCoin, which was commonly referred to as a "joint-venture" between USFIA and UCCA: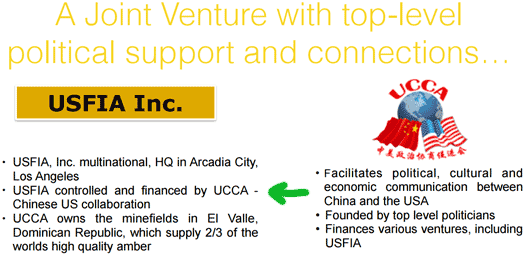 Not to mention USFIA themselves filing for a trademark on GemCoin back in September last year: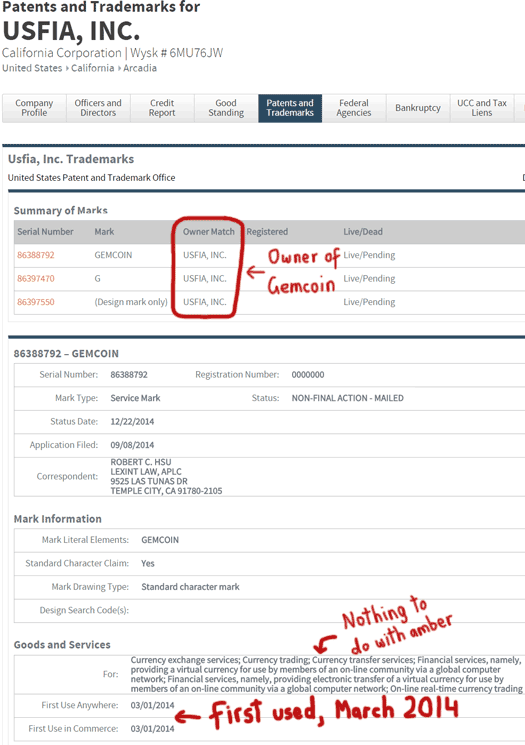 But uh yeah, USFIA don't own GemCoin. Riiiiiiiiiiiiight.
The facts are USFIA Affiliates invested thousands of dollars in GemCoin, which has been assigned a value dating back to early 2014.
For every $8 million invested into the scheme (I've also seen $80,000 cited), USFIA raise the value of GemCoin points by $0.01 and thus create the illusion of Ponzi wealth.
This isn't something "in the works", this has been going on in China for years before Steve Chen and friends came under regulatory scrutiny. They then fled China and restarted their scheme in the US late last year.
Initial Chinese investors were sold GemCoin points for 5 cents a point, with the artificial value of the points sitting at around 24 cents as of June 2015.
Investors are supposed to be able to withdraw up to 10% of their ROI at any given time, but as I understand it withdrawals have been suspended for months.
And here in September 2015 you've got USFIA lying through their teeth, portraying GemCoin as being run by persons unknown and yet to launch.
What a joke.
The next Arcadia City Hall meeting is scheduled to start in a few hours, stay tuned…
Update 16th September 2015 – Despite threats made against USFIA investors, two took to the podium last night and demanded answers from John Wuo.