John Wuo, former Arcadia mayor, rcvd $1.8 mill from USFIA

It's been roughly four and a half years, but John Wuo's involvement in the USFIA Ponzi scheme has finally been explained.
BehindMLM came across John Wuo, a former Mayor of Arcadia and then current City Council member, through research for our USFIA review (published June 2015).
Arcadia is a city in Los Angeles County, California. USFIA was a scam that duped investors through its GemCoin Ponzi points scheme.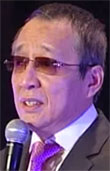 Wuo appeared at multiple USFIA events held in Arcadia, to endorse the scheme and owner Steve Chen (right).
Our research was quickly picked up by local media, which in turn lead to heated confrontations between angry residents and Wuo.
At the time Wuo claimed he didn't "know anything about GemCoin". Despite that, the disgraced politician eventually resigned in October 2015.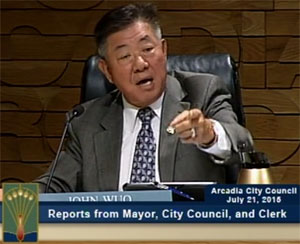 To this day Wuo (right) maintains
he has no financial interest in and hasn't received any compensation from the companies connected to Gemcoin, nor is he a Gemcoin investor.
Turns out, probably not to anyone's surprise, that's a lie.
The SEC sued USFIA for being a Ponzi scheme in September 2015, roughly three months after our review was published.
As part of that lawsuit, a USFIA Receivership was established.
Heading up the Receivership is court appointed Receiver Thomas Seaman.
Last month the USFIA Receiver published a forensic accounting report. The report, which examines the flow of money within USFIA, was made public on the Receivership website yesterday.
As per the Receiver's report, John Wuo received $1.805 million from USFIA and its related companies.
The Receiver could not ascertain why the money was paid to Mr. Wuo.
Based on his political position at the time, appearance at USFIA events and public endorsements, why Wuo received almost $2 million should be obvious.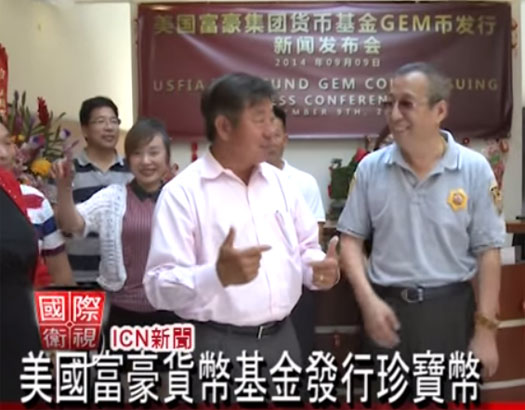 Whether Wuo has returned the stolen investor funds he received from Chen is unclear.
To the best of my knowledge, the only direct financial repercussion Wuo has faced is a $2000 fine issued in 2016.
Wuo is apparently still active in the Arcadia political sphere. Following complaints from residents, last November it emerged Wuo's residence was engaged in voter fraud.
Outside of Wuo, the flow of money within USFIA is typical of MLM Ponzi schemes.
The Receiver's forensic accounting investigation tracks USFIA funds from January 1st, 2010.
During the period examined, USFIA took in at least $197 million dollars from duped investors.
Evidence suggested additional funds were transferred from overseas investors to offshore bank accounts, however the Receiver hit a brick wall following these leads up.
The Receiver … faced significant issues with regard to both multiple languages and overseas financial institutions.

The lack of cooperation from these institutions and the language issues posed additional limitations on the Receiver's full understanding of the scope of this scheme.

To the extent that funds were raised and spent outside the United States, the true extent of Chen's fraudulent scheme cannot be fully known.
Of the $197 million invested in USFIA, Steve Chen appropriated $49.4 million to spend on himself, friends and family.
Chen spent another $45.5 million on real-estate, again directly benefiting himself, friends and family.
In contrast, USFIA paid out just $1.7 million in returns to its investors. ANother $14.4 million was paid in recruitment commissions.
As laid out in the Recevier's Forensic Account Report, here's where money invested into USFIA went:
Steve Chen pocketed $4.03 million and spent $1.1 million to fund his lifestyle
Yan Chen (Steve Chen's brother) receive at least $9.1 million
Amauction, a shell company owned by Steve and Yan chen, received at least $18.2 million
Ammine SRL, a shell company controlled by Yan Chen, received ~13.2 million
Oliva Alvarez Lam, responsible for setting up USFIA shell companies in the Dominican Republic, was paid $220,568
Chenne Corporation, a jewelry materials business owned by Yaqin Chao, Yan Chen's wife, received $3.59 million
over $11 million was paid to other jewelry materials companies owned by Yan Chen and his wife, for example $3.9 million was paid to Shiny Stones
Wei He, Steve Chen's ex-wife and father of one of his sons, received $1.5 million
~$10 million was also used to purchase residential properties for He
Li Zhao (aka Jennifer Zhao, Steve Chen's former girlfriend (?) and mother of one of his sons), received $3.8 million
$3.2 million was paid to Ally Investments, a shell company owned by Li Zhao
$2.34 million was spent on a property Li Zhao held title to
Luyang Li (Steve Chen's current wife and mother of two of his children), receive $295,722
Mo Chen (one of Steve Chen's sons), received $558,341
$200,000 was paid to CMP Capital Investment, a real estate venture, at the direction of Mo Chen
Qun Yang (believed to be another of Steve Chen's girlfriends), received $1.3 million – she was also the beneficiary of two purchased residential Arcadia properties
Eiji Sakurada (aka Solomon Yand and Solomon Sakurada, a business partner of Steve Chen's), received $3 million
$10 million was spent on what appears to be a hotel construction ruse between Chen and Sakurada
another $45.5 million was spent on USFIA related properties (most of which have since been liquidated by the Receivership)
In addition to these tracked payments;
Significant payments were made to corporate entities with only tenuous connections to the Receivership Entities.

Many of these entities were located in foreign countries which limited the Receiver's ability to trace or recover proceeds.
$4 million was paid to American Immigration Consult LTD, a Hong Kong shell company whose bank accounts are under the control of Steve and Yan Chen
$3.1 million was paid to AMN LTD, another Hong Kong shell company under the control of Steve Chen
$4.6 million was paid to Amkey International Entitites, a side MLM business spanning Korea, Taiwan, Vietnam and Malaysia (run by Mo Chen and operated at a loss)
$27.5 million was spent running USFIA and its connected shell companies ($3.39 million promotional conferences, $4.92 million on travel expenses etc.)
$11.5 million was spent on fake jewelry to dupe USFIA investors with
$8.3 million was spent on amber, again to dupe investors with
$6 million was given to Vecast Inc., a defunct company controlled by George Wu
$5.4 million was spent on precious stones (diamonds, rubies and emeralds), the vast majority of which remain unaccounted for
$350,585 was spent on credit cards connected to USFIA
In total Steve Chen laundered some $95 million between twenty-eight identified USFIA related shell companies.
In the conclusion of his report, the Receiver notes;
The financial records of the Receivership Entities indicate Chen's scheme to defraud purported investors of nearly $200 million was vast, and remarkably, it appears that aside from a few people, none of the investors received any return on their investment.

Nor could investors have earned a return because their capital was never deployed for so-called Gemcoins or any other crypto-currency.

Instead, Chen and his dependents, relatives and associates, misappropriated virtually all of the money to support their lavish lifestyles as well as for their personal real estate and other assorted ventures.

Chen never created a crypto-currency backed the value of vast quantities of amber and other precious stones.

This, like the entire enterprise, was simply a sales pitch directed to unwitting investors both in the United States and abroad.
Steve Chen's current status and whereabouts are unknown. To date he has only faced civil charges in relation to USFIA related fraud.