Uganda struggling with MLM cryptocurrency fraud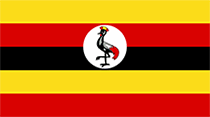 It's no secret that Africa is a hotbed of MLM cryptocurrency fraud.
Perpetrators, primarily from the US and Europe, have no scruples when it comes to targeting and exploiting uneducated (and often poor) investors in Africa.
On an almost daily basis BehindMLM receives emails from people with distinctly African names. More often than not they're begging for access to their account in whatever MLM crypto scam of the day has done a runner on them.
Naturally I can't help these people and so their emails go unanswered.
One African nation, Uganda, is struggling to cope with the current MLM cryptocurrency crime wave.
Concerned that youth and women are being preyed on by scammers, three Ugandan Members of Parliament have pleaded with authorities to do more.
Acting on a report recently published by the Crime Intelligence and Investigations Directorate of the Cyber Crime Unit, youth MP for the western region, Mpaka Mwima, MP Silvia Nayebare, and the Kumi County MP Silas Aogon called on the government to combat 'various scams of companies and individuals who fleece Ugandans of their money.'
Specific MLM companies called out for targeting Ugandans include FirstCoin, Emaar Ventures, Questra World, D9 Club and OneCoin.
"Most of the people defrauded are the youth and women. This fraud of pyramid schemes must be stopped by Government.

When one scheme collapses, the same individuals form another one. The culprits must be arrested by government," Nayebare said.
A key problem across Africa is a lack of legislation to effectively deal with MLM cryptocurrency fraud.
Right now we are using the Computer Misuse Act and the Penal Code Act which are not adequate to deal with these new ways of defrauding people," Mwima argued.
Another factor is that, as previously stated, most MLM cryptocurrency scams aren't run out of Africa itself.
This can make it challenging for regulators, but not impossible.
Mwima stated that the since there is no law regulating financial schemes like the pyramid schemes, there is need for government to come up with a law to regulate such businesses.
While Ugandan authorities might be unable to shut down MLM cryptocurrency scams, they can declare them illegal and go after local promoters.
To that end 'the MPs said they are working on a motion which they would present before Parliament in the course of this week'.
On the flip side you have countries like Nigeria that have a relatively active SEC, yet the country still routinely pops up in MLM cryptocurrency scams targeting Africa.
Good luck Uganda… you're going to need it.