Emaar Ventures Review: $20 to $50,000 Ponzi investment fraud

On their website, Emaar Ventures claim:
Our Group of companies were incorporated in 2009. Although we  have had our mother company for over 20 years.
The Emaar Ventures website domain ("emaarventures.com") however was only registered on the 8th of June 2016, revealing this to be a lie.
The official date of the founding of Emaar Ventures Company is June 27, 2009.

Its founders and non-replaceable leaders for today are Japanese businessmen, Kazuki Mariyatsu, Arabian business guru Mohamed Alabbar, Nikko Yamaguti, as well as a successful Russian businessman Vyacheslav Nikiforov.
The above paragraph, taken directly from the Emaar Ventures website has been copy and pasted from a website belonging to "Tokyo Investment Company":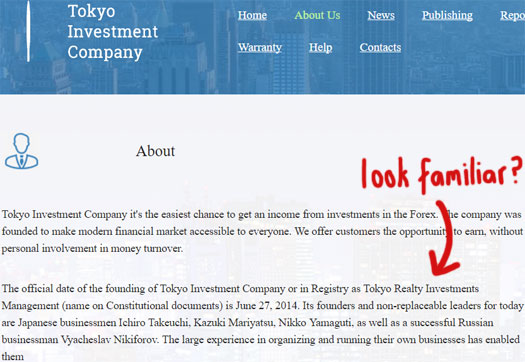 Tokyo Investment Company appears to be some sort of collapsed forex HYIP scheme.
No information is available about Kazuki Mariyatsu outside of Emaar Ventures and Tokyo Investment Company.
Mohamed Alabbar is an actual businessman from the UAE and Chairman of Emaar Properties.
Emaar Properties is
one of the largest real estate development companies in the world and known for developing the Burj Khalifa, the world's tallest building and the Dubai Mall,the world's largest mall.
Vyacheslav Nikiforov is the name of a Russian Director and former football player. There's no well-known person bearing this name connected to the business world.
It appears whoever is actually running Emaar Ventures simply appropriated Mohamed Alabbar and the Emaar Properties company name, added two more fictitious owners and ran with it.
As always, if an MLM company is not openly upfront about who is running or owns it, think long and hard about joining and/or handing over any money.
The Emaar Ventures Product Line
Emaar Ventures has no retailable products or services, with affiliates only able to market Emaar Ventures affiliate membership itself.
The Emaar Ventures Compensation Plan
Emaar Ventures affiliates invest $20 to $50,000 on the promise of a daily ROI.
Starter – invest $20 to $200 and receive a 7% daily ROI for 20 days (140%)
Advanced – invest $201 to $1000 and receive a 5% daily ROI for 40 days (200%)
Premium – invest $1001 to $5000 and receive a 2% daily ROI for 100 days (200%)
Master – invest $5001 to $15,000 and receive a 1.8% daily ROI for 200 days (360%)
Tycoon – invest $15,001 to $50,000 and receive a 2.5% daily ROI for 300 days (750%)
Referral commissions are available on funds invested by recruited Emaar Ventures affiliates, paid out via a unilevel compensation structure.
A unilevel compensation structure places an affiliate at the top of a unilevel team, with every personally recruited affiliate placed directly under them (level 1):

If any level 1 affiliates recruit new affiliates, they are placed on level 2 of the original affiliate's unilevel team.
If any level 2 affiliates recruit new affiliates, they are placed on level 3 and so on and so forth down a theoretical infinite number of levels.
Emaar Ventures cap payable unilevel levels at five, with commissions paid out as a percentage of funds invested as follows:
level 1 (personally recruited affiliates) – 4%
levels 2 and 3 – 1%
levels 4 and 5 – 0.5%
Joining Emaar Ventures
Emaar Ventures affiliate membership is tied to an investment of between $20 and $50,000.
Conclusion
What is needed for a maximum profitable and effective Investor Membership with Emaar Ventures Company?

REGISTER AN ACCOUNT
MAKE A DEPOSIT
GET PROFIT AND WITHDRAW YOUR MONEY
Right from the beginning Emaar Ventures is a business opportunity wrapped in fraud.
Pretty much everything about the company's history presented on the Emaar Ventures website is bogus. The founders don't exist, nor is there a valid explanation as to how Emaar Ventures generated 700% ROIs in 300 days.
Quite obviously all that's happening is Emaar Ventures are using newly invested funds to pay off existing investors. This makes it a Ponzi scheme.
Daily ROI rates are higher on the lower plans to encourage initial investment. The idea is that once paid more money will be invested at the higher plans which provides the Emaar Ventures admin(s) more time to collect money before they shutdown and run.
Naive affiliates will be presented numbers on a screen in a backoffice, signifying daily ROI payments that don't actually exist.
Somewhere between 100 to 300 days the Emaar Ventures admin(s) will do a runner, with affiliates not realizing they've been scammed until it's too late (they'll keep quiet as long as an imaginary daily ROI is generated in their backoffice).