12th uFun Club arrest in Thailand, affiliate woken up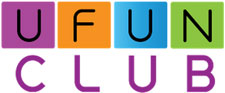 What happens when a uFun Club investor's only source of information is the misleading rubbish being fed to them by uFun Club management and top investors?
They get on social media and parrot what they've been told, rally other uFun Club investors to "rage against the machine", inadvertently find themselves promoting Ponzi investment fraud in doing so and… eventually the law catches up with them.
So found Natthawat Boonpha, who was arrested yesterday for his part in promoting uFun Club and circulating misleading information.
A quick visit to Boonpha's Facebook page sees it filled with regurgitation of uFun Club's marketing machine. Rhetoric about the Indonesian mine and nonsensical explanations of the uToken Ponzi points currency are in abundance.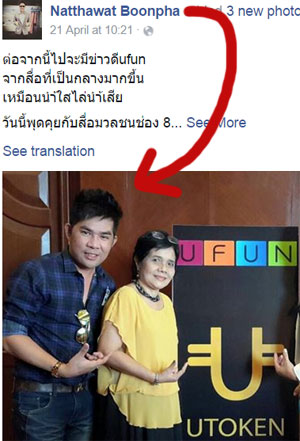 On the 21st of April Boonpha told his fellow uFun Club investors (auto-translated from Thai):
From now on, there will be a good news ufun from the media, the neutral.
Like na! – fire na to you.

Today, speak to the media, channel 8 during the interview the utoken in chara product.

The image on the air will the plus in the overview of ufun.

Feel. thank you, the media, samuel. Give phuna the members ufun explain the truth.
From about early May Boonpha's uFun Club cheerleading stopped, which I'm guessing is when police began actively investigating his role within the scam.
Following Boonpha's arrest on Monday, he's since had a change of heart about uFun and understands 'the scheme was illegal'.
Natthawat said he joined the scheme last April by investing Bt17,500 ($522 USD) and then expanded to have over 10 down-line members.

He explained that his online posts supporting the UFUN members' protest was not criticism of the police. It was merely to give encouragement to fellow UFUN member and gay rights activist Natee Teerarojpong.

He said he had heard and believed the information from UFUN side – but he now understood the scheme was illegal.

He urged other UFUN members to listen to the police side of the story too.
I myself didn't see any anti-investigation rhetoric on Boonpha's Facebook page, so I'm guessing that was reserved for the many private Facebook groups uFun investors run.
Boonphan's initial investment into uFun Club wasn't all that much, so I'd guess he was one of the prime cheerleaders in the various Thai groups.
Something Ponzi investors often overlook is that it's not only illegal to run the schemes, but also to promote them. Ditto directly or indirectly interfering with regulatory scam investigations too.
Behind the closed doors of Facebook uFun Club groups you'll read all sorts of conspiracy theories against those investigating the scheme, written and circulated with the sole intention to stop downline investors demanding their money back.
The reality though is that what happens now is critical to how much of the $1.17 billion USD uFun Club took in might be recovered.
Even as Malaysian authorities pretend there isn't a major MLM scam operating from inside the country, uFun Club's management are making plans to disappear – if they haven't already done so.
It really shouldn't take an arrest to get someone to understand that uFun Club is just a reworking of the Zeek Rewards Ponzi points business model.
Cryptocurrencies are fine and dandy, but when they're used as Ponzi points they're no different to VIP bids, "shares" or any of the other different names the points have been given over the years.
Daniel Tay has already admitted uFun Club in its uToken cryptocurrency state was an illegal scam. Unfortunately for him fraud is fraud, and when it's the foundation of your business what happens next doesn't matter.
Police obviously can't arrest every uFun Club affiliate and explain to them why and how it's a Ponzi scheme. At some point all you uFun investors still carrying the torch really need to sit down and do the research yourself.
Throwing your hands up in the air and pretending you "had no idea" uFun Club was a global $1.17 billion Ponzi scheme only after police have thus this down or, worse still those responsible disappear, is too little too late.
Sit back, continue to regurgitate what you're fed in your Facebook groups, while your funds are siphoned off to some hidey-hole never to be seen again; Or actually do something about uFun Club while you still can.
The choice is yours.