Zeek Reciever not impressed with Douglas & Auction Attics

As first reported by BehindMLM in mid July, Darryle Douglas is gearing up to launch a new penny auction venture he's calling Auction Attics.
The problem?
Darryle Douglas owes victims of the Zeek Rewards Ponzi scheme over two million dollars… and he's looking to market Auction Attics with a Zeek Rewards victim database he doesn't own or have the rights to.
Douglas' recent marketing efforts have now attracted the attention of the Zeek Rewards Receiver, who is decidedly not impressed with Douglas and his Auction Attics antics.
Identifying Auction Attics as a "new investment scheme", in a motion filed on the 24th of August the Receiver writes:
Darryle Douglas was a key member of Zeek's senior level management involved with affiliate communications and relations.

Mr. Douglas received more than $1,975,000.00 from the scheme, and the Receiver has obtained a default judgment against him in the amount of $2,271,239.20.

It has come to the attention of the Receiver that Mr. Douglas has begun promoting a new investment scheme known as "Auction Attics" and intends to use a copy the ZeekRewards affiliate database to solicit investors into this new scheme.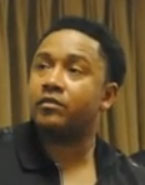 In addition to wanting the funds awarded to Zeek's victims via default judgement, the Receiver also contends that Douglas (right) should be made to immediately return the Zeek affiliate database:
It is clear that Mr. Douglas has no intention of paying the Receivership the money he owes, and he has now moved on to his next attempt to obtain unsuspecting victims' money.

The evidence at hand demonstrates that Mr. Douglas intends to or has already begun using the ZeekRewards affiliate database to gain investors for his new scheme.
To that end the Receiver has asked the court to order Douglas
to appear in the Western District of North Carolina for a deposition, and to produce all financial records from November 1, 2011 to the present for his personal and business-related accounts prior to such deposition.
This, the Receiver claims, will aid 'the return of these assets (the funds owed and the affiliate database) to the Receivership'.
A Judge has yet to rule on the matter but if the Receiver has his way, Auction Attics might just be DOA.
Stay tuned…
Footnote: Our thanks to Don@ASDUpdates for providing a copy of the Zeek Receiver's August 24th "Motion For Order Requiring Return of Receivership Property, Deposition, And Production of Financial Records".