Ponzi frustration? Jose Nunes bashes girlfriend in front of daughter

It takes a certain type of character to front online Ponzi schemes that rip people off for millions of dollars each year.
Sadly it comes as little surprise to learn one of Traffic Monsoon's prolific cheerleaders has a history of domestic violence.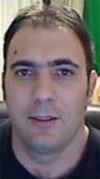 Jose Nunes credits himself as a "certified and qualified internet marketing professional".
In addition to running the failing "Video Marketing" YouTube channel, Nunes is also a serial Ponzi participant.
Scams Nunes has promoted over the last few months include My Advertising Pays, The Ads Team and Traffic Monsoon.
Up until the SEC shut it down in late 2016, it is believed Traffic Monsoon was Nunes' primary source of income.
In addition to participating in scams, Nunes also runs the Traffic Express adcredit Ponzi scheme. Traffic Express affiliates invest $50 on the promise of a 110% ROI, paid out of subsequently invested funds.
After a brief spike in activity post launch, Traffic Express investor activity sharply declined: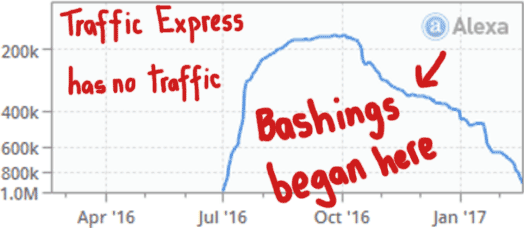 Amid the crumbling of his Ponzi empire, a report has emerged detailing Jose Nunes' history of domestic violence.
The Daily Post identifies Nunes as a resident of Bryn Coch Terrace, Llanrug, Gwynedd in north-west Wales.
According to charges filed by the Public Prosecutor's Office, Nunes attacked his girlfriend of fifteen years in November following an argument.
A statement by Nunes' girlfriend, read out by the prosecutor, provides grisly details the attack.
He had dragged me by the collar and pushed me to the floor and kicked me to the head with his right foot.

My daughter saw this and was traumatised.
After the assault Nunes purportedly told his girlfriend she deserved it.
Believing she required medical assistance, Nunes' girlfriend pleaded with him to take her to hospital.
He refused 'because he knew they would be questioned about her injuries'.
In January, Nunes' again laid into his partner.
There was another argument and Nunes had "punched" the woman in her left leg.
That same month Nunes was on Facebook bosting about his recent weight loss:

After fleeing to Women's aid, Nunes' girlfriend reported the second attack to police.
The earliest recorded date of Nunes' domestic abuse goes back to 2011. Again with an attack infront of his daughter.
In answer to charges Nunes plead guilty and was sentenced to 22 weeks custody, suspended for 18 months.
Nunes was ordered by magistrates to carry out 120 hours of unpaid work, complete 35 sessions on how to have better relationships, and pay £100 compensation as well as court costs.

He was handed an indefinite restraining order banning him from contacting his former partner other than through a solicitor or court official.
Nunes initially plead not guilty to three charges, but changes his plea after the third charge was dropped.
Bench chairman Ffion Jones said: "These offences were in a domestic setting and one witnessed by your daughter. These were repeated acts of violence."

Probation officer Miss Evans said Nunes also blamed the victim and did not fully take responsibility.

She said he was at medium risk of reoffending but needed a lot of work to help him with relationships.
Of his time in custody before his guilty plea, Nunes claims he found it 'very, very troubling and violent'.
Perhaps not unlike the experience of being in a relationship with him.
In an attempt to explain his absence to his social media following, Nunes brushed off his stint in custody and the charges as a separation.
Hi guys, Jose here, I am separating from my wife at the moment, so this is why I've not been around lately.

Apologies for being out of contact for a while. I should have either my same number (or a new one) by Monday.

Sorry for any inconvenience. Can be in touch again soon, Jose.
Outside of domestic violence, Nunes has displayed a continued disrespect of women.
When the court appointed Peggy Hunt as Receiver of Traffic Monsoon, Nunes lashed out her personally with an expletive ridden rant.
You guys keep going on about why Charles doesn't reply to some of your comments, acting like Chinese water torturers, why don't you guys grow a pair, grow up for once and go ask that Piggy Hunt for the facts?

Her contact details are on the case pdfs, why don't you go and ask her and ask the bitch where she's getting her facts from? Lying cow.
As the US election was playing out late last year, Nunes supported the objectification of now First Lady, Melania Trump: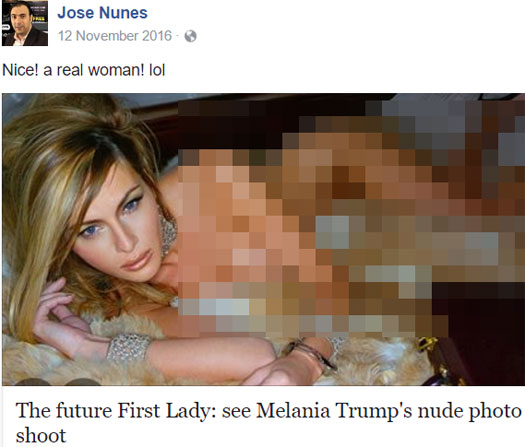 Nunes commented on his own post, by sharing a video that claimed Michelle Obama is a man: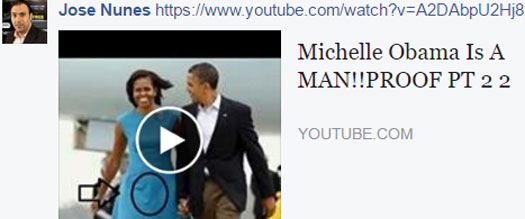 To what extent Nunes' Ponzi earning troubles may have influenced his latest tirades of domestic violence is unclear.
Nunes told the court 'he was a web designer and business consultant earning £500 a month but, when he worked, he could be earning "up to £1,000 a day"'.
That probably isn't going to get any better any time soon. So uh, watch out ladies I guess.