Winning Express Review: Sporting arbitrage or Ponzi?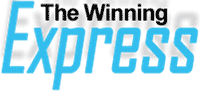 The Winning Express website does not identify who who owns or runs the business.
There is an "about us" link in the footer of the website, however clicking it at the time of publication redirects visitors to the main homepage.
This snippet in the Winning Express FAQ was the only bit of information pertaining to the owners I was able to find:
I note that the proprietors of Winning Express are resident  in Seychelles. Why is this?

Although the profits you will make from the services are tax free (Betting Tax was abolished at the turn of the century) the fact remains that if an individual is deemed to be making a full-time living from betting then he/she is regarded as a professional gambler and winnings are considered to be earnings.

Rather than be subject to higher rates of tax, the sports analysts who devised the methodology opted instead to sell their services via an offshore company in an appropriate location.

Also, current clients of Milton Express Ltd who pay £2,250 per annum for advices are spared VAT.
So under the guise of hiding out in greater Europe because they don't want to pay taxes in the UK, Winning Expresses owners operate the scheme from a location unknown.
Furthermore the above FAQ question suggests that information about the owners of the company was once provided, but has since been removed.
That's not exactly confidence inspiring.
I did try to dig around and find out who was behind Milton Express, but nothing concrete surfaced.
The Winning Express website domain registration was registered on the 24th of November 2010, and lists a "Darren Bate" of "Admin Solutions UK LTD" as the owner.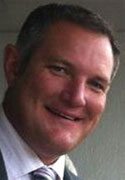 As above, Bate (right) is actively promoting Winning Express across multiple social media accounts bearing his name, but I wasn't able to ascertain his specific role within the company.
Pertaining to Admin Solutions UK LTD, as per the Winning Express FAQ:
Does this mean all my dealings will have to be catered for by international staff?

No, all administration of Winning Express will be conducted by Admin Solutions (UK) Ltd based in Sheffield, South Yorkshire.
Basically Admin Solutions run the admin side of Winning Express from within the UK, while its owners hiding overseas:
Admin Solutions (UK) Ltd provides invaluable secretarial and administrative back up for a variety of companies or individuals. We can operate on a contractual basis or a pay as you go system based upon your circumstances.
Again, whether Darren Bate works for Winning Express, Admin Solutions UK or both is unclear.
Update March 3rd 2016 – Winning Express appears to have collapsed, which seems to have prompted Darren Bate to get in touch:
I provided admin only for this company of which i no longer do so.
I've asked him who he was working for, will update if I hear anything back. /end update
Update March 5th 2016 – Further clarification from Bate:
I was and never have been the face behind Winning Express, Admin Solutions merely provided the administration service to Milton Express Ltd which has now lapsed and been awarded to Milton Admin UK Ltd, the face behind Winning Express is and always has been Graham Bradbury.
/end update
As always, if a MLM company is not openly upfront about who is running or owns it, think long and hard about joining and/or handing over any money.
The Winning Express Product Line
Winning Express has no retailable products or services, with affiliates only able to market affiliate membership to the opportunity itself (£99-325 GBP each quarter).
Once signed up, Winning Express affiliates are given access to a sporting abritrage platform: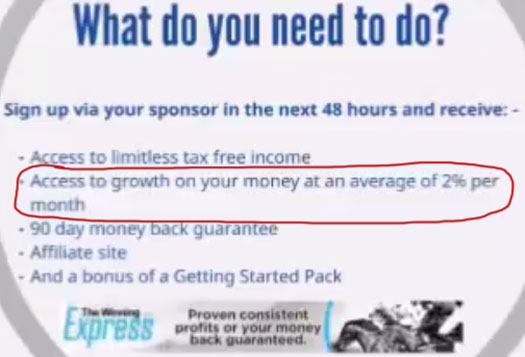 Affiliates can invest funds in this platform, with Winning Express advertising an average ROI of 2% each month.
The minimum investment amount is £1000 GBP, the maximum £20,000 GBP.
The Winning Express Compensaion Plan
The Winning Express compensation plan revolves around affiliates signing up, paying a quarterly membership fee and then recruiting others who do the same.
Referral commissions are also paid out on funds invested in Winning Express' sporting arbitrage platform.
Recruitment Commissions
Winning Express affiliates are paid a commission on the recruitment of new affiliates.
These commissions are paid via a unilevel compensation structure.
A unilevel compensation structure places an affiliate at the top of a unilevel team, with every personally recruited affiliate placed directly under them (level 1):

If any affiliates on level 1 go on to recruit new affiliates, they are placed on level 2 of the original affiliate's unilevel team.
If any level 2 affiliates recruit new affiliates, they are placed on level 3 and so on and so forth down a theoretical infinite number of levels.
In Winning Express commissions are capped down eight levels of recruitment as follows:
level 1 – £30 GBP
level 2 – £15 GBP
level 3 – £7.50 GBP
level 4 – £6 GBP
levels 5 and 6 – £4.50 GBP
levels 7 and 8 – £3 GBP
At the end of a Winning Express affiliate's first 3 months of membership, they have the option of becoming an Executive Member for £325 GBP (payable each quarter).
If an Executive Member convinces affiliates in their downline to upgrade to Executive Membership, they then earn the following commissions in place of the regular Associate commissions above:
level 1 – £100 GBP
level 2 – £50 GBP
level 3 – £25 GBP
level 4 – £20 GBP
levels 5 and 6 – £15 GBP
levels 7 and 8 – £10 GBP
Arbitrage Investment Referral Commissions
When personally recruited affiliates invest funds into their Winning Express arbitrage accounts, the company pays out a 2% commission on the initial deposit.
This extends residually each month to 0.5% of the invested funds, as long as they are not withdrawn.
Ambassador ranked affiliates also earn 0.25% on funds invested by affiliates their personal recruits have recruited (level 2).
To qualify as an Ambassador, a Winning Express affiliate must recruit at least three affiliates, who each recruit at least three affiliates, who each also recruit at least three affiliates (minimum 27 affiliates over three levels of recruitment).
Each of these affiliates must be current with their Winning Express affiliate membership fees to count towards Ambassador qualification.
Monthly Prize Draw
Winning Express affiliates who recruit and maintain three personally fee-paying affiliates are entered into a monthly prize draw for £1000 GBP.
Joining Winning Express
Basic affiliate membership with Winning Express as an Associate Member is £99 GBP every three months.
Executive Membership is also available for £325 GBP every three months.
The primary difference between these two membership options is income potential through Winning Express' compensation plan.
Conclusion
If you commit yourself to spreading the Winning Express philosophy to as many people as you can over the first few months, then your momentum will be unstoppable.
Ugh, what a compliance nightmare this one is.
The only marginally legitimate side of Winning Express I was able to separate from the rest of the opportunity was the sporting advice service.
Basically you pay Winning Express to provide you betting tips and then place your bets.
Unfortunately though, that's massively out weighed by the rest of the company's business model.
Let's start with the managed sporting arbitrage service, which was all anyone promoting the scheme talked about in their presentations.
Basically you a drop a minimum of £1000 GBP with Winning Express and they advertise a ROI of around 2% a month: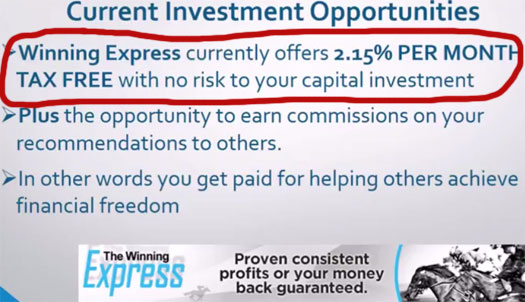 Winning Express skim 10% off the top and you do absolutely nothing. A completely passive 2% ROI a month investment.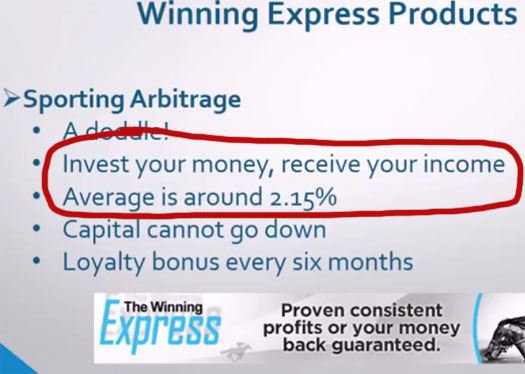 This is supposedly generated via the automated placing of bets by the company, but then things like restricting the amount an affiliate can invest unless they recruit new affiliates or sign up for the £325 GBP a quarter package make little sense.
Those are things a Ponzi scheme would implement to encourage new funds to flow into the system and increase their investor pool.
I mean if you're making 2% a month via betting on separate investment amounts, what does it matter if your affiliates are paying £99 GBP a quarter or £325 GBP – ditto recruiting new investors?
The only reason I can see affiliates being required to pay more is to trap more of their funds in the system. Oh and to earn more from those also paying more as an affiliates (pay to play):
Being an executive and helping your team to become executives too makes a huge difference to your earnings potential.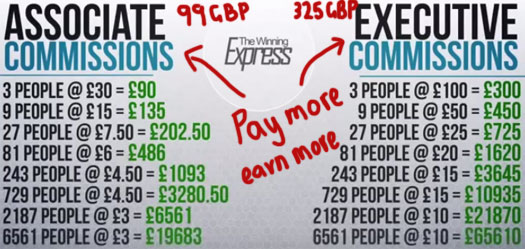 The recruitment commissions then totally drag Winning Express into pyramid scheme territory.
First of all investments made in arbitrage accounts by recruited affiliates are commissionable, with this being in line with Ponzi referral commissions.
Then there's the membership fee commissions, which are paid down eight levels of recruitment: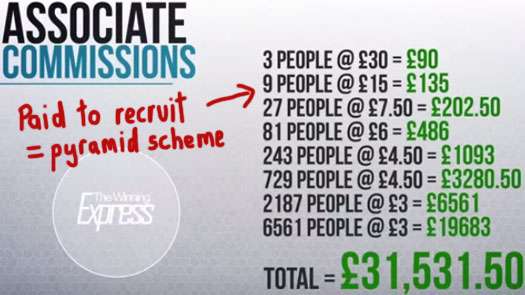 This component of Winning Express' compensation plan is just a straight up pyramid scheme.
Affiliates buy in and then are paid to recruit new affiliates. This is completely external to the sporting arbitrage side of the business and leaves me questioning the validity of it.
I mean, if you've got such blatant fraudulent activity taking place on the membership side of the business, who's to say there's any legitimacy to the bets allegedly being placed.
All we know is Winning Express affiliates invest funds with the company, sit back and collect an advertised 2% ROI each month.
Not helping is the murky details of Winning Express' owners. An individual or individuals hiding out in Seychelles? Yeah… it's just too hard to overlook all the Ponzi red-flags Winning Express has written all over it.
At best, I figure you've got a somewhat legitimate betting service attached to a fraudulent pyramid scheme commissions structure.
At worst, Winning Express are simply running a Ponzi scheme, using newly invested funds to pay off existing investors, with an attached fraudulent pyramid scheme commissions structure.
I can't see any reason to attach a pyramid scheme to an otherwise legitimate sporting arbitrage service, so make of that what you will.