The Next Millionaire Maker Review: $25 matrix buyin

When you name a company something as specific as 'The Next Millionaire Maker', you're not really leaving anything open to interpretation. By definition, The Next Millionaire Maker exists to create millionaires.
So 9 months after launching, how are they doing?
Well, I couldn't help but notice that the payout counter on The Next Millionaire Maker homepage only read $325,500 in total.
Not a bad number in itself but a far cry from making anyone a millionaire. Read on for a full review of The Next Millionaire Maker.
The Company
The Next Millionaire Maker was founded back in July 2011 by Ryker Dolanson. Dolanson claims that he is 'a programmer and an internet marketer' who has been at it 'for the past 5 years'. He states he's 'joined a lot of affiliate programs online and earned a lot from it'.
Despite this though, I was unable to find any digital footprint of Dolanson's – except for an affiliate page dated mid 2011 marketing some banner advertising ebook.
Not surprising really, when you consider that Ryker Dolanson appears to be an entirely made up persona.
Here's how Ryker Dolanson appears on The Next Millionaire Maker website: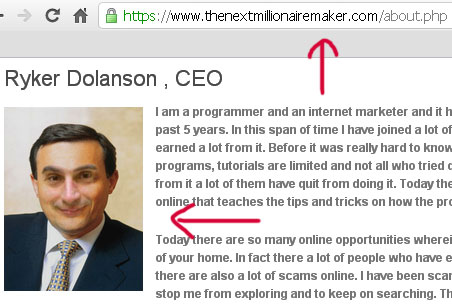 And here's that same photo of Dolanson blown up and compared to the original on the right: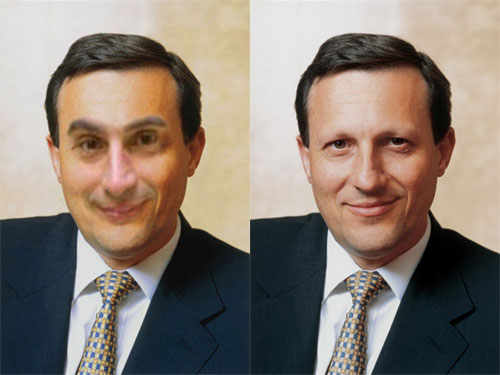 So who's are mystery man? Turns out he's the Daniel Vasella, CEO and Chairman of the drug company Novartis.
Where whoever is behind The Next Millionaire Maker got the face they photoshopped into the photo though remains a mystery.
The domain 'thenextmillionairemaker.com' was registered on the 17th July 2011 however the domain registration is set to private.
As always, if a MLM company is not openly upfront about who is running or owns it, think long and hard about joining and/or handing over any money.
The Next Millionaire Maker Product Line
The Next Millionaire Maker claims to have ebook, video, software and graphics products however as far as the business opportunity goes, it is impossible to purchase these products within the opportunity itself.
Instead, upon purchasing membership (a matrix entry spot to be more specific) to the company, all of these ebooks, videos, software and graphics are made available to members – along with their resale rights.
Thus members are able to market the products independently from the Next Millionaire Maker opportunity keeping 100% of the commissions generated.
Seeing as this isn't part of the business opportunity (anyone can acquire private label rights), what is really being marketed within The Next Millionaire Maker opportunity is membership to the company itself.
The Next Millionaire Maker Compensation Plan
The Next Millionaire Maker Compensation Plan revolves around a series of five 2×2 matrices. A 2×2 matrix puts you at the top and then branches out into two legs underneath you. These two legs in turn branch out into two additional legs allowing for six member positions that need to be filled: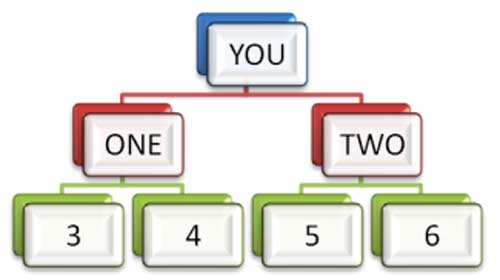 Once this matrix is filled with member The Next Millionaire Maker members cycle and earn a commission.
As mentioned earlier there are five matrices in total with each paying out a different cycle commission:
Star – $50
Bronze – $100
Silver – $200
Gold – $400
Platinum – $800
The mechanics of cycling and earning commissions is pretty simple. Everyone who joins comes in at the Star level and the first time they cycle out of their Star matrix they earn a $50 commission. They are then re-entered into the Star  level matrix and have to cycle out again.
When this happens for a second time, the company keeps the $50 cycle commission, re-enters the member into a new Star level matrix and also enters them into a Bronze matrix.
Cycling out of the Bronze matrix follows the same rules as the Star matrix and so on and so forth. It is not possible to buy into the higher levels of the matrix, members must cycle out (at least twice at each level before moving up to a higher matrix level).
Matching and Referrer Commissions
In addition to the cycle commissions offered above, The Next Millionaire Maker also offer matching and referrer commissions.
The referrer commission is earnt every time someone you've personally recruited cycles out of a matrix. How much of a commission you are paid depends on what level matrix they are cycling out of:
Star matrix – $2.50
Bronze matrix – $5
Silver matrix – $10
Gold matrix – $20
Platinum matrix – $40
The matching bonus is paid out when you have a personally recruited member in both the left and right sides of any matrix you cycle out of. When these members cycle out, you are paid a matching bonus:
Star matrix – $12.50
Bronze matrix – $25
Silver matrix – $50
Gold matrix – $100
Platinum matrix – $200
Note that both members don't have to cycle out for you to earn the commission, it is paid as each paired member cycles out individually.
Joining The Next Millionaire Maker
Membership to The Next Millionaire Maker is $25 to enter in at the Star level. Each membership provides one matrix entry and there is no limit to the  amount of memberships a single member can purchase.
Conclusion
In doing your due diligence on The Next Millionaire Maker the fact that their listed CEO Ryker Dolanson doesn't exist should be enough to send you running but combined with a compensation plan that boils down to a simple recruitment scam, well… there's not really all that much left to be said really.
You've got anonymous owner(s) pushing a business with fake CEO details and a business model that relies on the constant recruitment of new members to continue to pay out commissions.
It doesn't take a genius to figure The Next Millionaire Maker isn't going to be making any millionaires anytime soon…