The Alpha Launch: Another "NDA" hype-machine?

In what I'm hoping isn't going to become a regular launch trend, another company has recently launched (pre-launched, alpha-launched, whatever) itself and looks to want to follow in Rippln's "we made everyone sign an NDA to watch a publicly available YouTube video" footsteps.
Rippln's hype marketing machine hit MLM airwaves in mid April and although the company initially looked as if it was going to launch on your standard "affiliate fees & recruit more affiliates to earn more money" platform, once compliance lawyers got involved things appear to have stalled.
By then the hype marketing machine was in full effect and with thousands of people already spamming the internet with affiliate invites, containment was not an option.
So as the weeks drag on with nobody any wiser as to the specifics of Rippln's business model and compensation plan…how's that working out for them?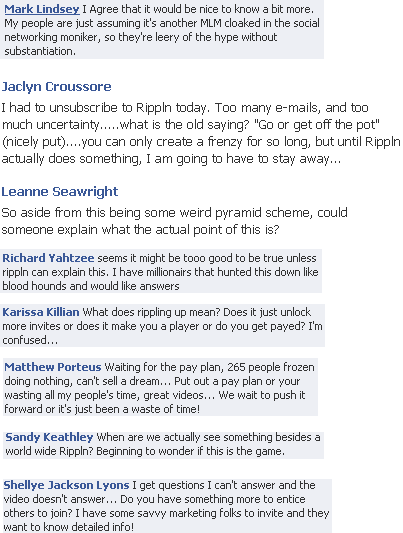 Seemingly oblivious to the growing number of complaints being published daily on their Facebook page (the above quotes were all published in the last 24 hours), Rippln are pushing the marketing train ahead and just recently announced a "huddle" event in Las Vegas.
Those who attend the Rippln Huddle event will 'learn about the new wave that is sweeping the globe'.
Huddle attendees are also urged to 'check out the No Excuses Summit' (which Rippln are sponsoring), where affiliates can 'get access to special Rippln training sessions'. With nobody in Rippln aware of the compensation plan or business model however, what this training will cover is a complete mystery.
The total cost to attend both the Rippln Huddle and No Excuses Summit is $506 USD.
Looking to replicate this "viral success" is The Alpha Launch.
Flashy yet informatively useless marketing videos? Check.
Anonymously registered email capture website? Check.
Gimmicky catchphrase? "We are the wild ones", check.
Mention of "launch phases"? Check.
Talk about an exclusive non-disclosure agreement? Check.
Company poised to sign up as many affiliates as they can without revealing anything specific about its business model or compensation plan? Check, check and check.
Here we go again…
No doubt The Alpha Launch will reveal their official business name as some later date but for now the company is directing people to sign away their email addresses at "thealphalaunch.com".
TheAlphaLaunch.com provides an opportunity to learn about a new Network Marketing prelaunch happening July, 2013.

TheAlphaLaunch.com is operated and managed by a handful of leaders heading the prelaunch of a Network Marketing (MLM) company.

We have been involved in Network Marketing collectively for decades and each of us are seven-figure earners in the industry.

Due to the confidential nature of this business while in prelaunch, our names will not be disclosed on the website during this phase.
With no information on the website indicating who is running or owns the business and the domain registration set to private, The Alpha Launch requests visitors hand over their email addresses on nothing more than the following:
Some people say to be successful in Network Marketing, you have to join an established company.

Others say, you have to get in on the ground floor of a brand new opportunity. We say, what if you could do both?

Simply provide your primary email address on the home page and then fill out the short survey on the following page upon confirming your email address.

One of us will personally be in touch with you within 48 hours or less.
I might be reading too much into the spiel, but sounds to me like they're going to launch an offshoot of an existing company. Whether or not this is just a master-affiliate's personal recruitment drive or an official corporate campaign is of course unclear.
One BehindMLM reader attempted to request further information from the company, only to receive the following reply:
Thanks for contacting us.

We actually have many leaders enrolling right now to learn more about this launch. We understand it is a bit of a leap of faith due to the fact that we are under strict NDA.

Entirely up to you if you want to supply your email and fill out the survey to have one of us call you and fill you in a little more.

We cannot publish much online right now until July. But leaders can speak to us directly to learn a bit more as we move closer to the prelaunch.

Thank you.
An NDA (even a psuedo-marketing NDA) would seem a bit excessive for an affiliate-run campaign, but who knows. That's pretty much all the information that's been made available at this time.
Typically whenever the industry sees these "hand over your email address" hype campaigns they attract a whole bunch of people (although starting their machine so closely on the heels of Rippln's campaign might hurt The Alpha Launch's momentum), and when they finally do reveal how much the opportunity costs and what their product line is, a few hundred at best sign up.
Ironically this is probably about the same level of interest they'd have gotten if they were just upfront about the company and didn't waste everybody's time with the theatrics.
I suspect we'll have full details on The Alpha Launch well before the July pre-launch date. Typically all it takes is one "leader" who passes on the opp to spill the beans and deflate the hype bubble.
Stay tuned for that… or I suppose there's always the possibility this will just fizzle out organically like Wazzub, PreLaunch Australia, Worldwide PreLaunch, PreLaunch Malaysia, Global One, The Beehive Strategy and all the other silly secretive campaigns before it.
How about MLM company owners stop treating your affiliates like mindless recruiting-machines and just launch with all the facts and figures upfront?
As we're now seeing with Rippln it doesn't take long for that hype shine to wear off and before you know it,  affiliates are getting increasingly restless and attrition rates start going through the roof.
There's a reason Rippln won't let you cancel your affiliate membership unless you personally email them and explain yourself…
Think about it. *cue weird cult music*
Update 7th September 2013 – In researching the new MLM company New Earth, I came across some information which indicated that the company might have been behind the Alpha Launch marketing campaign.
Not having checked up on the Alpha Launch for a while I did some further digging and confirmed this on the Alpha Launch YouTube channel: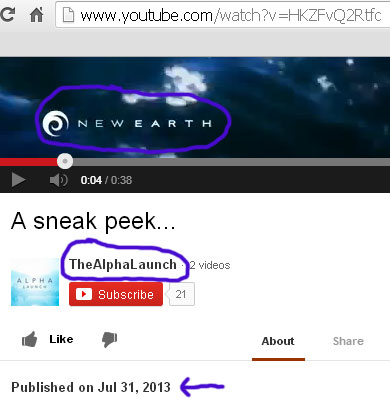 For more information check out the New Earth BehindMLM review, published 7th September, 2013.