Wanzeler seeks to delay TelexFree criminal investigation

During the raid on TelexFree's Massachusetts offices,
federal law enforcement seized various assets of TelexFree, including servers used by TelexFree, about 38 boxes of documents, and about two dozen computer drives.

The electronic data alone is believed to be over 400 terabytes of material.
As regulators continue to build their respective cases against TelexFree, the monumental task of sifting through the evidence faces potentially significant delays due to
all of the information seized from TelexFree first reviewed by a team of lawyers and paraprofessionals, whose duty would be to examine all of the documents and remove any materials that appear to be attorney-client privileged before the documents would be made available to the Governmental Authorities for use in Governmental Proceedings.
Seeking to speed up the investigation into TelexFree, Chapter 11 Trustee Stephen Darr recently approached the bankruptcy court with a request to waive TelexFree's right to any attorney-client privilege.
The motion, if granted, would permit authorities to immediately begin sifting through the collected evidence and enable them to use anything they find to build their respective cases.
Opposing this motion is TelexFree co-owner, Carlos Wanzeler.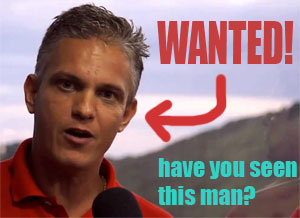 Wanzeler (right) objects to the Trustee's waiving of client-attorney privilege because
because the record before the court is inadequate and insufficient for the Court to consider the issues presented or make the determinations the Trustee has requested.

Mr. Wanzeler intends to preserve all rights in this and any other proceeding to assert the attorney client privilege, the attorney work product privilege, and other applicable legal privileges, and intends to preserve all rights to further brief these issues when they arise in this or any other legal proceeding.

Mr. Wanzeler respectfully requests that the Court deny the Trustee's Motion and delay any hearing or ruling until such time as a complete factual and legal record is presented to the Court.
That record could take months to present, as it would require the aforementioned "team of lawyers and paraprofessionals" to sift through the seized information.
That naturally suits Wanzeler, who is currently a fugitive on the run from US authorities. Wanzeler is currently hiding out in his native Brazil, living off millions of dollars he stole from TelexFree investors and then laundered out of the US.
Wanzeler goes on to argue
The Court cannot properly consider the Trustee's Motion because the Trustee has not presented any of the basic facts that would be necessary to determine the proper waiver of the attorney-client privilege.

For example, the Trustee has not identified any of the following:

-Who are the attorneys?

-When were the attorneys engaged?

-By whom were the attorneys engaged?

-For what purposes were the attorneys engaged?

-Which entities or individuals did the attorneys represent?

-Which entities or individuals may have a basis to assert the attorney-client privilege or other legal privilege?

-What records exist that may contain potentially privileged information, what information is contained in those records, and who may have a basis for asserting that such records are privileged?
The first thought that comes to mind is, 'Who cares?'
Stephen Darr, in his capacity as court-appointed Chapter 11 Trustee of TelexFree has been put in charge of the company. The decision to waive client-attorney privilege rests solely on his shoulders.
Such to the extent that data seized may contain incriminating communications between Wanzeler and his lawyers, the data was seized from TelexFree's office and is related to the day-to-day operation of the scheme.
If Wanzeler didn't want authorities reading something in particular, perhaps he should have taken it with him when he fled the US.
Otherwise, the way I see it, anything left behind in TelexFree's office is well within the rights of Darr to waive attorney-client privilege over.
If Wanzeler has any particular documents in mind he wishes to assert privilege over, perhaps he can jump on a plane and pay a visit to the offices of the FBI and Homeland Security to point them out.
Otherwise Wanzeler's argument rings hollow.
Certainly the Trustee does not have the authority, and should not be given the authority, to waive any privilege that may properly belong to an individual or entity whom the Trustee does not properly represent.
You can't chastise the Trustee for waiving client-attorney privilege on over 400 terabytes of material because stuff you don't want regulators to see might be buried within, based on an argument that fails to identify anything specific you don't want regulators to see.
And certainly not when months of delays hang in the balance.
One of the responsibilities of a court-appointed Chapter 11 Trustee is to "prevent delay" in any proceedings the estate they have been charged with presiding over is involved in.
I mean really, does Wanzeler truly think he's going to get away with undermining the authority of the Trustee from his hidey-hole in Brazil?
Wanzeler lost any say in legal decisions affecting TelexFree the day the Massachusetts bankruptcy court deemed his puppet MacMillan incompetent and put Darr in charge.
One interesting aside is that Wanzeler's filing reveals the extent of which MLM attorney Jeffrey Babener was involved in representing TelexFree. He also appears to have been engaged as Wanzeler's personal attorney.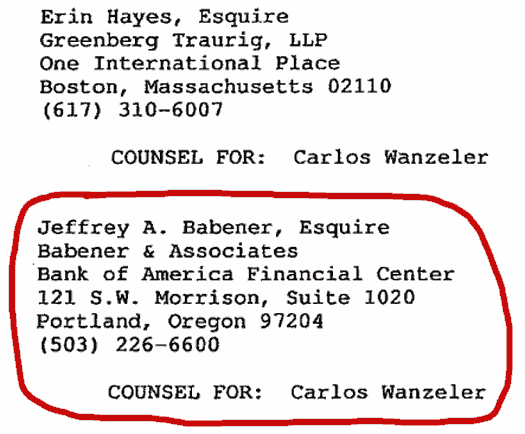 An excerpt from Wanzeler's filing reads:
One example, which demonstrates the complexity of the issues to be resolved, the need for a detailed record, and the need for a mechanism to protect privileges belonging to others, arises from the engagement of Attorney Jeffrey Babener, of Babener & Associates, and Attorneys Mark Berthiaume and Erin Hayes, of Greenberg Traurig LLP.

In other filings with the Court, Attorney Babener and the firm Greenberg Traurig have been identified as having represented the TelexFree entities.

These same attorneys, however, have stated that they also represented Mr. Wanzeler, as well as James Merrill (who also was a co-owner, director, and/or officer of the TelexFree entities).

The transcript of an "on-the-record interview" of Mr. Wanzeler conducted by the Massachusetts Securities Division on March 26, 2014 reflects the
following:

Q. Mr. Wanzeler, are you being represented by counsel today?

A. Yes, represented by counsel.

Mr. Berthiaume: As I mentioned at yesterday's on-the record interview, Mark Berthiaume, Greenberg Traurig; with me is Erin Hayes, also Greenberg Traurig, and Jeffrey Babener. The three of us represent the company but are also representing Mr. Wanzeler for purposes of today's interview.

Mr. Leone: And, Counsel, do you also represent anyone else in this matter?

Mr. Berthiaume: Well, we represent Mr. Merrill who testified yesterday.
Turns out Babener was also representing TelexFree co-owner James Merrill too.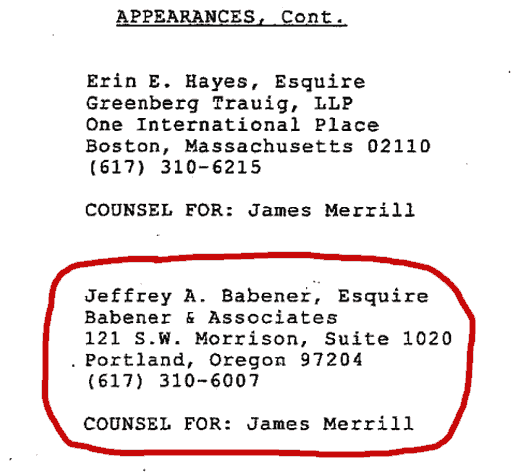 As revealed in a recent filing by Stephen Darr, Jeffrey Babener advised TelexFree they were running a pyramid scheme back in August of 2013.
A well-known and respected MLM attorney, why Babener was still representing TelexFree and its owners seven months after he'd identified TelexFree as a pyramid scheme, is a mystery.
One month after Babener made an appearence on behalf of Wanzeler and Merill, the SEC and Massachusetts Securities Division shut TelexFree down for being a billion dollar Ponzi scheme.