TelexFree owner shares "investment strategy"

Confusion surrounding TelexFree's new compensation plan is still abundant, but general consensus among the company's top affiliates seems to be the adoption of either a three or five position approach.
Affiliates purchase three or five positions within the company (a minimum of one primary plus two secondary positions is required for commission qualification).
Provided enough new positions continue to be purchased by other affiliates (money coming in), TelexFree then pays out $100 a week on the primary position.
The five position approach is near identical, but layers a second primary position under the first, requiring participating affiliates to make a greater initial deposit.
In response to the wider affiliate-base still unable to make heads or tails of the recent changes, TelexFree yesterday published a video titled "A perfect strategy for TelexFree's marketing plan by Carlos Costa".
In the video Costa, one of the three owners of TelexFree, sits down with pen and paper and walks them through the aforementioned three-position approach.
Costa himself doesn't explicitly encourage affiliates to fund the positions themselves. Instead he promises those who adopt this approach will receive 'a return greater than your own investment'.
In a refreshingly honest going over of the business, Costa drops the "sell the VOIP to retail customers" facade.
He goes on to lay out a $759.88 ROI if affiliates "follow his strategy":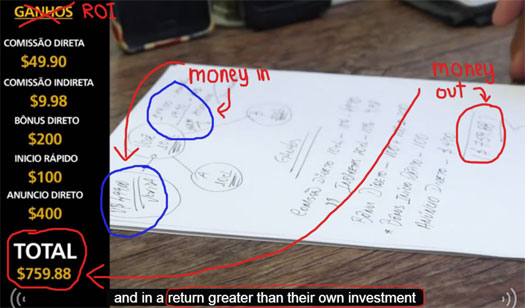 Earlier in the video Costa lays out the costs of the strategy: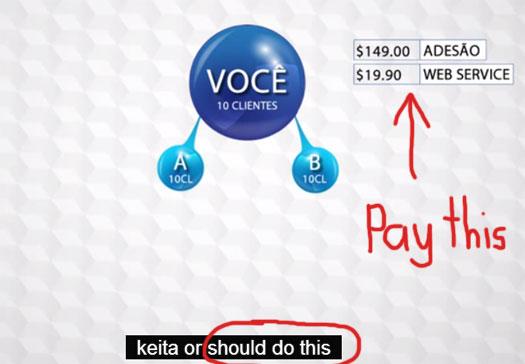 But he doesn't take into account TelexFree as a passive investment, which would require an additional $49.90 for positions A and B (required for commission qualification), and then a further $399.20 ($499 – ($49.90 * 2)).
I was led to believe the ten mandatory VOIP positions has been reduced in the latest compensation plan change, but according to what Costa writes down this is not the case (see blue circle in the first screenshot above).
$499 from $759.88 being $260.88 and minus the $19.90 admin fee, leaves an affiliate with a much less attractive $240.88 return on their "investment".
In the second half of the video, Costa assumes positions "A" and "B" in the second screenshot above will be newly recruited TelexFree affiliate investors.
He then proceeds to run affiliates through what happens if these affiliates each recruit two new affiliates every month over the "12 month contract period":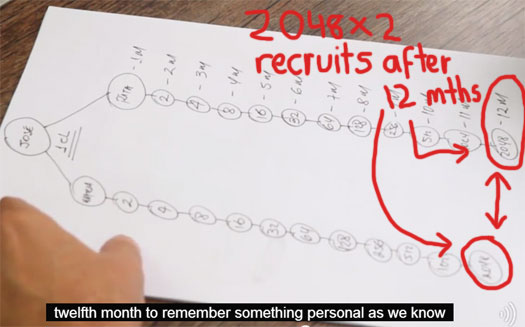 Costa calculates that if an affiliate just recruited two affiliates, who recruited two affiliates, who recruited two affiliates etc. for twelve months, that they would receive $83,520 (sans ongoing affiliate fees) via TelexFree's binary component of the compensation plan: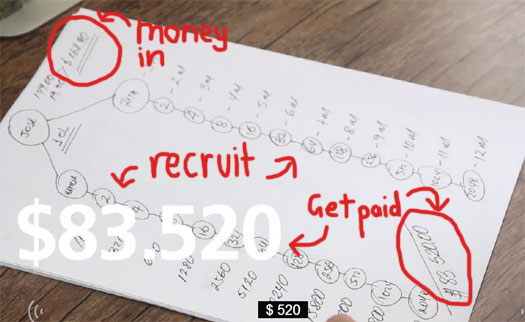 This strategy seems to involve no retail activity (affiliates buy one VOIP package with their own money), requiring only the recruitment of two affiliates who recruit two affiliates who recruit two affiliates etc.
At exactly 6:30, you can hear him say "ok?". Following that, his words are:
E você, entrando e colocando duas pessoas que fizeram a mesma coisa que você, você já teve aí, ó, um retorno maior do que o seu próprio investimento. Isso já é fantástico, não é verdade? Então de cara eu já te mostrei que é muito bom participar aqui, da TelexFree.
Which translates to:
And you, by entering and placing two people which did the same thing you did, you already have, then, a return greater than your own investment. That's fantastic, isn't it? So, right away, I've already shown you it's very good to be part of TelexFree.
Back in February of last year Gerry Nehra, TelexFree's "legal compliance" attorney, sent BehindMLM a cease and desist, claiming
The TelexFREE business model in the USA is NOT an investment, uses NO investment language, and pays ONLY on the sale of its VOIP long distance product.
Granted TelexFree's compensation plan has changed (because the old plan was obviously an investment, despite Nehra's claims above), whether or not TelexFree management have been informed the new plan is also "not an investment" is unclear.
TelexFree use the same compensation plan in the US as they do globally, so Costa's investment strategy is workable from anywhere in the world (excluding countries TelexFree is currently banned or suspended in).
Meanwhile if this how an owner of TelexFree is selling the new plan, one can only wonder how the company's affiliates are going to sell it.
I suspect the only reason the internet hasn't been flooded with passive investment ads thus far is nobody appears to be crystal clear on the plan itself.
After charging affiliates over $150 to attend compensation plan training a few weeks ago, just two days later the it was revealed the plan had changed again.
Believed to be instigated by angry Brazilian affiliates (who legally aren't supposed to be participating in the business as the company is prohibited by law from signing up any person(s) residing in Brazil), the specifics of the new plan have yet to be revealed.
At the time of publication the TelexFree website is still showing what is believed to be an outdated compensation plan explanation, dated March 10th.
For now it seems Portuguese-speaking affiliates are the only ones being provided info on the current compensation plan, with everyone else being kept in the dark.
Whether this is by design or unintentional is unclear. With the compensation plan changes having been put through a few weeks ago however and Carlos Costa bending over backwards to keep Brazilian affiliates informed, the former is looking more and more likely.
As for what the rest of TelexFree management are doing then?
The company has been promoting an affiliate investor recruitment drive in Hong Kong on their website. Only it's not clear whether the event, advertised for March 26th, actually took place.
Patrick Pretty reports,
The website of TelexFree has been promoting a March 26 (today) "conference" at the Kowloonbay International Trade & Exhibition Centre in Hong Kong, with tickets priced at $150.

Whether the event actually took place is unclear. A search of the KITEC website returned no result for TelexFree — on the 26th or any other date.

Whether TelexFree qualified for a listing on KITEC's events calendar and search index was not immediately clear. It is now March 27 in Hong Kong. The KITEC site showed no March 26 conference events for any sponsor.
With several high-profile Hong Kong based Ponzi schemes either collapsing or entering limbo recently, it only makes sense that TelexFree would head over there to stake out their share of disillusioned investors seeking to recoup their losses.
Stay tuned…