TelexFree openly promoted as an investment in Peru

With the granting of an injunction prohibiting TelexFree from paying out weekly ROIs and signing up new affiliate investors in its core market Brazil, it was inevitable that promotional focus would shift to neighbouring regions.
One such region TelexFree's affiliates are making inroads into is that of Peru, a country of thirty million that sits on Brazil's western border.
Of particular note is that Peru is bordered by the western Brazilian state of Acre, where TelexFree is under investigation by Public Prosecutors and facing possible criminal charges of money laundering and embezzlement.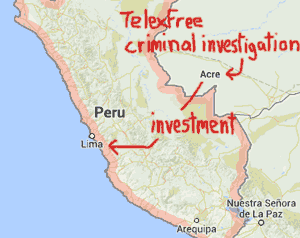 It is also the state the injunction was granted against TelexFree, crippling business operations throughout the country.
At the time the Acre injunction was granted, TelexFree purportedly had around 70,000 affiliates in Acre and, post shutdown, it appears a lot of the marketing momentum pushing the scheme shifted over to neighbouring Peru.
As TelexFree has begun to spread across Peru, local media picked up on it prompting Peru21, a national newspaper, to conduct their own investigation into the promotional activities of local affiliates.
Here's what they found.
Responding to an advertisement for a "tempting job offer", Peru21 arrived at the office of a TelexFree affiliate in Lima, the capital of Peru. There they were met by Wilmer Garcia, who proceeded to pitch them the TelexFree MLM opportunity:
Garcia explained that there is a way to make money with TelexFree. For this you have to do digital advertising with the aim of providing a software which enables telephone calls through the Internet and low costs: the alleged scheme VOIP.

If a person decides to invest in the business, to pay U.S. $ 339 or U.S. $ 1.425. then can promote the product one or five times a day for a year. Everything is recorded in a contract and earnings are up to $ 100 weekly.

But you can earn much more if you get more followers. For each person, you will receive $ 20. If the latter captures to another, you also receive another $ 20 and so on.
The first bolded block of text above refers to the core of TelexFree's MLM business model, the investment in AdCentral positions by affiliates. $339 buys you one position and $1425 buys you five (referred to as an "AdCentral Family"), with investing affiliates then paid $20 a week per position. Provided of course they spam the internet daily to promote the scheme.
Positions are often referred to as "contracts", expiring after 52 weeks at which point an affiliate has the option to "renew" the contract and earn a weekly ROI for another 52 weeks.
Newly invested affiliate money is used to pay out existing affiliates each week, with the company pretending to sell VOIP services to non-existent retail customers.
The second bolded text refers to the recruitment commissions offered by TelexFree, paying out $20 per new affiliate investor recruited.
Garcia claims thus far to have been paid $8000 USD through TelexFree, claiming
the 'pioneer' of the business in Peru was Pastor Basilio Marcelino Salazar, who started the business six months ago.

Currently there are about 50 000 promoters in the country and every affiliate is responsible, in turn, to recruit other people.
Seeking a second source of confirmation of Garcia's claims, Peru21 then visited the office of another Lima based affiliate, Felix Dominguez. In pitching TelexFree to Peru21, Dominguez provided them 'the same explanation' as Garcia.
Peru21 advise that as it stands there are no "formal complaints" against TelexFree in Peru, however they did approach the Superintendency of Banking and Insurance for (SBS) comment.
When asked whether or not TelexFree was a Ponzi scheme, SBS replied
(In TelexFree) this is not such a case because it manufactures a product (the Internet communication system) and do not provide interest on the money.
Whether or not SBS have looked into TelexFree's business model with any sense of depth is unclear.
Peru21 also reached out to the Peruvian Association of Consumers and Users (ASPEC), who advised
if the company does not comply with the provisions of the contract, ie, obtaining the alleged profits, the company is facing  civil, administrative and even criminal charges.

We must see the contract. Every company has a business address in Peru but in the case of TelexFree, they do not and have offices only.

This point is important because, if a consumer wants to make a complaint, this is not possible because the company does not have a registered address. Nor does it have a RUC (Taxpayer Identification Record).
My take from that is that currently TelexFree's claims of selling VOIP services to actual retail customers are being taken at face value, without Peruvian regulators having verified the claim themselves.
Meanwhile how TelexFree is being marketed by local Peruvian affiliates certainly suggests otherwise.
Footnote: Peru21 include an audio file of their conversation with Wilmer Garcia with their report. Unfortunately the audio is in Spanish and as I don't speak Spanish I can't verify what is said in it myself.
If any readers speak Spanish a brief summary by way of comment below outlining what is said in the conversation, would be much appreciated.