TelexFree officially support starvation protest

This is actually something I wondered about when I first read about Aerci Arreal Olm chaining himself to the Barão do Rio Branco forum. From the images and YouTube footage of Olm, you had a guy rock up in a tshirt and jeans with little more than a chain and some padlocks.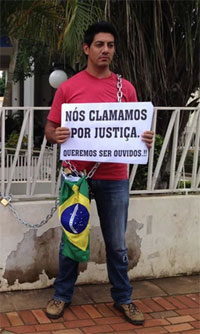 Water? Shelter? Toilets? There didn't seem to be a whole lot of protest-supporting infrastructure on the site Olm chose. Despite vowing to remain chained to the forum until he "passed out" (from holding it in?), Olm's protest didn't seem all that well thought out.
Less than 24 hours later, I suppose it wasn't all that surprising to learn that Olm had already reneged on his initial "I won't be unchained unless I pass out" vow.
In a perhaps not so subtle move, Olm unlocked his chains and, rent-a-crowd TelexFree supporters now in tow, moved his protest to the Acre Public Prosecutor's Office.
It seems overnight, Olm decided to shift the focus of his protest from the legal system currently evaluating the Ponzi evidence before it, to the Public Prosecutors who supplied the evidence.
Given that Olm has vowed not to end his protest until TelexFree's Brazilian assets are unfrozen, a decision that can only be made by a Judge in court, it would seem rather strange to stage a protest outside of the Public Prosecutor's Office.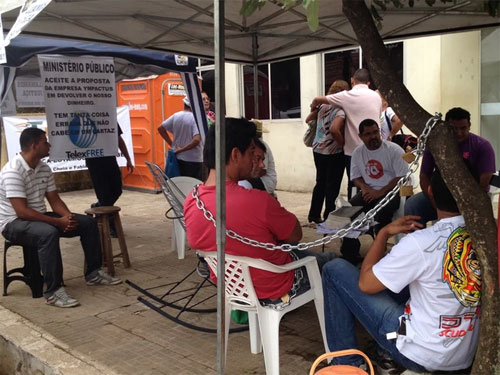 As you can see, Olm's new protest site is much better equipped for the long haul. There's a tent, hugs, books to read, comfy chairs, some people to talk to and a portable toilet.
After Olm and his friends settled into their new protest site, something rather peculiar happened.
TelexFree lawyer Roberto Duarte rocked up to show his support.
And all of a sudden, Olm's strange decision to protest the Public Prosecutor's Office instead of the court itself makes sense. Olm isn't so much chained to a tree as being held up by strings manipulated by TelexFree management.
What might have started out as a genuine "waah give me back my Ponzi investment!" protest, has now been hijacked.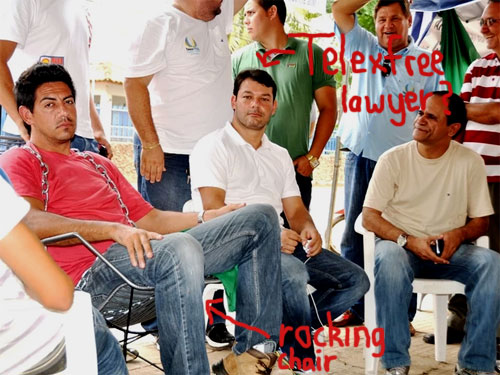 Happy to sit down with Olm and have a chat (that's him in the middle there above), Duarte "expressed support" for Olm and took the opportunity to make the following statement:
The defense made ​​a tentative agreement entitling a proposal on December 11, 2013 and is awaiting response from MP / AC.
As I understand it, that proposal was the same one rejected in the court-ordered mediation proceedings (November 22nd). TelexFree proposed to return money to their investors on the proviso they be allowed to resume operations in Brazil.
Needless to say that went down like a ton of bricks and was officially rejected. What response Duarte and TelexFree are waiting on meanwhile is unclear.
I must say, as bizarre as Carlos Costa's marketing strategies and YouTube videos have gotten, sending down a company lawyer to a starvation protest really does take the cake.
I guess the take-away is that Duarte's investment in TelexFree extends far beyond that of mere legal counsel.
And his willingness to turn the protest into a PR moment was strange too. Since August last year Duarte has been refusing to comment on TelexFree's legal troubles.
When asked to comment on why TelexFree were telling porky pies about not having access to their own affiliate data just two days ago, Duarte told Globo that 'the company will not (discuss their) position on the case. We will not talk about what happened'.
Right. Throw in a hunger-strike, some cameras and the chance to spread the gospel of Carlos Costa though and… well hey, that's a different matter see.
From sponsoring football clubs to sending their lawyers in to support starvation protests against Brazilian regulators, what will TelexFree's marketing department think up next?
Footnote: One thing I still don't get is that the portable toilet appears to be some distance from where Olm is sitting. Does he unchain himself to go? Is he crapping into a bag which someone then takes to the toilet… water bottles for pee or…?
I thought he might be using the tree but being right next to it… that doesn't seem like a bright idea.
How exactly does one relieve themselves in a Ponzi protest when chained to a tree???
Update January 18th, 2014 – Well that didn't last long. After 42 hours of sitting around in a rocking chair the Attorney General of Justice and a General Ombudsman sat down with Olm and ended it.
They told him 'prosecutors have functional independence and that ' all procedural requirements are being observed'.
I don't quite know how, but this then somehow translated over to 'approximately 42 hours of fasting and prayer, but eventually. Anyway we won.' on Olm's Facebook page.
Anyways, case closed? Not quite.
After Olm was visited by TelexFree lawyer Roberto Duarte, some "documents" seem to have materialised.
The vice president of the Human Rights Commission of the House of Representatives, Congresswoman Antonia Lucia Chamber (AC-PSC) on Thursday evening received a document from TelexFree affiliates, containing a complaint about the blocking of the company.

The document was delivered in front of the headquarters of the MP / AC at Santa Catarina by Aerci Arreal.

Alongside other advisers, Aerci Arreal read the complaint signed by him and other members of Telexfree and handed it to parliament, who agreed to make an extraordinary meeting in the House of Representatives to denounce what she considers an "injustice against millions of Brazilians ".
Dance puppet, dance!
Gotta love the comment from "a member of the PSC":
It is a shameful attitude and I want to apologize to more than one million publishers.

This company has legitimacy in the United State and the United States has the closest that Justice is justice.

We will be fighting for the people's money is returned or even that the company is working again because he has nothing to prove that (TelexFree) is an illegal business.
Lol. Guess they haven't seen TelexFree's business model or the 5000 pages of evidence submitted in court.
Meanwhile some good might come of the political grandstanding:
have also Protocol on Friday a request to the Attorney General's Office that requires this because of the state of Acre because it involves more than one million people across the country and is unfair to the prosecution of Acre want to take forward all a nation.

If so we invite advisers to the attorney general's office. We will try to refer the case to the federal level.
I imagine a federal case against TelexFree would certainly turn up the heat.