SEC use Sloan's post TelexFree activity against her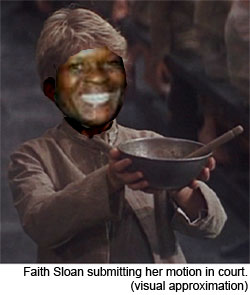 Hat in hand, Faith Sloan has approached the Massachusetts District court to ask them to release $15,800.
In her June 10th motion, Sloan claimed she
has been unable to pay for her food, her rent and her normal living expenses and will not be able to retain her attorney to defend herself in this matter, unless those monies are released.
$800 is held in a Bank of America account and $15,000 was paid to her lawyer as part of a $30,000 retainer, however both amounts are subject to freeze via a preliminary injunction granted last month.
Part of the injunction requires Sloan to identify her assets to the SEC. And with said assets under a freeze order, she's also not permitted to spend any of it.
For the most part Sloan has ignored the injunction against her, but did finally notify the SEC that she
will not comply with (the injunction) because she is asserting her right against self-incrimination.
The SEC contends that, as part of the May 7th granting of the injunction, that the court ordered
there would be no carve-outs from the asset freeze for defendants who fail to identify their assets.
"Carve-outs" being precisely what Sloan is now asking the court to do by release funds.
As a result, Sloan's refusal to identify her assets is reason enough to deny her motion to release funds.
Now, the SEC could probably have left it at that. But likely in anticipation of more "you have no proof" nonsense from Sloan, they made it clear they're completely aware of the extent with which Sloan is in breach of the injunction.
Before we get into that though, some history.
As TelexFree began to approach the two-year mark that most MLM Ponzi schemes begin to collapse around, Sloan looked to diversify her Ponzi holdings by signing up with Lucrazon Global.
Publicly, Sloan ceased marketing TelexFree and focused all her efforts on building a Lucrazon Global affiliate investor downline.
This was in late 2013 but didn't last long, following changes to Lucrazon Global's compensation plan. These changes, as I understand it, primarily reflected the passive investment nature of the scheme. The end result was all of the passive Ponzi affiliate's Lucrazon had previously attracted abandoned the opportunity.
This meant a brief return of focus to TelexFree, although things began to get rocky when the company introduced its own compensation plan changes in March. After a few weeks of bluffing that the new changes were still workable, things further deteriorated when TelexFree filed for bankruptcy in April.
Shortly thereafter regulators filed their respective Ponzi and pyramid scheme lawsuits and, well the rest is history.
Quick to drop a scheme in trouble and move onto a new investment project, as she'd been doing for the better part of a decade, on April 25th Sloan spent $18,884 on joining Changes Worldwide: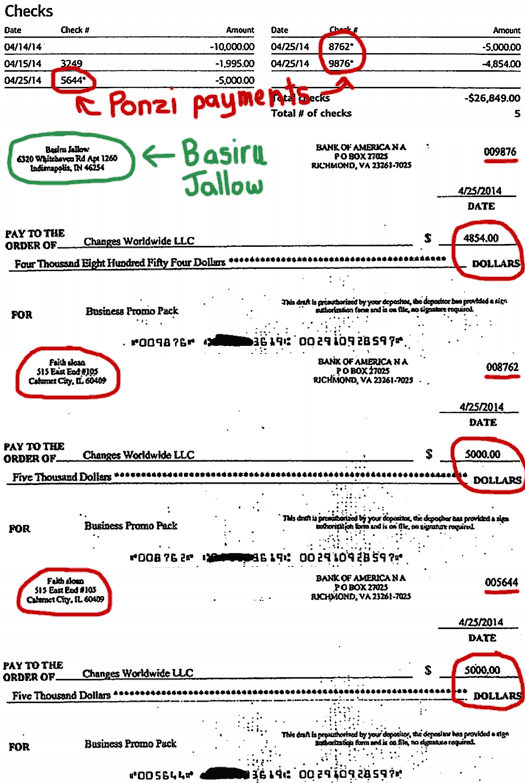 Changes Worldwide launched in late 2013 and accept up to $25,000 investments from their affiliates. These investments are converted into points, with Changes Worldwide paying a >100% ROI over 24 months.
It's worth noting that the $4854 check, although drawn from Sloan's account is made out by "Basiru Jallow" (green circle). Further research reveals Jallow was an affiliate in Lucrazon Global:

Presumably Jallow is one of Sloan's recurrent downline investors, with the payment signifying a partial payment of Jallow's entry into Changes Worldwide under her.
The other $10,000 appears to be for her own buy-in, which is the second highest under Changes Worldwide's premium $25,000 investment option.
The SEC note Sloan dropped an additional $3990 three days later (April 28th) on Changes Worldwide "trading software".
Of particular note in the evidence provided by the SEC are transfers from a Chinese banks.
On the 31st of March, Sloan transferred $8485 from an account with the Bank of China to her Bank of America account for "personal use":

Then on the 9th of April, Sloan transferred another $5685 into the account from the Agricultural Bank of China for "living cost(s)":

Exactly how many Chinese banking institutions or how much money Sloan has stashed away in these accounts is unclear, as Sloan continues to defy the preliminary injunction against her by refusing to declare her assets.
Also transactions of note include
what appears to be several commission payments from Lucrazon Global (indicating that while she no longer promotes the business, Sloan is still collecting money from them)
a payment to Lucrazon Global of $1000 on April 10th and another for $840 on April 15th
an 8th of April $6620 payment from a possible downline affiliate investor ("Mr. Ou Mme Sommers Michel") for "placement" (in one of the schemes Sloan is involved in?)
three payments on the 4th (2) and 8th (1) of April of $118.95 to "Preservation of Wealth" (a recruitment-driven MLM scheme)
an April 14th payment of $2380 to "YourDailyAd" (a TelexFree automated ad spam service)
All in all between March 27th and April 25th, Sloan received and/or deposited $69,810 into the account and withdrew and/or transferred $119,000 out of it. The remaining balance as of the end of April was $5209.
Again, it should be noted that this is not a complete snapshot of Sloan's financial activities, with the funds held and any associated transactions pertaining to her Chinese bank accounts remaining unknown.
If the SEC do have access to this information, they didn't include it in this latest filing.
Also noted by the agency is Sloan's attempt to mask ownership of her house, which was transferred into her mother's name on May 12th.
Prior to April 17th, Sloan had sole power of direction and was the sole beneficiary of a real-estate trust that owned a single-family residence in Dolton, Illinois.

On May 12, however, she amended the trust documents to provide her mother Antoinette with sole power of direction and to convey her beneficial interests to her mother.
In a nutshell, upon learning about the SEC case against her, Sloan thought it'd be a good idea to put her house into her mother's name.
This act of mask ownership of her assets, the above payments to Changes Worldwide, the $30,000 she transferred to her lawyer on May 7th are all reasons cited by the SEC as evidence of her breaching the restraining orders put in place against her.
The agency concludes,
Given her habit of flouting the freeze order, Sloan is clearly not entitled to the release of any frozen funds.
A decision on Sloan's motion has yet to be made, but part of me is thinking this recent SEC filing wasn't so much about the $15,800 Sloan is asking to be released, but more about informing her that they're well aware of what she's been up to.
Stay tuned…
Footnote: Our thanks to Don@ASDUpdates for providing a copy of the SEC's 12 of June opposition filing. In his own article, Don observes
A cursory look into Changes Worldwide, LLC produced this:

Directors and Executives (Current and Past)

Name: Robert Lee Craddock

Role: Executive

Address: 2128 E. Edgewood Dr Suite 109 Lakeland, FL, 33803
Yes, that's the same crackpot Craddock of Zeek Rewards and ZTeamBiz notoriety. Some things never change.