Lucrazon Global Review: Ecommerce revenue-share?

Lucrazon are based out of the US state of California and are set to launch in early 2014.
The company advises on its website that it is headed up by CEO and Founder, Alex Pitt (below right, also credited as "Alexy Pitt").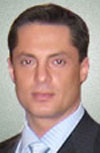 Alex is a payment industry veteran for 20 years. He has developed technology such as payment gateways, electronic gift card platforms and specialized reporting systems that allowed his previous company, NMC, to become one of the largest Merchant Service Providers for Concord EFS utilizing BYPASS Front End, Concord Front End and Back End, as well as First Data platforms.

During his leadership, NMC's portfolio grew to a $1.8 billion, providing services to Baja Fresh, McDonalds, Burger King, MonaVie and other major corporations.
Further research into Pitts' MLM history turned up nothing. This may or may not be due to claims Pitt is from Russia and using an alias.
These claims popped up in different locations but I personally was unable to verify them. As it stands, apart from the mention of Monavie on the Lucrazon website itself, I was unable to ascertain whether or not Pitt has been involved in any other MLM companies. Lucrazon would appear to be Pitt's first MLM venture on the executive side of things.
Read on for a full review of the Lucrazon MLM business opportunity.
The Lucrazon Product Line
Lucrazon has no retailable products or services. Instead, affiliates join the company and then purchase access to an e-commerce platform.
This platform includes access to a replicated website and shopping cart platform, merchant services, "marketing and optimization" and a third-party dropship-ready product catalogue.
Lucrazon maintains a payment gateway that provides network connectivity, technology and security for a payment platform that allows its customers to access end-to-end electronic payment processing solutions.

It provides a managed technology and security infrastructure, payment applications, web services, and connections to the TSYS payment network.

The Lucrazon platform allows its customers to offer credit and debit card processing, ACH processing, gift card programs, electronic check processing services, secure hosted virtual terminal, hosted secure payment page, reporting, web services, and support for brand terminals and devices for payment processing.
On the Lucrazon website, the company advertises this service for $1795 and then $99 a month.
Note that the compensation plan material I cited for this review claims that this fee is $1000 a month till early 2014.
The Lucrazon Compensation Plan
The Lucrazon compensation plan primarily revolves around affiliates signing up and spending up to $15,000 on up to 15 "positions".
Merchant Commissions
If a Lucrazon affiliate signs up an actual third-party merchant, they earn 50% of the processing fees Lucrazon charge the merchant.
Revenue-sharing
Lucrazon pay out a daily ROI on all $1000 positions purchased by affiliates. They don't specify a minimum maturity period but positions appear to be active indefinitely, paying out an estimated $14 or so a day (taken from a Lucrazon business presentation I viewed).
Affiliates are able to purchase up to fifteen $1000 position, each generating a daily ROI.
In order to qualify for their daily ROI, Lucrazon affiliates must submit the contact details of a merchant every 90 days.
Referral Commissions
Lucrazon pay out a 20% referral commission on the first position purchased by a personally recruited affiliate.
An additional 3% is offered down 6 levels of recruitment on additional positions (not including the first) purchased by non-personally recruited affiliates (affiliates recruited by affiliates you recruit).
Binary Commissions
Each position purchased in Lucrazon is placed in a binary compensation structure. A binary compensation structure places an affiliate at the top of two binary sides, left and right: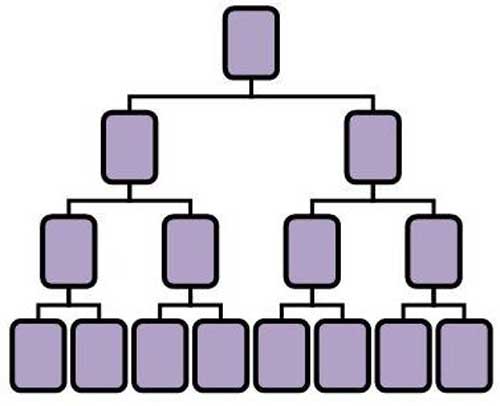 As positions are purchased by affiliates, positions in an affiliate's binary are filled, with commissions paid out pairing one position from the left side against the right.
When two positions are paired as such, Lucrazon pay out a 6% commission on the purchase price of the position (currently $1000).
Binary commissions are capped at $10,000 a day, per position (each purchased position generates its own binary under it).
Joining Lucrazon
Affiliate membership to Lucrazon is currently $1000 for an initial position, and then $99 a month.
Affiliates can purchase up to fifteen positions in total, which would result in a total initial outlay of $15,000. I believe the $99 a month fee is static across the account.
Conclusion
As we head into 2014, it amazes me that people are still launching "revenue-sharing opportunities" with a straight face.
Whether Lucrazon are charging affiliates $1000 or $1795 for revenue-sharing positions, the fact remains that new money flows in from affiliates and is paid out to existing affiliates who have already purchased positions.
In an attempt to add legitimacy to the scheme, Lucrazon refer to the initial position as an "e-commerce position", and the other fourteen position available as "marketing optimization" positions.
What difference they think that makes I have no idea. As clearly all that is happening is new affiliate money is being invested on the promise of a >100% ROI.
From a regulatory standpoint, here's the basic breakdown of Lucrazon's business model.
Affiliates invest between $1000 to $15,000, open up their yellow-pages, submit some random business' details to the company, sit back and earn a daily ROI as long as new affiliates invest between $1000 to $15,000.
That's it. Yeah some call-centre is going to call up the number provided by an affiliate but whether or not the merchant actually signs up has nothing to do with an affiliate's daily ROI. Once those details are submitted an affiliate is good to go for 90 days.
Thus the real qualifier for the daily ROI is the investment of $1000 or more. Why?
Because without that the company has nothing to pay out existing investors with.
Whereas Zeek Reward's front was a penny auction, Lucrazon try to pass of an e-commerce platform as the attached façade.
Let me be clear that I'm in no way questioning the legitimacy of Lucrazon's e-commerce platform, replicated websites blahblahblah as a stand-alone services, as that's entirely not the issue.
The issue with Lucrazon's MLM business model is the basic mechanic of new affiliate money flowing in at $1000 a pop and being paid out to those who have already paid $1000 a pop for "positions".
Dress it up any way you want, like every other MLM revenue-sharing opportunity out there this is still just the sale of unregistered securities.
The logic-fail kicks in when you consider the reason an affiliate would pay up to $15,000 to market merchant services and an e-commerce platform to legitimate merchants.
Lucrazon totally makes sense from a passive investor standpoint though. I pay my $1000 and you give me back >$1000.
And I'm not seeing the difference between a merchant signing up and buying a $1000 position or an affiliate doing it. Retail revenue would also appear to be a question mark in Lucrazon's business model.
A year and a half later and it seems people still haven't learned anything from the $600M Zeek Rewards Ponzi MLM industry embarrassment. Stop beating that dead horse guys, a Ponzi is a Ponzi no matter how you dress it up.