Sann Rodrigues appears in YT video, promises to "talk all"
As the contempt feud between Sannderley Rodrigues and the SEC heads towards a judicial ruling, Rodrigues has made an appearance in a YouTube video.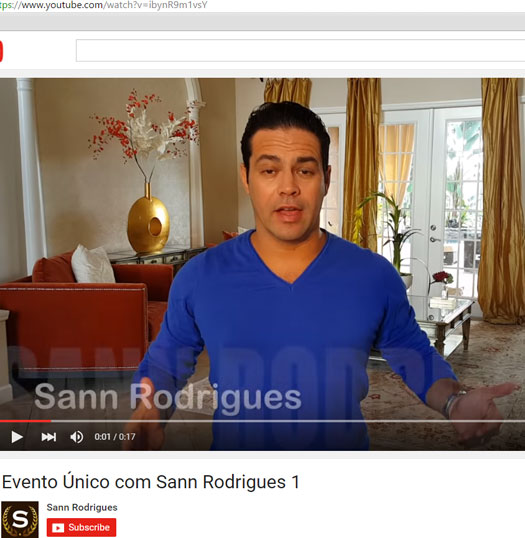 The video is titled "Evento Único com Sann Rodrigues 1", which Google translates to "Single Event Sann Rodrigues 1".
The eighteen second video appears to have been shot at Rodrigues' Florida residence. Rodrigues is currently confined there under home detention, pending the outcome of a visa fraud charges brought against him by the DOJ.
In the video, uploaded on November 27th, Rodrigues tells viewers
It is. Now everything will be different. I came back and will open the game. without mincing words. I will talk all.
Comments from viewers have been disabled on the video. Meanwhile what exactly Rodrigues will "talk all" about or when is unclear.
The video finishes with a fade to black after which the message "em breve" ("coming soon") appears.
As at time of publication, there are no other videos featured on the "Sann Rodrigues" YouTube channel, which itself was created back in December 2011.
Stay tuned…
Update 2nd December 2015 – Alternate translation of what Rodrigues says in the video:
Now everything is going to be different. I'm back and I'm going to come clean about what happened. I'll tell everything.
Alternative translation provided by BehindMLM reader Diego.
Update 6th December 2015 – The following message was posted to the Facebook account "sann.successo" on December 4th, 2015:
It was terrible! But I got out alive!

In recent months, many things have happened to me, but after everything I'm still alive.

I agreed to participate in a single event live and I'll tell you everything that happened (the truth) and what's gonna happen!

– what is the future of the network marketing and digital

– the financial pyramids that are in the market (same disfarsadas)

What are the next companies that are closing or disappear from the market. And some other very important topics for all.

Now finish with your doubts, sign up on the link below to attend this conference live with me Sann Rodrigues.

Only those who write if you're gonna have the information and the day of the event and a chance to participate in the event.

Places are limited! It is not for everyone at the conference (unfortunately).
This was followed up by another message published on the Facebook account "lidersannrodrigues" an hour ago:
This event is only for the intelligent and professionals (but until the idiots are gonna like!)

I agreed to participate in the eventounico.com because I want to surprise all the people who already have, do or intend to do network marketing in Brazil and the world.

What I'm gonna reveal will surprise you and a lot of people! (I guarantee)

But mostly who:

– owns a company of network marketing;

– works behind the systems and schemes;

– it's distributor or a publicist of all the companies that are on the market;

– do you really want to build a giant network;

– I never want to lose time and money;

– do you want to know how to recover from truth everything you lost;

– would you like to earn a lot of money without ever more be wrong;

This event is really unique, exclusive and revealing. And will never be repeated and I won't do another one like this. And it is especially for smart people and who wish to know the truth.

But even the idiots that only curse, slander and vilify will like it. Who lose will regret for the rest of my life (I guarantee).

I'm always be polite with everyone, and you never see me answering the slander and defamation that post to my respect in the social networks. But, if you're one of these idiots who likes to swear, slander, slander and fill the bag stay comfortable and put your comment below this post.

Thanks,
Sann Rodrigues
The "Evento Unico" website domain Rodrigues references was recently registered on October 13th, however the domain registration is set to private.
It is assumed Rodrigues himself registered the domain, or at the very least is in direct contact with the individual(s) who do.
The domain itself appears to have been set up for the sole purpose of taking signups for Rodrigues' upcoming webinar.
Update 9th December 2015 – Sann Rodrigues has deleted all of the videos on his YT channel.
Most of the promotional posts he's made over the last few days on his various Facebook accounts have been deleted too (at least one account was deleted entirely).
A new video on the Evento Unico website suggests Rodrigues plans to hold his event on the 9th of December.