The 9th Dec Speak Asia Mumbai High Court hearings

Today was supposed to be a rather important day for Speak Asia as many believed that AISPA President Melvin Crasto would get bail, the All India Speak Asia Panelist Association (AISPA) would take on the EOW, and all outstanding First Information Reports against Speak Asia would be squashed.
As it stands, none of the above transpired.
Instead, mysteriously everything was postponed over the weekend until Monday 12th December. Well, mysterious in that AISPA is remaining silent over the issue and at the end of the day all the senior panelists had to say was that things once again, everything had been yet again postponed.
Here's what they're not telling you.
Whilst it is true that all matters that were supposed to have been heard today were postponed, the finer details reveal some startling insight into the existing management structure of Speak Asia.
But before I get ahead of myself, let's have a look at the court proceedings that were scheduled for today.
Speak Asia Writ 3210
Speak Asia filed writ 3210 in Raigad District of the Mumbai High Court on the 15th October 2011. Writ 3210 was filed by Speak Asia against the State of Maharashtra (the EOW) and with it they hoped to quash FIR(s) lodged against it in the Raigad District.
Outcome: Adjourned till Monday 12th December without a
hearing (no reason given).
Speak Asia Writ 3211
Speak Asia filed writ 3211 in Thane District of the Mumbai High Court on the 15th October 2011. Writ 3210 was filed by Speak Asia against the State of Maharashtra (the EOW) and with it they hoped to quash FIR(s) lodged against it in the Thane District.
Outcome: Adjourned till Monday 12th December without a hearing (no reason given).
AISPA Writ 3611
AISPA, furious at the EOW for arresting their President, Melvin Crasto (who AISPA claim is just an 'innocent panelist), after he failed to explain a $3000 payment made to him by Speak Asia, filed writ 3611 on the 29th November 2011.
Writ 3611 was filed by AISPA in the Mumbai District against the State of Maharashtra (EOW) and with it they aimed to presumably legally bring about the premature release of Crasto, interrupt the EOW's interrogation of him and hinder the ongoing criminal investigation into Speak Asia.
Outcome: Adjourned until Wednesday 14th December without a hearing (no reason given).
Bail Application of AISPA President Melvin Crasto
After being remanded to judicial custody since Wednesday night, Crasto once again was to apply for bail.
Outcome: Outcome postponed (reserved) yet again till Monday 12th December (no reason given).
Bail Application of Speak Asia Acting COO Ashish Dandekar
Like Crasto, Dandekar had also applied for bail and was hoping for a release today.
Outcome: Bail denied following EOW putting forth reasoning for wanting to interrogate Dandekar further and evidence against him. A Judge remanded Dandekar back into the custody of the EOW until the 15th December.
As you can see, despite the seeming importance placed upon todays hearing by Speak Asia senior panelists and AISPA, in light of far more pressing matters involving the EOW's criminal investigation into Speak Asia, the court wasn't interested in hearing any of the civil cases launched by both parties.
Just over two weeks ago now the EOW, seemingly out of the blue, picked up AISPA President Melvin Crasto and what was first reported as a questioning by Speak Asia senior panelists, was later revealed to be an arrest.
Presenting Crasto before a judge, the EOW was granted custody of Crasto as he failed to explain to them a $3000 deposit from Speak Asia made to him.
After five days of interrogation of Crasto, the EOW had garnered enough information from him to go on to arrest Speak Asia's (former) acting COO, Ashish Dandakar.
I put former in brackets as Dandekar was appointed acting COO following the July arrest of actual COO Tarak Bajpai. Following his arrest and subsequent release from hospital, Bajpai however fled into hiding and hasn't been seen since. Thus it's not entirely clear whether Dandekar remained COO or not.
Regardless, the information Crasto provided the EOW along with what they already knew from their ongoing investigation into Speak Asia was enough to convince a judge to remand Dandekar into their custody, where he has remained since.
At today's bail application hearing for Dandekar, some insight into the EOW's investigation was revealed. Whereas Speak Asia's senior panelists and AISPA continue to remain tight-lipped about the proceedings, despite both parties being completely aware of what is going on by attendance, once again the general public and greater Speak Asia panelist family have had to rely on Navniit Kkhosla's account of events.
Kkhosla was in attendance today and shared with us that
the Public Prosecutor has submitted in the proceedings in the Qila Court, amongst others, that Ashish Dandekar has signed a notice on behalf of Speak Asia sent to Star News claiming Rs. 500 crore as compensation for defamation, loss of business, etc.

Dandekar was, it seems, authorised to sign the notice by virtue of a Board resolution of Speak Asia Online.
The Star News figure is interesting in that Speak Asia appear to be demanding 96 million USD from the media company for simply reporting on the scam on national television.
A case that will no doubt fall flat on its face considering various government authorities investigating Speak Asia have since publicly declared the company to be money laundering, evading tax and being the largest MLM fraud ever investigated in India.
That aside, of even greater interest is the mention of a Speak Asia 'Board Resolution'.
A board resolution indicates a board meeting, and with Dandekar personally signing off on a legal notice demanding 500 crore sent to Star News by Speak Asia, there's the obvious evidence required to prove that Dandekar is in direct contact, if not a member of, this Speak Asia senior management board himself.
In this fine detail I believe is a snapshot of the progress of the EOW's criminal investigation and where there headed. Starting off with the arrest of Crasto, wringing him dry and then taking in Dandekar, it's clear that they're gunning for the big fish of Speak Asia still left in India.
With Tarak Bajpai, Harendar Kaur and Manoj Kumar all currently in hiding and having all but publicly abandoned the company, if Dandekar is not on this Speak Asia senior board, there's a big question mark as to who sits between Dandekar and this board.
As it were, the progress and continuation of the EOW's investigation is of such vital importance that it's resulted in the thrice delay of a resolution to Melvin Crasto's bail application (with the EOW fighting Speak Asia's AISPA's lawyers every step of the way) and now continued remand of Dandekar into the EOW's custody as they continue to grill him.
It's also I believe resulted in the Mumbai High Court adjourning all civil action initiated by Speak Asia and AISPA till Monday.
Why Monday?
BizBasket a few hours ago put up a notice claiming that
the Hon' Justice Lahoti will be submitting his report to the Supreme court on 12th of December.

This report will contain the details regarding the ongoing mediation process and his opinion and findings.
I haven't seen this shouted down as lies by the senior panelists, like they usually do when they aren't first to break news, so for the time being, despite BizBasket not naming a source, am going to assume this is accurate information.
Update 10th December 2011 – Bizbasket's info appears to be in relation to the Supreme Court updating the listing for Solomon James Writ 383 (click to enlarge).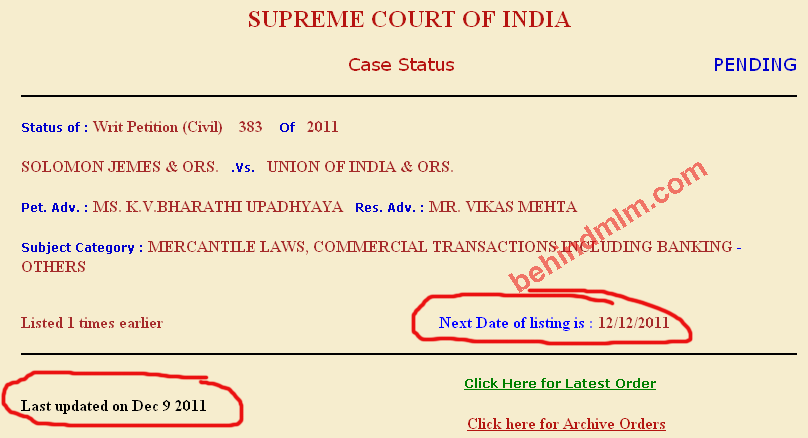 As you can see the Supreme Court has updated the 'Next Hearing' to the 12/12/2011. Logic would dictate there'd be no need to have a hearing unless Lahoti was ready to submit his report.
You can confrirm this yourself at the Supreme Court of India website:
in the 'Petitioner or Respondent's Name (Full or Part)' put in 'jemes' (not JAMES!) and press ENTER (note the submit button doesn't work)
highlight WC383/2011 with a mouseclick and click submit
Last we heard the Lahoti Committee were meeting in secret with the inclusion of the ED, EOW and IT departments. Given that all three have publicly accused Speak Asia of direct criminal activity, I predicted that the outcome of their inclusion could in no way be a positive for the strictly civil action the Lahoti Committee was mediating upon, that being panelists seeking to recover money from Speak Asia.
Noted that the Lahoti Committee is a Supreme Court matter and that everything else today was a Mumbai High Court, the only parties linking the two courts are Speak Asia and the EOW.
We know Speak Asia have no part in the criminal investigation other than being the party investigated, so that leaves the EOW.
With all matters bar the bail hearings adjourned today, are we finally seeing the actual precedence of the criminal matters Speak Asia is involved in taking absolute precedence over the civil action launched by the company and AISPA?
I'd say so.
From the chain of events over the last few weeks it's clear the EOW are progressing further and further up the local management chain of Speak Asia,which will inevitably lead them to whoever is running things on the ground from within India itself.
This, along with the ED, IT, MCA and any other angles the EOW have on Speak Asia paint a disastrous picture going forward for the company as regardless of what happens on Monday, at best they're looking at fighting criminal matters in court against these agencies in the near future.
Meanwhile as far as the Lahoti Committee goes, what's in the report Lahoti hands down to the Supreme Court is a complete mystery given the blanket silence of all parties involved, but again, the inclusion of the government departments and their stance on the company is almost certain to be negative.
Other mysteries that currently need solving are what and if anything the EOW have formally charged Crasto and/or Dandekar with, and what the fruits of a week of interrogation of Dandekar have bore the EOW. Given they have another week in which to interrogate him, we might see this play out sometime next week still.
One thing is clear though, as evidenced by the continual withholding of a decision on Crasto's bail application, there is obviously some reason the courts are continuing to delay it without even hearing the matter today. Either the EOW case on Crasto is strong or quite clearly the Mumbai High Court is interested to see what effect the inclusion of government agencies in the Lahoti Committee has resulted in.
Having followed this all quite closely over the last six months, the above is my best deduction at the current time given the information we have before us the actions of the Mumbai High Court today in refusing to even hear the civil action put before it.
With the wildcard of the Lahoti Committee thrown in, unfortunately I don't think we've got enough information to piece together what will most likely happen on Monday. The absence of any information regarding the second Lahoti Committee meeting, which took place on a currently unknown date, I believe  is too difficult to ascertain with any accuracy with nothing to go on other than the inclusion of the EOW, ED and IT departments.
What these departments brought to the discussion table will no doubt strongly influence the report Lahoti hands down on Monday, and unfortunately we don't know what that is.
All we know is that whatever is in the report, by Lahoti's own admission, is only only going to affect the 235 panelists (all of the Speak Asia senior panelists and AISPA members no doubt) that are signed on the Solomon James Supreme Court writ.
Note that this 235 panelist figure was quoted by Solomon James, who submitted the writ that led to the Lahoti Committee's forming however it's being commonly attributed elsewhere as only 115 panelists. I'm not sure at this time which is accurate so I'm quoting both figures.
I also note that without being 100% certain, many senior panelists are informing Speak Asia's panelists that the writ indeed covers all panelists. If this were the case, why on Earth would AISPA feel the need to implead themselves into the Committee meetings?
Surely they'd already be covered by the writ and there'd be no need?
Obviously not.
As it stands, this is my analysis as best I understand the current situations and digesting what went on today. If there's anything I've missed or any gaping holes in my assessment feel free to correct them as you see fit in the discussion below.
Despite comments like this circulating in Speak Asia senior panelist circles:

we here at BehindMLM are always more than willing to discuss the analysis put forth. Please however note that commentary in Hindi and nonsense comments like 'jai Speak Asia' and such are not tolerated, as this is an English language blog (and I don't speak Hindi) and nonsense comments contribute nothing to the discussion.
Once again I'd like to thank Navniit Kkhosla, as if he was not present in court today none of the above analysis would have been possible.
It is again noted that Speak Asia's senior panelists and AISPA have again completely failed to keep informed the very people they claim to represent, other than telling them to simply relax, shutup and wait till Monday.