Socio Bonanza Review: $15 iPack investment

There is no information on the Socio Bonanza website indicating who owns or runs the business.
The company website does have an "About Us" page, however it is devoid of any specific executive management information or company ownership details.
The Socio Bonanza website domain ("sociobonanza.com") was registered on the 10th of December 2014, and names a "Shawn Will" as the owner. An address in Quebec City, Canada is also provided.
Further research into Shawn Will's involvement in the MLM industry failed to turn up anything. Whether or not he has launched or been involved with any other MLM companies is currently unknown.
Read on for a full review of the Socio Bonanza MLM business opportunity.
The Socio Bonanza Product Line
Socio Bonanza has no retailable products or services. Affiliates join the company for free and then purchase "iPack subscription units".
Each iPack subscription unit comes with a series of advertising credits, which an affiliate can use to display advertising on the Socio Bonanza website.
Socio Bonanza themselves appear to offer banner advertising on their "globally acknowledged network" (the company is in prelaunch at the time of publication), ranging in price from $10 to $550 a month.
This offering however appears to have nothing to do with the MLM side of the business.
The Socio Bonanza Compensation Plan
The Socio Bonanza compensation plan revolves around affiliates joining the company and investing in iPack units.
Each iPack unit costs $15, with Socio Bonanza promising a $23.25 ROI per unit.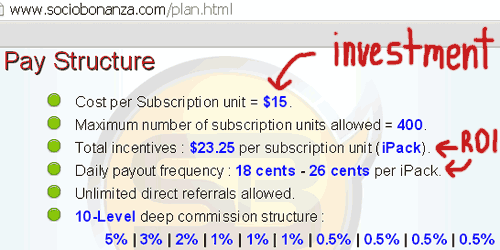 As above, this ROI is paid out daily at a rate of 18 to 26 cents per iPack invested in.
Note that affiliates are capped from withdrawing over $300 a day.
Referral commissions are paid out on downline iPack investment, payable down ten levels of recruitment.
Socio Bonanza use a unilevel style compensation structure to pay out referral commissions. A unilevel style compensation structure places an affiliate at the top of a unilevel team, with every personally recruited affiliate placed directly under them (level 1):

If any of these level 1 affiliates go on to recruit new affiliates of their own, they are then placed on level 2 of the original affiliate's unilevel team. If any level 2 affiliates recruit new affiliates they are placed on level 3 and so on and so forth down a total of ten levels.
How much of a referral commission is paid out on affiliate investment depends on what level of an affiliate's unilevel team the investing affiliate falls on:
Level 1 (personal recruits) – 5%
Level 2 – 3%
Level 3 – 2%
Levels 4 to 6 – 1%
Levels 7 to 10 – 0.5%
Joining Socio Bonanza
Affiliate membership to Socio Bonanza is free, however affiliates must invest in iPack units if they wish to withdraw any commissions.
Conclusion
With 100% of visitors to the Socio Bonanza website likely to be affiliates, the notion that the site will generate any revenue via the sale of banners is laughable.
What's then left is effectively an affiliate-funded Ponzi scheme.
Affiliates buy in at $15 a pop on the expectation of an advertised $23.25 ROI. Socio Bonanza don't explicitly guarantee the timeframe this ROI will be paid out, but to guarantee a daily ROI of between 18 to 26 cents.
Where does the ROI money come from?
New affiliate investment. This is the reason behind Socio Bonanza's "no refunds" refund policy:
We have a NO REFUND policy.

By making a payment to our website, you accept that you have read and agree to the above No Refund Policy.
Once an affiliate deposits funds with Socio Bonanza it is immediately pooled to pay out existing investors, with that affiliates ROI then dependent on continued new investment from subsequent affiliates.
Despite the obvious Ponzi scheme nature of Socio Bonanza, the company claims "100% legal compliance":

Who advised Socio Bonanza that offering a daily ROI to investors sourced from new investor funds is "100% legally compliant" is not disclosed.
Meanwhile as with all Ponzi schemes, once affiliates stop investing new funds into Socio Bonanza, the company will soon run out of funds to pay existing investors with.
Once that happens, kaboom.