Bonanza Global Review: Boris CEO Dubai tether Ponzi

Bonanza Global operates in the cryptocurrency MLM niche.
Corporate information provided by Bonanza Global appears to be baloney.
In an attempt to appear legitimate, Bonanza Global provides incorporation certificates for El Salvador and California in the US.
For the purpose of MLM due-diligence, basic incorporation anywhere is meaningless. This mostly comes down to the ease with which scammers are able to incorporate shell companies with bogus data.
Another red flag is Bonanza Global representing virtual office space in California is their "corporate office":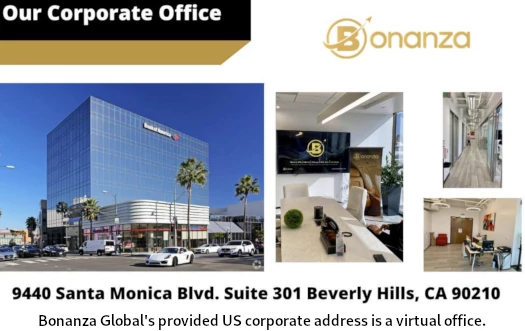 Supposedly heading up Bonanza Global are co-founders Francisco Sarabia and Paz Sanchez.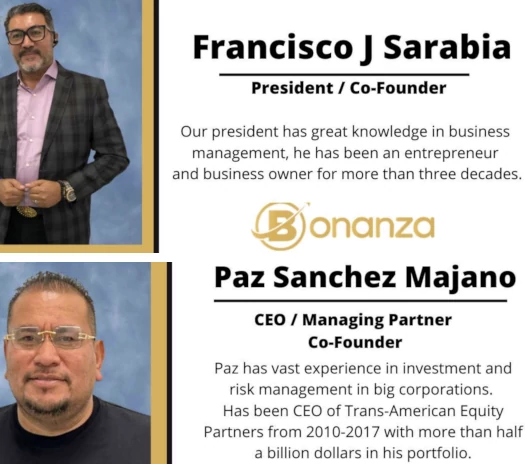 Beyond the two photos provided, Sarabia and Sanchez have no verifiable digital footprints outside of Bonanza Global marketing.
Assuming the photos themselves aren't stolen, this makes them prime Boris CEO candidates.
Further supporting this is SimilarWeb ranking top sources of traffic to Bonanza Global's website as the US (54%) and the UAE (46%).
The UAE is guaranteed to be Dubai and sticks out like a sore thumb. Dubai is the MLM crime capital of the world and goes hand in hand with Boris CEO scams.
As to where the Bonanza Global scammers are originally from, the company's official YouTube video originally targeted South Koreans: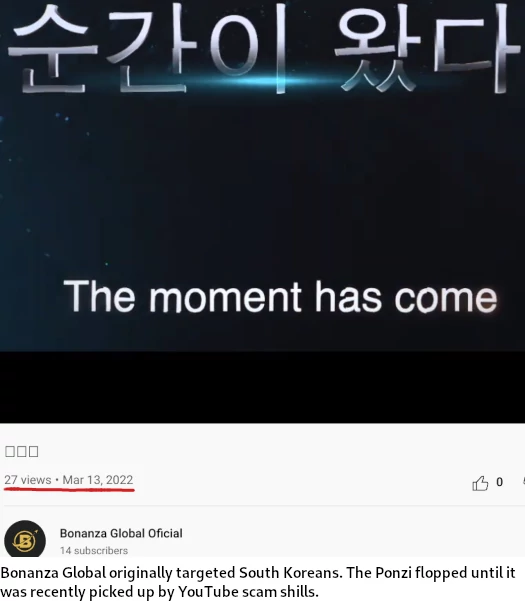 We're possibly looking at SEA scammers operating out of Dubai.
Bonanza Global's traffic from the US can be explained by serial Ponzi scammers in the US pushing it on YouTube: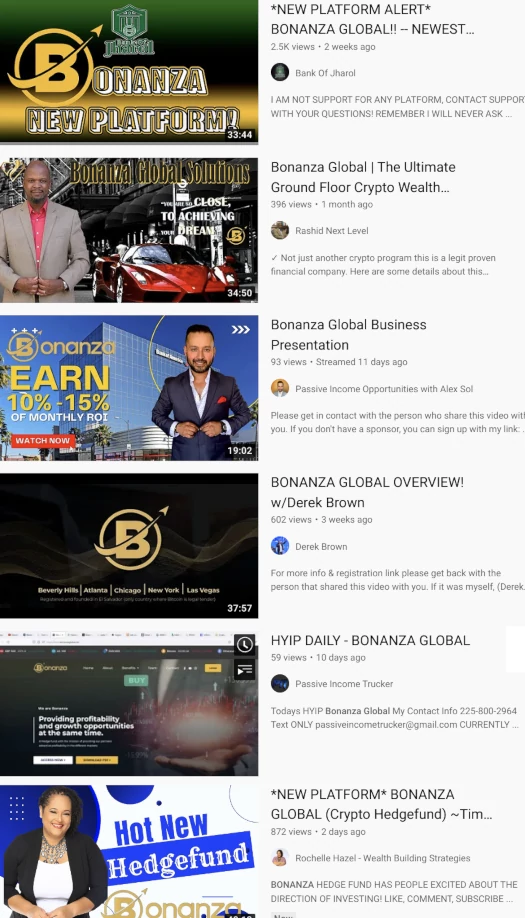 Bonanza Global's website domain ("bonanzaglobal.net"), was privately registered on February 27th, 2022. Bonanza Global marketing went live in March.
As always, if an MLM company is not openly upfront about who is running or owns it, think long and hard about joining and/or handing over any money.
Bonanza Global's Products
Bonanza Global has no retailable products or services.
Affiliates are only able to market Bonanza Global affiliate membership itself.
Bonanza Global's Compensation Plan
Bonanza Global affiliates invest tether (USDT). This is done on the promise of an advertised 10% to 15% monthly ROI.
The exact monthly ROI percentage is determined by how frequently a Bonanza Global affiliate wishes to withdraw:
withdraw once a month and receive a 10% monthly ROI
withdraw once quarterly and receive a 12.5% monthly ROI
withdraw once every six months and receive a 13.75% monthly ROI
withdraw once a year and receive a 15% monthly ROI
Bonanza Global investment packages span $100 to $1 million dollars in USD tether equivalents:
Junior – $500
Senior – $1000
Elite I – $2500
Elite II – $5000
Elite III – $10,000
Pro I – $25,000
Pro II – $50,000
Pro III – $75,000
Pro IV – $100,000
Master – $250,000
GrandMaster – $500,000
Legendary – $1,000,000
Note that Bonanza Global charges a 5% withdrawal fee, irrespective of what withdrawal cadence is selected.
The MLM side of Bonanza Global pays on recruitment of affiliate investors.
Referral Commissions
Bonanza Global pays referral commissions on invested tether down two levels of recruitment (unilevel):
level 1 (personally recruited affiliates) – 10%
level 2 – 5%
Residual Bonus
Bonanza Global pays a Residual Bonus on invested tether using the same unilevel compensation structure as referral commissions.
The difference is the Residual Bonus is paid 1.5% to 4.75%, on up to ten unilevel team levels.

recruit three affiliate investors, generate 10,000 USDT in downline investment volume and receive a 1.5% Residual Bonus down four unilevel team levels
generate 1,000,000 to 2,499,999 USDT in downline investment volume and receive a 2.25% Residual Bonus down ten unilevel team levels
generate 2,500,000 to 4,999,999 USDT in downline investment volume and receive a 3.25% Residual Bonus down ten unilevel team levels
generate 5,000,000 to $7,499,999 USDT in downline investment volume and receive a 4% Residual Bonus down ten unilevel team levels
generate 7,500,000 to 10,000,000 USDT in downline investment volume and receive a 4.75% Residual Bonus down ten unilevel team levels
Note that from tier 2 of the Residual Bonus, downline investment volume is counted
up to 50% from the largest unilevel team leg
up to 30% from the second largest unilevel team leg and
up to 20% from the third largest unilevel team leg
Joining Bonanza Global
Bonanza Global affiliate membership is free.
Full participation in the attached income opportunity requires a minimum 500 USDT investment.
Bonanza Global
Bonanza Global represents it generates external revenue via a random assortment of ruses:

No evidence of Bonanza Global generating external revenue of any kind is provided.
That's because Bonanza Global is your typical Dubai Boris CEO Ponzi scheme.
Bonanza Global's nonsense about the US and El Salvador is meaningless…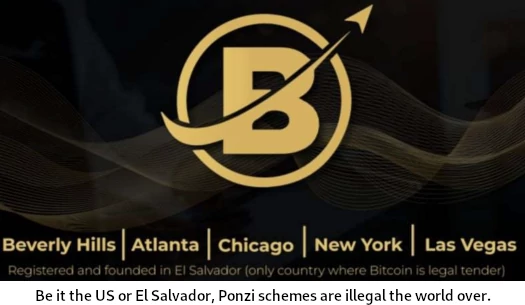 …and so is their ridiculous claims about insurance:
Bonanza Global primes gullible investors for maximum losses by enticing them not to withdraw for up to six months.
The only people who will make any money in the scam are the company's owners and YouTube shills.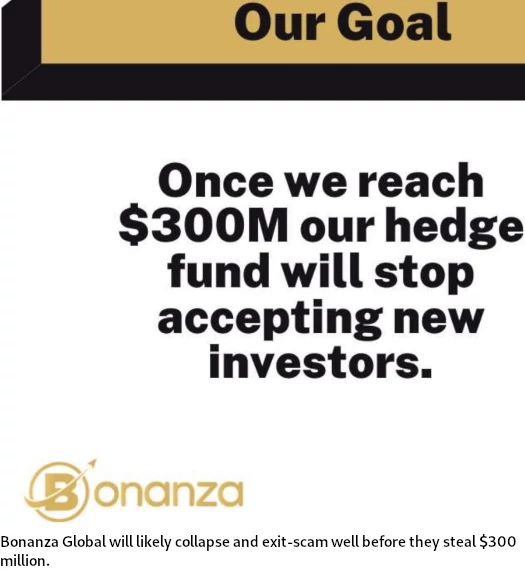 Like every MLM Ponzi scheme, once affiliate recruitment dries up Bonanza Global will find itself unable to payout withdrawals.
This will see the Ponzi scheme collapse. The math behind Ponzi schemes guarantees the majority of participants lose money.