Skyway Capital securities fraud warning issued in Spain

Skyway Capital has received a securities fraud warning from Spain's Comision Nacional del Mercado de Valores (CNMV).
The CNMV is Spain's top financial regulator (SEC equivalent).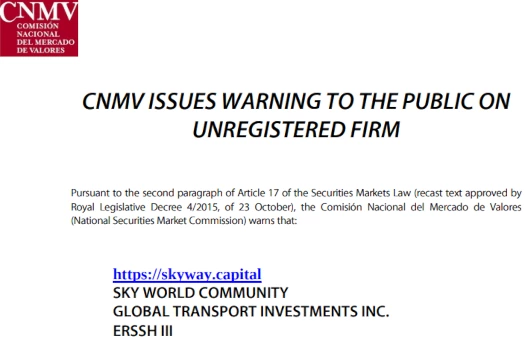 As per the CNMV's 16th August warning, Skyway Capital and associated companies Sky World Community, Global Transport Investments Inc. and ERSSH III
are not authorised to perform the activity reserved for crowdfunding platforms detailed in Article 46.1 of Law 5/2015, of 27 April, on the promotion of business financing.
This is the equivalent of a securities fraud warning in other jurisdictions.
Following its foray into cryptocurrency fraud and subsequent exit, things have been pretty quiet over at Skyway Capital.
Alexa traffic rankings for the Ponzi scheme's website suggest victims today are being recruited in Vietnam, Nigeria and Egypt.
BehindMLM first reviewed Skyway Capital in 2016.
At the time Skyway Capital was soliciting investment on the promise of a 22% daily return. That model collapsed years ago.
We've since covered the various iterations founder Anatoly Yunitskiy has deployed to keep the scam going.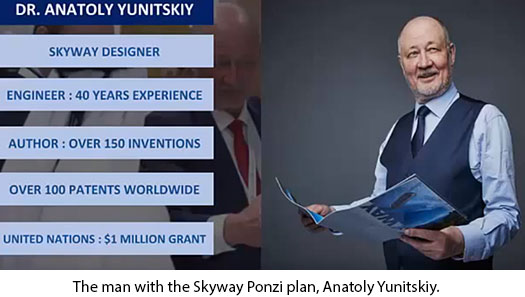 Last I heard there was something about a moon train. There's also a sand paddock in Dubai used to film Skyway marketing videos from time to time.