Skyway Capital Ponzi reboots with SWGT token

Skyway Capital is at it again. On their umpteenth reboot, the Ponzi scammers are hoping to fleece investors through the newly created SWGT token.
SWGT is a continuation of Skyway Capital's failed SWG token.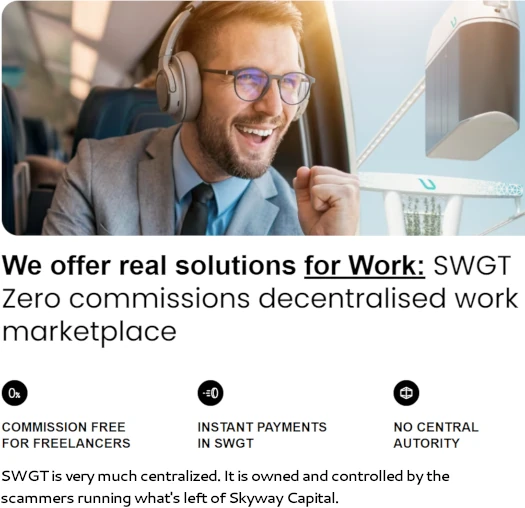 SWG's ruse was Skyway Capital's non-existent monorail infrastructure would generate passive returns for SWG bagholders.
SWG has developed a Global Transport Token system standard.

The system is built into sensors in every section of rail, every turnstile, and into apps on users' mobile phones.

Its function will not be limited to paying fares, as real-time data from the system can be used to automate dispatching and rolling stock control systems.

SkyWay's automated transport control system implements instant settlements between ecosystem participants.

This includes transport agencies, business tenants within transport system spaces, infrastructure contractors, and investors.

Every paid fare for every segment, every service rendered within the ecosystem is taken into account automatically and almost instantly. Thus settlements are handled automatically, with no human factor.
In an October 5th press-release, Skyway Capital admitted this didn't happen due to a "lack of technical capacity".
When we released the SWG utility token, we envisioned a quick and successful implementation in the uST transport and infrastructure complexes according to the concept outlined in the white paper.

However, due to the apparent lack of technical capacity, implementing SWG in uST was no longer possible.

As a result, the project was put on hold.
SWGT is more of the same marketing nonsense, but with a "decentralized marketplace" twist.
SWGT freelance marketplace is a digital platform that connects skilled freelancers from around the globe with clients seeking their expertise charging users with 0% commission
Why use Ponzi riddled SWGT as a payment platform as opposed to the bajillion other crypto tokens promising the same?
*cue crickets chirping*
SWG bagholders are able to convert SWG into SWGT at a ratio of 1:1.
The catch is SWGT tokens will be locked until it opens up to the public, currently scheduled to take place in 66 days (~December 17th, 2023).
With no interest in Skyway Capital outside of multiple generations of victims and crypto token bagholders, SWGT is all but guaranteed to collapse as soon as it goes public.
But that is of course by design. SWGT is nothing more than a quick 2023 holiday season cash grab.
The Skyway Capital Ponzi has gone by a number of names throughout multiple collapses. Currently it's known as Unitsky String Technologies and SWG Global.
All iterations of Skyway Capital are owned by Russian national Anatoly Unitsky.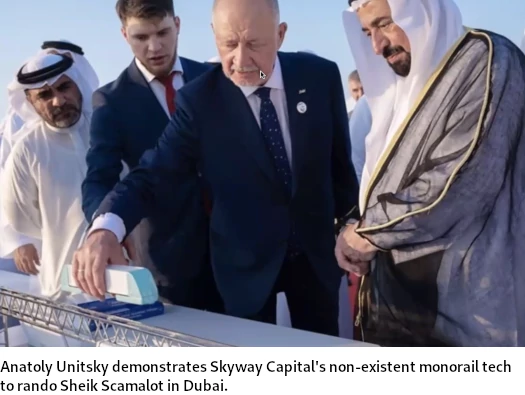 Unitsky is believed to have fled Russia and now spends his time between Belarus and Dubai.