Daniel Pacheco settles iPro Network SEC fraud case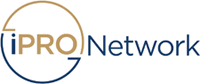 Daniel Pacheco and his fellow iPro Network defendants have settled the SEC's fraud case against them.
As per a December 12th Notice of Proposed Settlement filing;
Counsel for the SEC and counsel for Pacheco have come to agreement as to the material terms of a proposed settlement.

The SEC filed its iPro Network fraud lawsuit against Pacheco (right) back in May 2019.
In their Complaint, the SEC alleged iPro Network was a $26 million dollar pyramid scheme.
BehindMLM reviewed iPro Network in March 2017, correctly identifying as a pyramid scheme at the time.
The Achilles' Heel of every MLM altcoin is usability of the coin outside of the income opportunity.

The only buyers and therefore users of Pro Coin are speculative affiliate investors investing thousands of dollars. For no other reason than they hope to cash out a ROI at later stage.

This isn't going to attract legitimate merchants who directly accept Pro coin, which in turn means nobody but affiliates are going to use the coin.

Retail customers (non-affiliates) aren't going to go anywhere near it.

Once all the pyramid recruitment commissions have been paid out and short of continued artificial manipulation by the issuer of the coin, ultimately iPro Network affiliates will be left holding yet another worthless MLM altcoin.
Pending approval of the iPro Network settlement by SEC Commissioners, details will be made public. This process is expected to take "approximately 60 days".
In the meantime, iPro Network's upcoming January 17th trial has been vacated.
Plaintiff Securities and Exchange Commission ("SEC"), by and through its counsel of record, Daniel O. Blau, and defendants Daniel Pacheco and Relief Defendant EProfit Systems LLC (together, "Pacheco" or "Defendants"), by and through their counsel of record, Scott Wellman and Chris Wellman, hereby notify the Court of their proposed settlement and stipulate to vacate remaining pretrial and trial dates, subject to the Court's approval.
Scott Wellman and Chris Wellman, of the firm Wellman & Warren, were part of iPro Network's marketing efforts.
Pacheco original answer to the SEC's case, prepared by Wellman & Warren, is definately worth a read.
Among other things, Pacheco claimed the SEC couldn't sue him because "the SEC did not suffer any actual damages".
In exchange for rubber-stamping iPro Network's fraud, Scott Wellman got to promote his book "Schemes and Scams" at iPro Network events.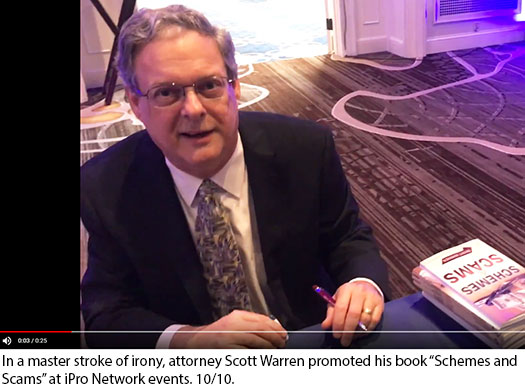 Why the author of "Schemes and Scams" wasn't able to identify at $26 million dollar pyramid scheme remains unclear.
Update 13th February 2023 – Minor update, the parties are having issues fleshing out the settlement terms;
The Defendants and counsel for Plaintiff continue to agree on the material terms of the proposed settlement.

However, they continue to negotiate the language of the consent and proposed judgment. The parties expect that they will come to agreement on the language of the consent and proposed judgment.

Once the consent has been executed by Pacheco and his counsel, counsel for the SEC will submit the proposed settlement to the Commission for their approval.
Can't say for sure but this is probably Pacheco objecting to iPro Network being cited in the settlement for what it was; a Ponzi scheme.
The court has given the SEC and Pacheco until May 31st to work language issues out, failing which another update must be provided by June 5th.
I've scheduled BehindMLM's next docket check for June 6th.
Update 7th June 2023 – The SEC filed another Status Report on June 6th;
On May 11, 2023, counsel to Defendants sent an executed copy of the consent to judgement to counsel for the SEC.

Now that Defendants have agreed to the terms of the consent and proposed judgment, counsel for the SEC is reviewing the proposed settlement with senior staff of the SEC in preparation for its submission to the Commission for their approval.
The Commission typically takes a few weeks to sign off on a submitted proposed settlement. I'll keep monitoring the docket for an update.
Update 19th September 2023 – Daniel Pacheco's SEC fraud settlement has come in at just over $2 million dollars.