Ronaldinho splits with 18K Ronaldinho Ponzi scheme

Things are set to get awkward over at 18K Ronaldinho, following the announcement it's namesake, Ronaldinho Gaúcho, has cut ties with the company.
18K Ronaldinho started off as a watch company, run by owner Marcelo Lara and having a partnership with former footballer Ronaldinho Gaúcho.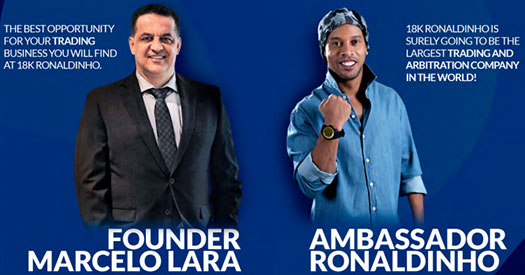 The watch side of the business collapsed, prompting Lara to reboot the company as a cryptocurrency Ponzi scheme.
Lara continued to use Gaúcho's name and likeness to promote the company, purportedly without his permission.
When approached by UOL last Friday, Gaúcho's lawyer stated he'd terminated his 18K Ronaldinho contract "two weeks ago".
18K Ronaldinho and Marcelo Lara would not confirm or deny the claim.
According to his attorney, Gaúcho 'never authorized his name to be involved in operations with Bitcoins'.
How much he did or didn't know and when or when he didn't cut ties with 18K Ronaldinho could prove important for Gaúcho.
Federal Prosecutors and the Brazilian SEC have each been investigating the 18K Ronaldinho for fraud.
Prosecutors are still investigating consumer complaints. The SEC has moved forward with a lawsuit against the company.
When asked about their business model, 18K Ronaldinho denied running an investment scheme.
(18K Ronaldinho) said its main business is selling products such as watches, coffees and jewelry.
As per our published 18K Ronaldinho review, this is clearly a false statement.
At the time of publication 18K Ronaldinho's website still prominently features Ronaldinho Gaúcho in its marketing.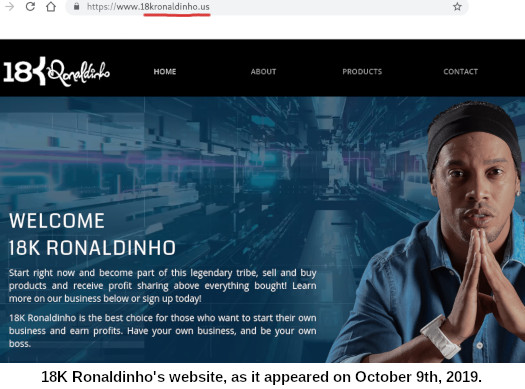 Gaúcho's lawyers have threatened to sue the company if his likeness is not removed.