Telegram shuts down Lara With Me Ponzi bot

The Achilles' Heel of the Lara With Me Ponzi scheme is the use of Telegram to coordinate Ponzi payments and withdrawals within the company.
As noted in our BehindMLM Lara With Me review, published back in July;
If Telegram investigate and shut down Lara With Me's API access, the scheme instantly collapses.
Not surprisingly, that appears to have now happened.
Less than 24 hours ago Lara With Me attempted to cover up fraud reports made to Telegram by claiming 'fake bots were using similar Lara nicknames'.
What this has to do with Telegram investigating and shutting down Lara With Me's bot is unclear.
In any event, Lara With Me's anonymous Russian admins claimed they were
having a discussion with telegram support team in order to fix this misunderstanding and remove that weird notification you can see from each button press.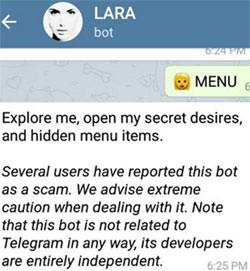 The "weird notification" in question was a warning message advising Telegram users that the Lara With Me Bot had been flagged as a scam.
The outcome of purported discussions between Lara With Me and Telegram has now apparently resulted in Telegram revoking API access to the Lara With Me bot.
Some functionality of or LARA bot was blocked by telegram directly.
This means otherwise automated activity within Lara With Me has come to a stand-still.
Lara With Me claim to be processing payments manually, however multiple affiliates on the Lara With Me Facebook page are reporting non-payment:
I did a withdraw of 50 dollars to my bitcoin account and it said the money has been sent but when I checked my bitcoin wallet the money is not there.. Why?
I also requested withdrawal to my bitcoin wallet. But haven't received yet. I think, Lara is now getting away with our money.
Same here. requested bitcoin withdrawal almost 12 hours ago and no coins yet in my wallet.
I have withdrawn but doesn't reflect to wallet..this would be the first payment.
Made a request to withdraw $15 but i haven't been paid….smiles or apprehension?
Rather than acknowledge API access to the Lara With Me bot was revoked because Telegram don't condone Ponzi fraud, Lara With Me claim "people" and "administrators" reporting the bot are "fully responsible".
Since coordination of Lara With Me's Ponzi scheme relies on access to the Telegram API, should the ban stay in place it's highly likely Lara With Me will collapse.