Robert McNulty hounded for Tryp securities fraud on deathbed

Robert John McNulty, founder and CEO of the collapsed Tryp MLM company, was being hounded for securities fraud on his deathbed.
Earlier today a BehindMLM reader shared that McNulty died back in May 2021. This was news to me and prompted a quick revisit into Tryp.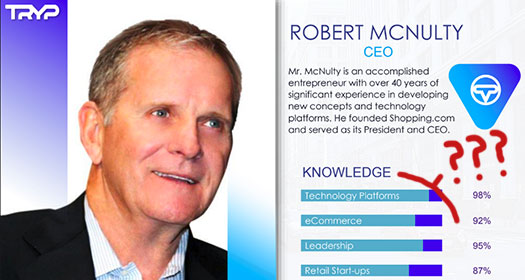 BehindMLM reviewed Tryp in January 2019. We noted, among other things, Tryp was committing securities fraud through its Founders Club.

 Tryp Founders Club affiliates are/were invited to 'take advantage of a very special and lucrative stock option bonus program'.

That there's no public record of this option should be ominous enough.

What I can tell you is that neither Tryp or Robert McNulty are registered with the SEC.

Meaning any stock options offered to Founders Club affiliates, whether implied, promised or actual, have been done so in violation of US securities law.
Tryp announced it was closing down its rideshare MLM opportunity in January 2020. BehindMLM noted the closure in our review and left it there.
On or around November 2020, McNulty rebooted Tryp as Trip Delivers, a non-MLM food delivery company.
Trip Delivers first serviced Tennessee and then Florida, before it too eventually failed.
Scuttlebut Sailing News noted McNulty's passing in June 2021.
Robert John McNulty, 75, of Lake Las Vegas, NV, passed away on May 26, 2021.
I can't 100% confirm but I believe McNulty's cause of death was cancer.
In May 2021, as McNulty lay on his deathbed, Washington's Department of Financial Institutions was preparing to serve him a securities fraud cease and desist.
In 2018, a Tryp agent told a Washington resident ("Resident") about Tryp's new ride sharing company that had a network marketing structure.

The agent told the Resident that signing up could enable one to receive Tryp Technologies stock options.

McNulty spoke to the Resident by telephone and explained that Tryp would be putting millions into advertising and having endorsers such as Shaquille O'Neal.

In a subsequent telephone call, McNulty told the Resident about the opportunity to buy $100,000 of Tryp stock.

The Resident told McNulty that the Resident could only afford to purchase $25,000 of shares.

The Resident sent $25,000 by wire to Tryp Technologies. Tryp sent the Resident a stock certificate for 33,000 shares of Tryp stock and representing a share price of about $0.76 a share.

McNulty previously told the Resident that when Tryp Technologies went public, the shares would be valued at about $75 a share.

Tryp and McNulty failed to provide the Resident with material information regarding the sale of Tryp stock and the opportunity to participate in the Tryp stock option plan such as failing to disclose McNulty's litigation history, the risks of the investment and the financial condition of the company.

Tryp and McNulty failed to have and provide a reasonable basis for the claim made to the Resident regarding a possible valuation of $75 a share in a public stock offering of Tryp shares.

To date, Tryp's stock offering has not gone public.

Tryp is not currently registered to sell securities in the state of Washington and has not previously been so registered.

Tryp and McNulty have each violated RCW 21.20.140, because, as set forth in the Tentative Findings of Fact, Respondents offered and/or sold securities for which no registration is on file with the Securities Administrator.

McNulty has violated RCW 21.20.040 by offering and/or selling said securities while not being registered as a securities salesperson or broker-dealer in the state of Washington.

Based upon the above Tentative Findings of Fact and Conclusions of Law, the Securities Administrator intends to order, pursuant to RCW 21.20.390(1), that Tryp and McNulty, their agents and employees each shall cease and desist.
On July 8th, 2021, over a month after McNulty had passed, DFI Washington fined him $25,000 for Tryp related securities fraud. McNulty was also ordered to pay $9000 in legal costs.
As I now understand it, Paul Mikel (right) salvaged what was left of Trip Delivers and rebooted as Snap Delivered in September 2021.
Snap Delivered initially also had an illegal "founding members" stock options offering.

This prompted me to draw comparisons to Tryp in BehindMLM's Snap Delivered review. At the time though I was unaware McNulty had died and Snap Delivered was a continuation of Trip Delivers.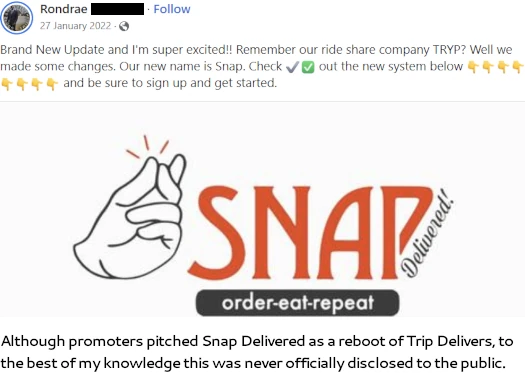 In December 2022, Mikel disclosed that Snap Delivered was no longer illegally offering drivers stock options.
To the best of my knowledge, that Snap Delivered is a continuation of Trip Delivers has never been publicly disclosed.