Tryp Review: Ridesharing pyramid scheme with illegal stock options?

Tryp provides no information on their website about who owns or runs the business.
The Tryp website domain ("tryprides.com") was registered on July 12th, 2018.
The domain is owned by Robert McNulty, through a virtual office address in the US state of Nevada.
Further research reveals Tryp marketing material and affiliates citing McNulty as CEO of the company.
Why this information is not provided on the Tryp website is unclear.
McNulty has a history in e-commerce, most notably as founder, President and CEO of Shopping.com.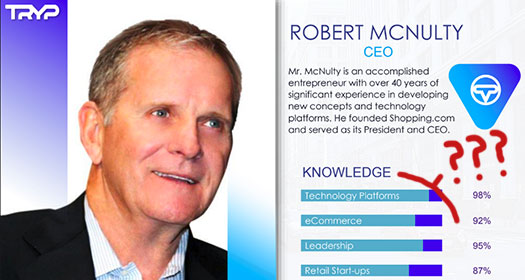 What you won't find in Tryp marketing material however is McNulty's tenure as Shopping.com CEO was marred by a market manipulation investigation by the SEC.
Later that year McNulty resigned, although he was hired back two weeks later as a "consultant" (nothing suss).
Shopping.com was sold off to Compaq a year later in 1999.
One thing I'll note is the Wikipedia page for "shopping.com", which states the site was 'founded in Israel in 1998 by Dr. Nahum Sharfman and Amir Ashkenazi'.
Robert McNulty's name does not appear in the entry, so I'm not sure what's going on there.
Update 20th January 2019 – Some insight from BehindMLM reader K. Chang that seems to fit;
McNulty founded Shopping.com back in 1996, stepped down by 1998. Shopping.com eventually was sold off to Compaq who owned AltaVista at the time.

Elsewhere in Israel, Sharfman and Ashkenanzi founded Papricom, dba DealTime.com in 1998. They bought the shopping.com domain in 2003 from Alta Vista and rebranded itself shopping.com and was eventually bought by eBay in 2005.
/end update
Five years prior to "founding" Shopping.com, McNulty was investigated by the SEC for, among other things, anti-fraud and securities law violations.
In a complaint filed by the Commission on September 30, 1994, McNulty was charged with orchestrating a complex scheme to defraud investors by using the proceeds of securities offerings by HQOS, HQOI, Auto Giant and Auto Depot to finance the operations of affiliated companies and the companies' underwriter and market maker, Global America, Inc., rather than for the stated purpose of funding the issuers' operations.
McNulty settled the charges in October 1995.
In late 2009 McNulty launched, Kaching Kaching, an e-commerce niche MLM company.
As of late 2010 the company was still operational but appears to have shut down sometime thereafter.
On his personal website McNulty has a section titled "What I'm doing now";
My latest dedicated journey is a new company I've created (ibuy,inc [sic] / ibuyrite) that will enable independent small brick and mortar retail businesses to not only compete, but to thrive in this brave new world of eCommerce online retail.
At the time of publication the Ibuyrite website has an Alexa traffic ranking of 11.3 million, which is as good as dead.
In early 2018 McNulty co-founded SupplyBloc, in which he also held the position of CEO.
According to the SupplyBloc website, it
was founded with the mission of solving the greatest problems that businesses face in global commerce and e-commerce, namely those involved with supply-chain management.

Our solution rests on a foundation of deeply complex blockchain technology.
SupplyBloc initially planned to sell its SUPX ICO for $1 a coin.
In May 2018 SupplyBloc "temporarily paused" its pre-ICO, amid concerns the company might potentially be committing securities fraud.
As of January 2019 SUPX has failed to materialize.
Read on for a full review of the Tryp MLM opportunity.
Tryp Products
Tryp as an MLM company has no retailable products or services, with affiliates only able to market Tryp affiliate membership itself.
There is mention of a ridesharing app on the Tryp website, which as I understand it doesn't exist yet.
If you click any of the app download links on the Tryp website, you're redirected to a "coming soon" page.
Furthermore, as detailed in the compensation plan breakdown below, the ridesharing component of Tryp has nothing to do with their MLM opportunity.
The Tryp Compensation Plan
The Tryp compensation plan combines ridesharing fees with recruitment.
Rideshare Commissions
Although Tryp's ridesharing app doesn't exist yet, I'm including rideshare commissions as technically they are part of Tryp's compensation plan.
Note however that Tryp's ridesharing commissions are not MLM-based (affiliate drivers receive commissions directly from app users).
In their compensation plan material Tryp don't disclose specific commissions earned on rideshare fees.
An example in the Tryp compensation plan cites an average 40 cent commission per ride taken through the app.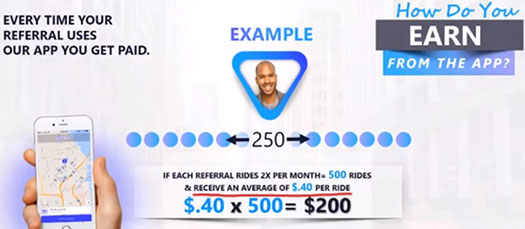 No basis for this average is provided.
Note that Tryp affiliates only earn rideshare commissions on app users they personally refer.
Recruitment Commissions
Tryp affiliates sign up and pay a monthly fee. Commissions are paid when they recruit others who do the same.
For each affiliate recruited, a Tryp affiliate receives a $50 commission.
Residual Commissions
Trip pays residual commissions based on direct and indirect recruitment activity.
Rising – recruit and maintain three fee-paying affiliates = $50 a week
Pro – pay an additional $149.99 annual fee and have a total downline of twelve monthly fee-paying affiliates = $150 a week commission
1K – have a total downline of at least twenty-four monthly fee-paying affiliates = $250 a week
2K – have a total downline of at least sixty monthly fee-paying affiliates = $500 a week
5K – have a total downline of at least one hundred and eighty monthly fee-paying affiliates = $1250 a week
10K – have a total downline of at least four hundred monthly fee-paying affiliates = $2500 a week
25K – have a total downline of at least one thousand monthly fee-paying affiliates = $6250 a week
50K – have a total downline of at least two thousand monthly fee-paying affiliates = $12,500 a week
100K – have a total downline of at least four thousand monthly fee-paying affiliates = $25,000 a week
250K – have a total downline of at least twelve thousand monthly fee-paying affiliates = $62,500 a week
500K – have a total downline of at least twenty-four thousand monthly fee-paying affiliates = $125,000 a week
It is unclear whether a Tryp affiliate needs to maintain three personally recruited affiliates to qualify for residual commissions.
With respect to "downline", Tryp tracks an affiliate's downline via a unilevel compensation structure.

As per the diagram above, personally recruited affiliates are placed on the first level of the downline.
Each personally recruited affiliates starts a new unilevel team leg.
Any affiliates level 1 affiliates recruit are placed on level 2 of the downline and so on and so forth.
Note that no more than 40% of required downline affiliates at any residual commission rank can be counted from any one unilevel leg.
Joining Tryp
Tryp affiliate membership is $250 plus $199 a month.
In order to earn commissions beyond the Pro rank, payment of a $149 annual "influencer" fee is also required.
Conclusion
There are some major red flags with Tryp as an MLM company.
First and foremost there's no mention of the MLM opportunity on Tryp's website.
Rather, the website is basically marketing for Tryp's rideshare app – which is fine… except for the fact that it doesn't seem to exist yet.
A legitimate MLM company does not hide their MLM business. Failing to provide basic executive information on the Tryp website is also a red flag.
As to Tryp's MLM opportunity, it's a straight-up pyramid scheme.
The MLM component of Tryp's compensation plan is 100% tied to recruitment.
Tryp refers to its affiliates as "drivers", whether they drive or not.
Tryp's affiliate drivers pay $250 and then $199 a month. 100% of commissions paid out through Tryp's compensation plan are tied to recruitment of affiliate drivers.
This is as basic an MLM pyramid scheme as you can get.
I also want to emphasize that should Tryp's rideshare app materialize, that it in no way legitimizes 100% of Tryp's MLM commissions being tied to affiliate recruitment.
From a regulatory standpoint nothing justifies pyramid recruitment.
Tryp could rework its rideshare fee commission structure toward compliance, but that would
require them to actually release the app;
ditch their "you keep 100% of the fees" marketing and;
require them to be paying out more in rideshare fees as commissions versus affiliate membership fee commissions.
As it stands Tryp began soliciting affiliate fees on or around mid December – yes, that's without the public release of their ridesharing app.
So you've got an MLM company leading on their website with a product that as of yet doesn't exist, whilst quietly only accepting pyramid scheme membership fee payments on the backend.
Oh and as if two run-ins with the SEC wasn't enough, McNulty and Tryp might also be committing securities fraud:

I searched high and low for specifics of Tryp's Founders Club but turned up nothing. This leads me to believe those who signed up might have been sworn to secrecy (NDA).
Regardless, as per the official Tryp marketing material to the right, Tryp Founders Club affiliates are/were invited to 'take advantage of a very special and lucrative stock option bonus program'.
That there's no public record of this option should be ominous enough.
What I can tell you is that neither Tryp or Robert McNulty are registered with the SEC.
Meaning any stock options offered to Founders Club affiliates, whether implied, promised or actual, have been done so in violation of US securities law.
To summarize Tryp's MLM opportunity; we've got a rideshare app being marketed that doesn't even exist yet, pyramid recruitment and potential securities fraud.
Hard pass.
Update 3rd January 2020 – As of this month it appears Tryp has abandoned their MLM business opportunity. The company now runs a single-level compensation plan.