RevStar Global Review: Banners Broker rebooted?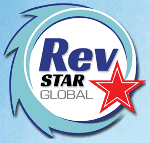 RevStar Global combine a bunch of opportunities under the one brand, offering a multi-niche MLM business opportunity.
Listed as co-founders on the RevStar Global "Our Team" website page are Paul Redmayne (President) and David H. Hooker (Executive Vice-President).
Paul Redmayne was the President of Blue Bird Bids, a Zeek Rewards Ponzi clone that launched in late 2012.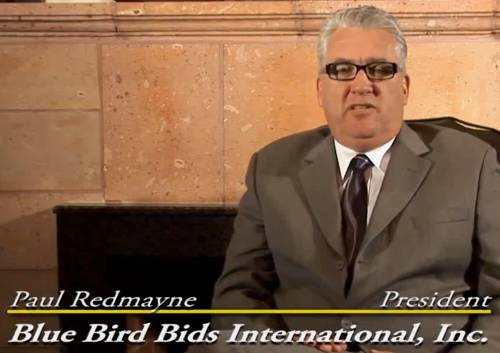 Blue Bird Bids collapsed shortly after launch following concerns, raised by Vice-President Eric Swaim, that auto-bidding bots were being used to drive up auction prices.
Following the collapse of Blue Bird Bids, the company transformed into PureNRG Fx with Swaim at the helm. PureNRG FX abandoned the Ponzi points business model in favour of a recruitment-focused compensation plan to market Playboy branded energy drinks.
Swaim is joining Redmayne in his new MLM venture, credited as the company's Vice-President of Sales on the RevStar Global website.
Meanwhile PureNRG FX appears to have stalled some time ago, however the status of the company in light of RevStar Global launching is not clear. At the time of publication, Eric Swaim's name does not appear anywhere on the PureNRG FX website.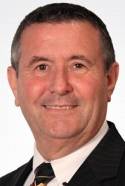 In his RevStar Global executive bio, David Hooker (right) credits himself with having been "headhunted" by Mark Hughes and Larry Thompson to join Herbalife in Europe – 'a position that he held for many years helping to develop many of the leaders that are still prospering with that company today'.
Over the years David has held senior executive positions with many of the major international corporations such as Herbalife International, Lifestyles International, Modicare India and Nature's Sunshine Products.

With David's unparalleled skills, concepts and drive, he took their International Business Development Programs to new heights, becoming the most widely recognized programs in the industry.
More recently however, Hooker aligned himself with the Banners Broker Ponzi scheme as their "Director of Compliance".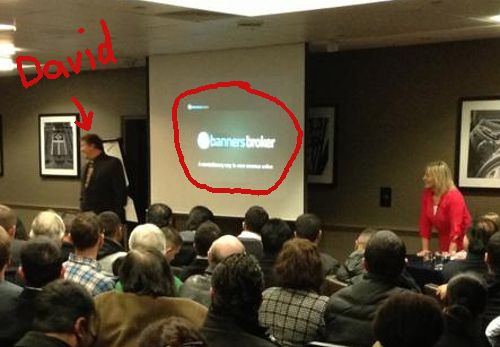 Hooker held Banners Broker investor recruitment events, hosted corporate calls and appeared as an official spokesperson for the company.
Despite having never formally reviewed Banners Broker due to a lack of an MLM component within the business, as I understand it the scheme involved investors investing in a fictional advertising network.
Banners Broker appears to have begun collapsing around early to mid 2013, leaving many investors out of pocket. Currently those left in the scheme appear to be stringing the remaining investors along with promises of Banners Broker resurrecting itself.
Read on for a full review of the RevStar Global MLM business opportunity.
The RevStar Global Product Line
How RevStar Global have set up their various product lines is somewhat curious. On their website RevStar Global list their respective product lines as "clients". The impression given is that these companies are third-party merchants, working in partnership with RevStar Global.
RevStar Global has formed strategic business alliances with known existing companies around the world that will provide fun, high value products and services to our members. RevStar Global suppliers' will provide everything from penny auctions to international warranties, cosmetics to insurance and everything you can think of in between.
There are currently five "clients" listed on the RevStar Global website:
Jiggy Bids – penny auction site
WarrantiesRUs – electrical and vehicle warranty programs
Easy Online Accounting – "online accounting for small business owners"
RevStar Hosting – web hosting and design
JetSetter Dating – online dating
Despite the appearance of products and services however, functionally RevStar Global only sell affiliate memberships:
Free affiliate membership – no cost, bundled with RevStar Hosting hosted website
30-day trial affiliate membership – $39.99, bundled with "upgraded" RevStar Hosting package and projected commission calculator
Standard affiliate membership – $99 a month, 125 Jiggy Bid bids, RevStar Hosting package, Easy Online Accounting software package
Within the RevStar Global MLM opportunity itself, $99 affiliate membership appears to be the only actual "product" itself.
Once signed up, RevStar Global affiliates can then also purchase what the company calls "Customer Acquisition Program Packs". These packs cost between $250 to $1000 and provide shares in RevStar Global's revenue-sharing scheme (see compensation plan section below).
The RevStar Global Compensation Plan
The RevStar Global compensation plan primarily revolves around affiliates signing up for $99, paying $99 to remain "active" and then effectively investing in Customer Acquisition Program Packs.
Commission Qualification
All RevStar Global affiliates have to qualify themselves for commissions by paying a monthly $99 affiliate fee.
RevStar Global use the term "active" to describe affiliates who have paid their monthly fee:
Active definition: must have a purchase of not less than $99.00 monthly after February 1st, 2014 in each and every calendar month.
Recruitment Commissions
When a RevStar Global affiliate recruits a new affiliate, they are paid $2 a week for 90 days.
After 90 days, affiliate membership fees are then used to pay commissions via a 4×10 matrix:
All affiliate monthly payments will be placed into the 4×10 Level Matrix Bonus Plan. Affiliates will earn bonuses based on the number of personally sponsored active Affiliates they have as well as the size of their organization.
A 4×10 matrix starts with 4 positions on level of the matrix, with each subsequent level adding an additional four positions per position on the previous level: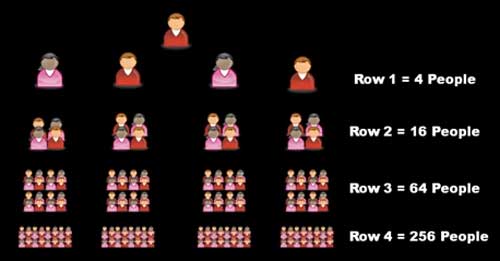 There are ten levels in total, with commissions paid out according to how many recruited affiliates are in the matrix (recruited either directly or indirectly). Additionally, RevStar Global affiliates must qualify themselves to earn on additional matrix levels by recruiting new affiliates:
Affiliate (recruit at least 2 affiliates) – 10% on levels 1 and 2
Regional (recruit at least 4 affiliates) – 10% on levels 1 and 2, 3% on level 3 and 2% on level 4
National (recruit at least 6 affiliates) – 10% on levels 1 and 2, 3% on levels 3 and 4 and 2% on levels 5 and 6
International (recruit at least 8 affiliates) – 10% on levels 1 and 2, 5% on levels 3 and 4, 3% on levels 5 and 6 and 2% on levels 7 and 8
Global (recruit at least 12 affiliates) – 10% on levels 1 and 2, 5% on levels 3 and 4, 3% on levels 5 and 6, 2% on levels 7 and 8 and 5% on levels 9 and 10
Retail Commissions
Retail commissions are mentioned in the RevStar Global compensation plan material, with RevStar Global defining a retail sale as 'everything that is purchased outside of the MPP to be retail'.
The company states they will pay a 10% commission on retail sales and place an additional 10% into the 4×10 matrix (to be paid out as a percentage as per the 4×10 matrix rules).
How retail commissions work when the only thing purchasable in RevStar Global appears to be affiliate membership however is unclear.
Revenue Sharing
After joining RevStar Global, affiliates have the option of investing in Customer Acquisition Program Packs (CAPs). RevStar Global take 50% of the money invested by affiliates and pay it out quarterly according to allocated shares.
Shares in the RevStar Global revenue-sharing pool are allocated according to how much an affiliate and their downline have invested in CAPs:
$250 CAP – 1 share to the affiliate investor and 1 share to the affiliate who recruited them
$500 CAP – 3 shares to the affiliate investor and 2 shares to the affiliate who recruited them
$1000 CAP – 10 shares to the affiliate investor and 3 to the affiliate who recruited them
Note that all CAP investments attract a referral commission of 5%, as well as 5% of the funds invested being directed to the 4×10 matrix (to be paid out as a percentage as per the 4×10 matrix commission rules).
Joining RevStar Global
Affiliate membership to RevStar Global is $99 a month.
Conclusion
Despite being presented as business partnerships with independent third-party merchants, it's clear that RevStar Global's "client" companies are being run by the company itself or someone involved with it.
We'll start with a run down of the RevStar Global client website domains:
Jiggy Bids ("jiggybids.com") – domain registered anonymously on the 10th of September 2013
WarrantiesRUs ("warrantiesrus.com") – domain registered anonymously on the 10th of September 2013
Easy Online Accounting ("easyonlineaccounting.com") – domain registered anonymously on the 9th of December 2013, domain uses Jiggy Bids' domain name-servers
RevStar Hosting ("revstarhosting.com") – domain registered anonymously on the 18th of September 2013
JetSetter Dating ("jetsetterdating.com") – domain registered anonymously on the 30th of September 2013
Additional points of interest include that JetSetter Dating and WarrantiesRUs both use the Jiggy Bids domain nameservers, with all three websites hosted in Canada.
Jiggy Bids and WarrantiesRUs' websites have not launched yet.
With the exception of Easy Business Accounting, either WordPress, WIX or Joomla are used to host RevStar Global client sites.
The RevStar Global business description of Easy Online Accounting is ripped from Wikipedia's entry on the "software industry":


Furthermore, Easy Online Accounting is simply a re-branding of the "HOBS Elite" third-party accounting application:

You can read more about the HOBS Elite over at the Home Office Builder System website.
No doubt the rest of RevStar Global's "clients" are just sham websites set up by the company itself to market third-party affiliate offers. These businesses, as the independent third-party partner businesses they are portrayed to be, simply do not exist.
With the facade of RevStar Global's third-party merchant "client" businesses out of the way, we can then get to the core of the opportunity: affiliate recruitment and investment in CAPs.
Affiliates buy into RevStar Global for $99. They can then recruit other affiliates who also pay $99, and get paid directly based on how many affiliates they and those they recruited recruit via the matrix.
In addition to this, all participants can make investments in RevStar Global's CAP investment scheme. Affiliates invest $250, $500 or $1000, and in return receive shares in an investment pool, made up of 50% of the funds invested by other RevStar Global affiliates.
Affiliates invest in CAPs on the expectation that RevStar Global will deliver them a >100% ROI over time, paid out quarterly. The more an affiliate and those recruited under them invest, the higher their individual share in the quarterly ROI pool.
Everything else on the RevStar Gobal website is just your typical Ponzi smoke and mirrors.
Given the involvement of RevStar Global management with Banners Broker and Blue Bird Bids, I can't say I'm anything but surprised analysis of RevStar Global reveals yet another Ponzi scheme.
The final point of interest I'll wrap up with, just in case the RevStar Global's Ponzi ROI business model and sham "clients" wasn't enough, is the involvement of Stellar Point Inc. in the opportunity.
Taken from the "Terms" page on the RevStar Hosting website:

COPYRIGHT NOTICE

RevStar Hosting its logos are trademarks of Stellar Point Inc. All rights reserved.
Stellar Point Inc. is a name no doubt familiar to those who invested in Banners Broker. It is/was the front company set up for those running Banners Broker to hide behind when the scheme began to collapse.
Here's RevStar Global co-founder David Hooker doing just that in July 2013: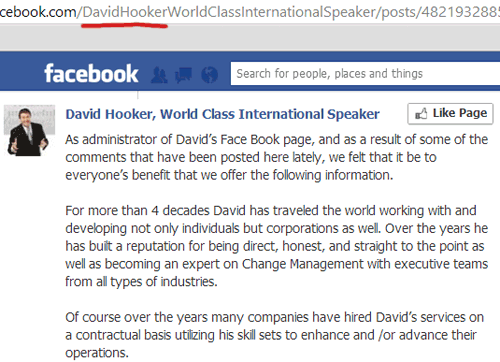 Over the years many companies have hired David's services on a contractual basis utilizing his skill sets to enhance and /or advance their operations.

Stellar Point Inc., based in Canada is one such client who hired him to help develop their operation as a support organization at the same time as expanding their business portfolio. Due to his immense experience and well-deserved reputation in the field of Direct Sales, David helped develop training programs for a Stellar Point client, namely Broker International, during the course of which he was viewed by affiliates as being the face of Banners Broker.

It is important to note that at no time has David ever been employed by BBI, nor has he been involved in any decision making process with that company. His contract is with Stellar Point Inc. and has the responsibility of developing support and development programs for many of Stellar Point's clients, including BBI if so directed.

Just as an independent lawyer, accountant or printing company would be viewed as independent; David is no different.
An "independent" contractor? Riiiiiiiiight.
I've already  included one instance of Hooker pimping Banners Broker to prospective investors at the start of this review but hey, to save you scrolling all the way back up, here's another: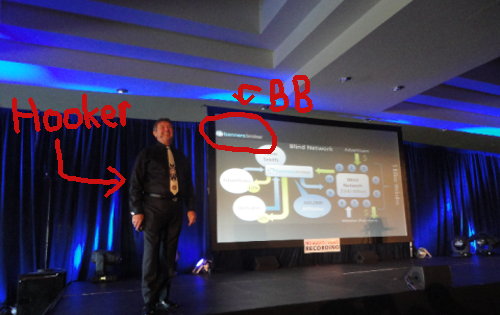 Different venue, same David Hooker pimping out the Banners Broker Ponzi scheme.
Does anyone really believe that Banners Broker and Stellar Point aren't one and the same? For those of you familiar with TelexFree, think Ympactus.
In all probability Hooker is going to push the Stellar Point name on anything he claims is a third-party business, retaining RevStar Global for the Ponzi scheme. Then, when new investment dries up like it did it in Banners Broker, no doubt Hooker and friends will try to hide behind Stellar Point again.
Only this time around the facade might be a little more difficult to sell, given that Hooker himself is credited as the Co-founder and Executive Vice-President of RevStar Global. Maybe he's an "independent" Co-founder and Executive Vice-President. They exist, right?
Alright, all joking aside, now it's time to get serious. Taken from their "Terms and Conditions", here's how RevStar Global plan to address the obvious Ponzi investment nature of their business model and compensation plan:
3.04 INCOME CLAIMS AND UNUSABLE TERMS

At no time can an Affiliate use the Terms: INVESTMENT; ROLLOVER; COMPOUND INTEREST; GUARANTEED RETURN ON INVESTMENT; or any form, derivative or variation of these terms to describe any portion of the REVSTAR GLOBAL compensation plan.

Breach of this clause can result in immediate termination of Affiliate status and forfeit of all unpaid commissions.
Pseudo "we're not a Ponzi scheme if nobody calls it an investment" compliance at its finest. Good luck with that guys.