Herbalife Review: Pyramid scheme or not?

Herbalife operate in the health and wellness niche of the MLM industry and is based out of the US state of California, however is incorporated in the Cayman Islands (a known tax-haven).
Herbalife was founded way back in 1980 by Mark Hughes, who purportedly sold Herbalife products "from the trunk of his car".
Hughes often stated that the genesis of his product and program stemmed from the weight loss concerns of his mother Joanne, whose premature death he attributed to an eating disorder and an unhealthy approach to weight loss.

His goal was to change the nutritional habits of the world.
Despite achieving success with Herbalife however, Hughes died in 2000 from an 'accidental overdose of alcohol and doxepin, an anti-depressant'.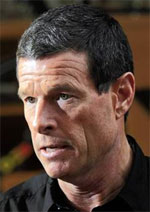 What the exact story there is I'm not sure but Herbalife continued to plough along and today is headed up by Chairman and CEO Michael Johnson (photo right).
For a broader history of Herbalife be sure to check out their Wikipedia entry, whereas here I'm going to focus on three recent events involving the company.
In November 2011, after seven years of litigation, the Commercial Court in Belgium ruled that Herbalife was a pyramid scheme.
The case was brought forward by the non-profit organisation "Test Aankoop" and claims that Herbalife breached the WPMC (market practices act) by running a pyramid scheme.
In response, Herbalife filed a defamation counterclaim (surprise surprise) against Test Aankoop.
As is often the case here on BehindMLM, analysis by the court focused on the revenue makeup of Herbalife and what its distributors were primarily compensated for doing.
In comparing retail and downline (internal consumption commissions), the court noted
the provided incomes out of the distribution network are therefore significantly higher as the provided incomes from the same amount of clients (retail customers).
And that
there is a chance of a compensation which is derived primarily from delivering (recruiting) new distributors  into the system then out of the sale or the usage of the products.

Furthermore the most purchases were performed against a discount percentage of 25% and 35%, which shows that Herbalife is getting the biggest part of her profit out of the distributors.

Following the foregoing shows that it is a lot more profitable for a supervisor to sell to a distributor, rather than selling directly to a consumer.
Herbalife tried to argue that their distributors purchasing product counted as retail sales (with the distributors purportedly eventually selling the product purchased to retail customers), but ultimately failed.
Curiously, in making such a claim Herbalife attempted to place the burden of proof in proving that their distributors went on to sell internally purchased products to retail customers on Test Aankoop, rather than themselves.
Herbalife of course couldn't provide any proof as they don't track what their distributors do with purchased product (despite have a 70% rule in their distributor agreement), with the court rejecting the notion that Test Aankoop prove Herbalife's claim.
Ultimately the Commercial Court found Herbalife
in breach of Articles 91, 4 and 99 of the Act regarding market practises and consumer protection because it has established,managed or promoted a pyramid scheme.
The defamation counterclaim against Test Aankoop was dismissed. The entire order from the Commercial Court can be viewed here.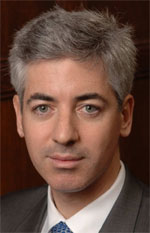 Fast forward to December 2012 and it is this time in the US that pyramid scheme allegations arise. On the 20th of December 2012, hedge fund manager Bill Ackman (photo right) gave a three-hour long presentation detailing why he believed Herbalife was a "modern day Ponzi scheme".
Accompanying the presentation was a 300 page long slideshow, which after the presentation Ackman said would be "handed over to the regulators".
Ackman's claims were instantly dismissed by Herbalife CEO Michael Johnson, who claimed that Ackman's presentation was 'a ridiculous assertion by people who are trying to manipulate our stock'.
Johnson, who was America's best paid chief executive in 2011, said his lawyers "would go crazy" if he went into too much detail about why Ackman's analysis was "bogus".

He added that he would ask the US Securities and Exchange Commission to investigate the hedge fund tycoon's motives.
And it appears investigate they will.
On January 9th 2012, it was uncovered that the SEC (New York) had launched an "inquiry" not into Ackman, but into Herbalife itself:
The Securities and Exchange Commission has opened an inquiry into Herbalife Ltd. amid an intensifying public battle between the seller of nutritional supplements and a hedge fund that argues it is a pyramid scheme, a person close to the probe said Wednesday.

The inquiry is being led by enforcement officials in the SEC's New York office, the person said.

The probe won't necessarily result in any enforcement action, but it adds pressure on Herbalife a day before a meeting with investors at which the direct seller has promised a full rebuttal of the allegations lodged by hedge-fund manager William Ackman.

The inquiry by the SEC's enforcement division follows scrutiny of Herbalife's financial disclosures by the regulator's corporation finance division last year.

A spokeswoman for the SEC declined to comment. Herbalife had no immediate comment.
I myself haven't read Ackman's presentation or written anything up till now on this issue, and that's solely because to date I haven't reviewed Herbalife on BehindMLM.
Typically I place established MLM companies towards the bottom of my review list because there's usually more than enough information out there on them. Newer companies tend to have less information out there on them and as such I  tend to favour researching and analysing them first.
With the recent developments surrounding Herbalife however and potential SEC action looming later in the year, it occurred to me that if I want to comment and write on the subject with any real confidence, then I'll first have to do a formal review Herbalife and its business model. So here it is.
Read on for a full review of the Herbalife MLM business opportunity.
The Herbalife Product Line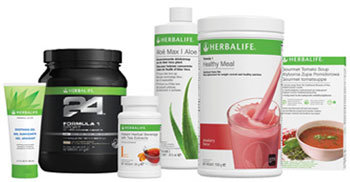 As mentioned at the start of this review, Herbalife operate within the health and wellness MLM niche.
Translating this into a product line, Herbalife market a range of health and wellness products including
weight management – shakes, meal bars, protein powder, "enhancers", soup, nuts and protein bars
"targeted" nutrition – heart health products, male, female and childrens tailored nutrition supplements, "healthy aging", digestive health, the immune system and stress management
personal care –  aloe based cream, wash, gel, shampoo and conditioner, multivitamin skin treatments, skin revitalizers, anti-aging and fragrances
energy and fitness – sports formula, guarana tablets and tea, fitness drink and a "Herbalife 24" performance nutrition range
The Herbalife Compensation Plan
The Herbalife compensation plan is poorly presented with the official documentation lacking any real structure or flow. As such I've tried my best to represent it here with some sort of logical grouping.
Apologies if it's confusing but the source material I had to work with was quite poor to begin with.
Retail Profit
Retail Profit in Herbalife is defined as
the difference between the discounted product price paid by distributors and the retail price paid by their customers.
Herbalife state that this retail profit equates to 25 to 50% of the retail price of the product.
Wholesale Profit
Wholesale Profit in Herbalife is defined as
the difference between the discounted price distributors pay for
products and the discounted price paid by their personally recruited distributors.
Herbalife state that if a distributor sells products directly to their recruited distributors (downline), they 'can earn up to 25% wholesale profit'.
If recruited distributors purchase product directly from Herbalife, then the company pays out the wholesale profit as an override, to the first qualified "Supervisor" in the purchasing distributor's upline.
Volume Points
Much of the Herbalife compensation plan revolves around "points", which are allocated upon the sale of Herbalife products by a distributor to either customers or recruited distributors in their downline.
Distributors themselves can also generate volume via the direct purchasing of Herbalife products from either the company or their upline.
"Personal Volume" is defined as all volume generated by a distributor and their recruited downline, up until the first qualified "Supervisor" is found in the downline (this is done via a unilevel I believe and is sorted by levels).
"Group Volume" is generated by newly qualified Supervisors who place orders in their first month of qualifying. Group Volume can only be earnt by distributors who are ranked as qualifying Supervisors or above.
Finally for the purposes of rank qualification volume points can be deemed "encumbered" or "unencumbered".
Encumbered points are volume points used by another distributor in your downline for qualification purposes (they can be used by both of you, it's just classified as encumbered). The points that qualify as encumbered are those generated by distributors between a distributor who qualifies as a Supervisor and a Supervisor who is generating 2500 volume points a month.
Unencumbered points are volume points generated by any distributor, counted down to the first qualified supervisor in any unilevel lineage leg (generating less than 2500 points a month total each), as well as a distributor's own personally generated volume.
Senior Consultant Sliding Scale
When a distributor joins Herbalife and starts earning retail and wholesale profit, they do so purchasing product themselves at the wholesale discount rate of 30% (effectively resulting in a 30% commission upon reselling of the products to either recruited distributors or customers).
Via the Senior Consultant Sliding Scale, this margin is able to be increased on a scale to up to 42%. Distributors must qualify for the Sliding Scale, and are able to do so in one of three ways:
Personally purchase a single order worth 400 volume points or more of product or more that month
Personally purchase a total of 800 volume points or more in a month, composed of orders consisting of less than 400 points each (product purchased after the qualifying 800 points is scaled)
Accumulate 400 volume points or more over two consecutive months (failing to qualify under criteria 1 and 2 above), which result in sliding scale qualification for the following third month (it does not apply retrospectively to purchases made during the two qualifying months)
Once qualified for, the scale is tied into total volume (personal + group volume) generated as follows:
0-424 points – 30%
425 – 549 points – 35%
550 – 799 points – 38%
800 – 999 points – 40%
1000 – 1999 points – 41%
2000 – 4000 points – 42%
4000+ points – 50%
Herbalife Membership Ranks
There are three primary membership ranks within the Herbalife compensation plan. Along with their qualification requirements, they are as follows:
Distributor – sign up to the company and pay a joining fee
Senior Consultant – see qualification criteria for sliding scale in "Senior Consultant Sliding Scale" above
Supervisor – generate 4000 volume in a month (1000 unencumbered) or generate 2500 volume for two consecutive months (1000 each month unencumbered)
Supervisor distributor status is an annual qualification, which must be met between February 1st and January 31st of the following year to maintain Supervisor status for another 12 months.
Also note that genealogy wise, a Supervisor who has a Distributor in their downline qualifying to become a Supervisor must be able to match the qualifying Supervisors volume production during their qualification month(s).
If the upline Supervisor is unable to do so, the qualifying Supervisor is shifted up to a qualified Supervisor above their upline who is able to match their volume generation (all future commissions are then paid out to this upline Supervisor).
Royalty Override Income
Royalty Overrides in Herbalife are paid out using a unilevel compensation structure. A unilevel compensation structure places a distributor at the top of the structure, with every personally recruited distributor placed directly under them (level 1).
If any of these level 1 distributors recruit new distributors of their own, they are placed on level 2. If any level 2 distributors recruit new distributors, they are placed on level 3 and so on and so forth.
Using this unilevel compensation structure, a qualified Supervisor Distributor is able to earn an override bonus on the volume generated by Supervisors down 3 levels.
The override is a percentage of the volume generated by Supervisors in these first three levels, with the percentage being determined by a distributor's own total monthly volume generation:
0 – 499 points – 0%
500 – 999 points – 1%
1000 – 1499 points – 2%
1500 – 1999 points – 3%
2000 – 2499 points – 4%
2500+ points – 5%
Note that Supervisors who qualify for overrides must also have made sales to ten individual retail customers for that month (no minimum volume). This is an ongoing monthly requirement for override qualification.
Global Expansion Team
The Global Expansion Team (GET) is the first of three Herbalife membership levels that extend past Supervisor.
GET distributors earn a 2% Production Bonus on the volume of their downline if they generate 5000 volume points for that month. The volume counted uses the unilevel compensation structure outlined above and continues down until another GET or higher ranked members is found.
Additionally GET members also "qualify for vacation and training events".
Qualification for GET distributor status is the generation of 1000 Royalty Override Points for three consecutive months.
Millionaire Team
Millionaire Team distributors are able to expand the Production Bonus to 4% if they generate 3000 volume points and 4000 Royalty Override points in any given month. Failure to qualify results in a 2% Product Bonus being paid out.
To qualify for the Millionaire Team, distributors must generate 4000 Royalty Override points for three consecutive months.
President's Team
President's Team distributors are able to expand the Production Bonus to 7%, depending on their generation of Royalty Override Points:
President's Team (6% Production Bonus) – generate 10,000 Royalty Override points over three consecutive months
20k President (6.5% Production Bonus) – generate 20,000 Royalty Override points over three consecutive months
30k President (6.75% Production Bonus) – generate 30,000 Royalty Override points over three consecutive months
50k President (7% Production Bonus) – generate 50,000 Royalty Override points over three consecutive months
Note that at the Presidential Level the Production Bonus extends beyond the first GET or Millionaire Team Distributor found in a downline. A further 4% Production Bonus is paid out on the downline of a GET Distributor and 2% on a Millionaire's Team Distributor's downline.
Also note that this is an ongoing monthly requirement and that should a distributor fail to reach their Royalty Override point target, they will be paid out at the level they did qualify for (all the way down to the 2% GET Production Bonus rate).
Luxury Bonuses
Luxury bonuses (in the form of jewelry and diamond studded pins are also awarded to distributors, based on annual Royalty Override point generation (15,000 for cufflinks and earnings to 1,000,000 for a diamond watch.
Joining Herbalife
Distributorship costs for Herablife are not provided anywhere on the Herbalife website.
Third party sources have pegged Herbalife distributorship between $60 to $200.
Why Herbalife are not upfront about the cost of becoming a distributor on their website I have no idea.
Conclusion
In conducting the research behind this Herbalife review I came to understand why Herbalife was nailed for being a pyramid scheme in Belgium and, despite not having read Ackman's report, where he was most likely coming from on his claims.
Is it possible that Herbalife is one big giant pyramid scheme?
Absolutely.
Before we get into the Herbalife compensation plan, let me preface by stating that it's not available on the Herbalife website and is extremely poorly presented in a manner I found to be highly disjointed and headache inducing.
I go over countless MLM business models and compensation plans as part of my research for BehindMLM so if I wanted to stab myself in the eyeball with a pen after spending hours making sense of it, I can only imagine what your average new Herbalife distributor must go through.
Seriously, Herbalife's explanation of encumbered and unencumbered volume is enough to do anyone's head in.
For a company that's going into its thirty third year of business I felt this was simply inexcusable. Add to the fact there's no information on how much it costs to join the company as a distributor and I was finding it hard to believe this wasn't all entirely intentional.
The hiding of pertinently important information from prospective members and the general public by MLM companies is an age-old marketing tactic, designed to restrict information flow out of the company unless it is via their preferred channels. In this case, that'd obviously be via a Herbalife distributor looking to sign you up.
In 2013? Not good enough guys.
That aside, the single most problematic issue I see with the Herbalife compensation plan is the complete lack of incentive to sell products at a retail level.
Aside from the upfront wholesale and retail commissions offered, all other commissions and bonuses revolve around point generation, with Herbalife counting both distributor and retail customer purchases the same (they both generate volume points).
As such, aside from the Royalty Override and Production bonuses requiring monthly sales to ten retail customers to qualify, it's entirely possible to set up an endless chain of recruitment, with distributors qualifying eachother via their own product purchases.
No doubt Herbalife will try to explain this away by stating that their distributors go on to sell these products to actual customers, thus counting as retail sales but this is simply not the case.
Distributors are not employees of Herbalife, as per the company's own FAQ:
Aren't independent distributors employees?

No. The more than 2 million Herbalife independent distributors are not company employees; they are independent business people. They choose how and when to operate their own businesses.
As such what they do with the purchased products is entirely irrelevant to analysis of the revenue generation by Herbalife. This is true regardless of whether Herbalife distributors do indeed go on to sell their purchased product to customers, toss it in the bin or resell it to other Herbalife distributors.
All that matter is where the revenue comes from and who is buying the product, which in the case of distributors purchasing the product from Herbalife themselves, would quite obviously be the distributors (internal consumption).
One major area of the Herbalife compensation plan I failed to understand was the ability of new distributors to purchase product from their uplines. Apart from generating commissions for their uplines, I fail to understand the motivation behind purchasing product from one's upline, rather than directly from Herbalife itself.
The glaring flaw in this is that it costs more to purchase from your upline than from the company itself!
Given this, I'm at a complete loss as to why this option even exists.
Even more bizarre is the option for distributors to bypass their own direct sponsor and purchase product from the next qualified Supervisor in the upline. Why on Earth would any distributor feel the need to do that???
Inexplainable as they might be, the existance of both options means it's entirely possible to set up a never-ending chain of recruitment where distributors join Herbalife, purchase hundreds if not thousands of dollars of product (the more they purchase the greater their commission via wholesale discount), sell it to recruited distributors – who then must do the same in order to earn.
Incentives like the "Success Builder" only compound the probability of this happening, offering a 42% wholesale discount if a distributor purchases 1000 volume points of product (once off).
And of course, under the guise of "duplication", all of this would be replicable over and over again with all distributors participating earning commissions off of eachother's purchases.
Retail sales would only come into question to qualify for the Royal Override and Production Bonuses, and even then with only "ten sales a month" required to be made of any value, would most likely wind up being a mere fraction of the internal distributor revenue being generated.
This is precisely what brought down Herbalife in Belgium, after the company unsuccessfully (and rather stupidly) attempted to argue that its distributors were indeed retail customers.
They also unsuccessfully argued that because their distributors went on to sell their internally purchased product to retail customers, these counted as retail sales. Nevermind the fact that proof of this was absent, this is an equally absurd claim to make given that quite obviously distributors purchasing product from the company does not count as a retail sale as far as the company itself goes, regardless of what the "independent business people" do with said product after it is purchased.
Is this happening within Herbalife US or elsewhere in the world?
Now that I can't say but it's no doubt the basis of Ackman's claims and will unquestionably form the basis of the SEC's recently announced investigation into Herbalife.
On the defense side, despite the Herbalife compensation plan being stacked, dollar for dollar towards recruiting distributors who purchase product over selling to retail customers (a once off 50% commission dead end per order), it's entirely possible for distributors to generate the bulk of their commissions by actually selling to retail customers (none of this purchase the product first as a distributor and then resell it nonsense).
Whether or not that's happening? Ackman and his team investigated Herbalife for a year before going public with their claims and no doubt the SEC will be even more rigorous in their investigation.
Simply put, anything than more than 50% of Herbalife's revenue coming directly from its distributorbase (regardless of what happens to the products purchased), puts them in pyramid scheme territory.
Which in itself is kind of worrying when you consider the flawed definition of a pyramid scheme Herbalife themselves use on their website:
4.Isn't Herbalife just a pyramid or Ponzi scheme?

No. Herbalife is not a pyramid or Ponzi scheme. Ponzi schemes are set up to fraudulently generate money for people at the top of a pyramid-shaped organizational structure.

These schemes depend on a constant inflow of new participants to contribute money to the longer-term participants in the pyramid's structure.

Such schemes stay afloat only as long as new members continue to come in and give money to earlier arrivals. Sooner or later, such frauds collapse when they can no longer persuade new victims to keep giving money.

Pyramid or Ponzi schemes are illegal, while multilevel or network marketing organizations such as Herbalife are carefully regulated and are legal business structures that involve the sales of real products of value to consumers.
Consumers yes, but are they distributors or retail customers and is the retail arm of the business providing the majority of Herbalife's revenue?
That's the multi-billion dollar question here.