Cardiffs lose family home, denied Redwood injunction relief

A decision on whether Jason and Eunjung Cardiff are in contempt remains pending, but in the meantime several other motion decisions have gone against them.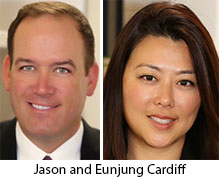 The Cardiffs had challenged a preliminary injunction granted against them in 2018.
The injunction was granted as part of the FTC's consumer fraud case against them.
According to the Cardiff's, they'd discontinued sales to consumers prior to the FTC's complaint. Thus the granted preliminary injunction should be dissolved, allowing them to continue as manufacturers.
The FTC essentially argues the claim Redwood Scientific Technologies had ceased selling to consumers is a lie.
In deciding the matter, the court ruled that whether the Redwood had or hadn't stopped selling to consumers was
relevant to whether the PI should have issued in the first place, not whether the PI should now be dissolved.
The court also stated the Cardiffs' claims with respect to not doing business were "not credible".
Not withstanding if the Cardiffs weren't lying, the court found in any event there was
enough evidence exists to satisfy the standard of a likelihood of recurrence.

Even if Defendants had stopped business operations prior to the filing of the Complaint, the presence of products, shipping boxes, labels, and receipt of an order demonstrates that Defendants were likely to engage in future business operations.
Various other minor arguments by the Cardiffs were also rejected.
Subsequently, the Cardiff's motion to dissolve the preliminary injunction was denied on March 10th.
Another March 10th order approved the Receiver's request to sell the Cardiff's Upland, California family home.
Separately, on March 9th the court scheduled the Cardiff's Redwood trial for July 14th.
A decision on the FTC's show cause contempt motion remains pending, stay tuned…