Poujade's appeal denied, Cardiffs facing contempt (again)

The Redwood Scientific Technologies comedy roadshow continues…
Jacques Poujade's appeal has been denied. And Jason and Eunjung Cardiff are facing contempt for a second time.

Last December Jacques Poujade (right) filed an appeal against a previously granted contempt order.
The contempt order imposed monetary fines running into tens of thousands of dollars, if Poujade failed to adhere to another previously granted monetary and asset surrender order.
Poujade failed to adhere to the order, and in an attempt to get out of the fines an appeal was filed.
Poujade's appeal was unceremoniously denied by the Ninth Circuit on February 27th.
As I understand it, this means Poujade remains in contempt and liable for the contempt order fines.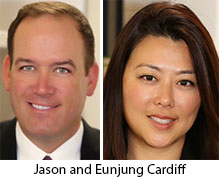 On March 2nd the FTC filed a new show cause motion, accusing Jason and Eunjung Cardiff of contempt.
According to the FTC,
the Cardiffs continue to disobey the Court's Orders by spending on leases for a Bentley, Porsche, and Range Rover, as well as eye-popping credit card bills for nonessential expenses such as private elementary school tuition, restaurant meals, spa treatments and manicures, taekwondo lessons, ride sharing (notwithstanding their multiple leased vehicles), and dog grooming.
Despite spending almost $17,000 a month, the Cardiff's refuse to pay the mortgage on their family house.
As to where the money is coming from, an injunction granted in 2018 was supposed to freeze the Cardiff's assets.
Since the injunction was granted, the Cardiff's fund their lifestyle via
a brand new credit union account funded almost exclusively by regular cash deposits ranging from $3,900 to $10,400 at a time.
Deposits into the account are credited to Jason Cardiff's father, who the FTC states has
admitted under oath that he has not worked for ten years and that he relies on Jason Cardiff to take care of his rent.
Reading between the lines, it's pretty obvious the Cardiff's are spending assets that are supposed to be frozen.
The FTC dragged Poujade into the case specifically on the accusation he assisted the Cardiff's with violating the ordered asset freeze.
The FTC's latest contempt motion seeks to hold the Cardiffs in contempt of the granted injunction.
This is on the basis that
from June 2019 to February 2020, the Cardiffs spent $133,490.59 from this credit union account in violation of the asset freeze, and they refuse to identify and turn over the true source of those funds.
The FTC has asked the court to incarcerate the Cardiffs pending compliance.
Pending a decision on the FTC's March 2nd motion, stay tuned…