Remaining Finiko co-founders wanted by Russian police

Finiko co-founders Edward Sabirov, Marat Sabirov and Zygmunt Zygmuntovich are wanted by Russian police.
The news follows the trio representing they were pawns following Kirin Doronin's orders.
The Sabirovs and Zygmuntovich were initially picked up for interrogation last December.
Information they provided is believed to have lead to Finiko collapsing and Doronin's arrest late last month.
Russian authorities have confirmed the Sabirovs and Zygmuntovich have since fled Russia.
The next step is the arrest in absentia and the international wanted list by Interpol.
These developments follow Doronin flying to Turkey on a bogus passport in early July.
Upon arrival, Doronin set up bank accounts under fake names. He then instructed the Sabirovs and Zygmuntovich to transfer what was left of Finiko investor funds out of Russia.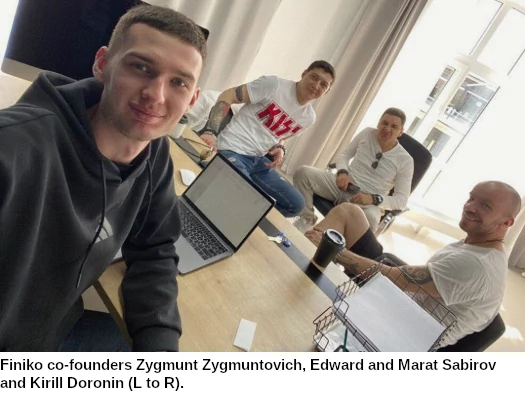 As part of his legal defense, Doronin now claims the Sabirovs and Zygmuntovich have run off with Finiko investor funds.
As reported by RBC, Russia's Ministry of Internal Affairs is conducting their own investigation. As part of that investigation top Russian Finiko promoters are being interrogated.
The Ministry is still deciding whether charges against Finiko promoters will be laid.
Yesterday Doronin fronted the Supreme Court of Tatarstan in his latest bid for release.
Acting on Doronin's suspected ties to organized crime, the court's bailiffs were equipped with bulletproof vests.
Realnoe Vremya reports Doronin's mother provided a statement to the court, agreeing to house him if he was released.
Doronin argued Finiko wasn't a Ponzi scheme because it didn't collapse for three years.
I didn't steal someone else's property by deception.

For three years (Finiko) worked flawlessly, and this is an indicator of serious stability.
In reality Finiko's original CFR Ponzi points scheme collapsed in late 2020. This prompted Finiko to reboot the Ponzi with FNK tokens.
Owing to Finiko having no source of external revenue, forensic accounting will reveal Finiko can't cover every FNK token it has issued.
Rather than acknowledge that, Doronin insists Finiko only collapsed because, as he alleges, the Sabirovs and Zygmuntovich ran off with investor funds.
On July 2, I arrive from Turkey, a couple of text messages [from them], after that they disappear.
Doronin claims he doesn't know where the Sabirovs and Zygmuntovich have fled to.
Citing media reports, Realnoe Vremya have also published (unconfirmed) insight into Doronin's July visit to Turkey.
Recently, blogger Andrei Alistarov's version was circulated in the media that runaway chelnin Erik Gafarov, wanted in the case of the Gafarov and Partners LTD fund, was involved in the kidnapping of Doronin in Turkey and extortion of $ 50 million from his partners this summer.
Doronin was asked about this at the Supreme Court hearing but initially played dumb. When asked about it again, Doronin stated he "was not ready to comment on it".
The Supreme Court denied Doronin's request for release. If convicted Doronin is facing over ten years in prison.