Kirill Doronin denied release, locked up till Nov 28

Finiko founder Kirill Doronin has been denied release from custody.
At the request of the Ministry of Internal Affairs, Doronin will remain locked up until November 28th.
Doronin had petitioned the Vakhitovsky District Court of Kazan for release, on the grounds his wife is due to give birth "in a few weeks".
(Doronin) noted that under house arrest he can be useful to both the investigation and his wife.
The court sided with prosecutors and denied Doronin's application.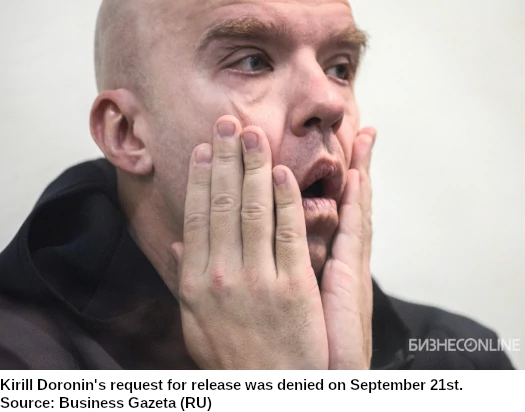 Given what we've seen happen elsewhere, that was probably the right call. MLM crypto scammers with access to significant ill-gotten gains are an obvious flight risk.
Citing unnamed sources, Realnoe Vremya claim Doronin has three houses, three apartments and a "domestic car" in Russia alone.
The additional amount Doronin managed to siphon out of Russia before his arrest in July is unknown.
Realnoe Vremya also report that
Doronin maintains his innocence. To date over three thousand Finiko victims have filed complaints exceeding 1 billion rubes (~$13.7 million USD).
Doronin's co-conspirators, Edward Sabirov, Marat Sabirov and Zygmunt Zygmuntovich, are wanted by Russian police.
The trio are fugitives on the run. Reporting on the investigation into their disappearance, Realnoe Vremya writes;
Investigators established that they left the country on July 6, going first to Belarus, and from there to the Arab Emirates. On August 27, Zygmunt Zygmuntovich, Marat and Edward Sabirovs were arrested in absentia, materials on them were sent to Interpol.
I'd bet everything the Sabirovs and Zygmuntovich have wound up in Dubai.
Probably where Kirill Doronin wanted to flee to after he went back to Russia to collect his pregnant wife and two sons.
Over the past few years Dubai has carved out a reputation for itself as the MLM scam capital of the world.
Russia is one of the few countries the UAE has an extradition agreement with.
Whether that amounts to anything with respect to the Sabirovs and Zygmuntovich though remains to be seen.
Initiated by local Kazan authorities, the Finiko fraud case was transferred to federal investigators in early September.
The Main Investigation Department of Russia's Ministry of Internal Affairs continues to handle the case.