Kirill Doronin facing ten years in prison over Finiko fraud

Following his arrest last Friday, details of Kirill Doronin's criminal charges have been revealed.
Russian authorities have charged Doronin 'under Part 4 of Article 159 of the Criminal Code (fraud by a group of persons or on an especially large scale)'.
If convicted, Doronin faces a maximum ten year prison sentence.
Doronin denied the charges in court, stating 'I do not admit the accusation of fraud and am ready for a reasoned dialogue'.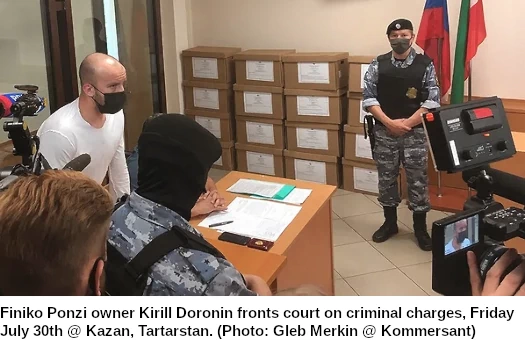 Doronin maintains Finiko never had any investors (yeah, good luck with that defense).
Shedding light on Doronin's trip to Turkey and transfer of Finiko funds from Russia to Turkey, just days before Finiko collapsed, Dornonin's attorney has put forth he's a Turkish citizen.
Doronin allegedly has a Turkish passport under a different name. He also owns real-estate in Turkey, most likely purchased with stolen Finiko investor funds.
Prior to Doronin cleaning out the last of Finiko investor funds, Russian authorities have revealed 'money remaining (in Finiko's) accounts began to "scatter" through crypto wallets since December 2020'.
Experts have been called in to analyze the transactions, however Russian authorities maintain chances of recovery are slim.
Tartarstan investigators claim "more than a thousand" victim reports have been filed across Russia.
Doronin's attorney sought house arrest on the grounds Finiko investors weren't necessarily persuaded to invest in Finiko by Doronin himself.
"I have read the materials on this case and declare with confidence that none of the interrogated victims points to Doronin as a person who has stolen or received money from him.

Moreover, they indicate that they do not know him at all, and point to completely different persons: friends, relatives, who told them that someone is making good money on cryptocurrency, " the lawyer said.
The court rejected the argument and ordered Doronin remanded in custody till "the end of September".
Through Finiko, Doronin is believed to have bilked investors, the majority of whom are in Russia, out of ~$95 million dollars.