Is Tony Rush taking over Liberty League?
This morning when I woke up before writing my previous post I had a routine look around at what had happened in the world overnight and did some brief site maintenance. After I'd written my post I had a quick check on the Liberty League website to see if anything had change.
Something "game changing" was supposed to be announced today so I was curious.
Nothing had changed but I left the website open as I headed out the door for some breakfast to meet up with a friend. When I got back I noticed something strange.
Something I'm sure I hadn't seen before.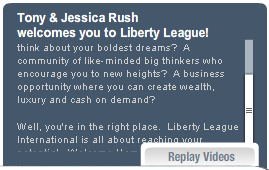 When you open the Liberty League website some random associate of the month videos start playing on the top right of the site.
If you let one of these videos play out (I know it's unbearable but it's ok if you mute it and go do something else while it plays), then you are presented with a welcome message from Tony Rush and his wife.
That's strange, why would an associate be 'welcoming me to Liberty League' on the official website? As far as I knew Tony was just a random associate who happened to do some marketing for the company on the side.
I had a closer look at the site and also saw the 'About me' section, something I don't think I'd seen before either. Upon clicking this your then presented with another spiel From Tony and Jessica that curiously starts off 'welcome to our site'.
Has Tony bought out Liberty League? Is that what the announcement today was supposed to be?
I don't know how long these website changes have been live but they're certainly news to me.
If Tony is taking a more prominent role within the business then it would explain though why Tony tweeted just 24 hours ago about making $100,000 in a day.

I guess when you're in charge the recently introduced new rules communicated in Summit Advisor mastermind calls banning the use of dollar amounts in marketing don't apply to you.
In addition to this in his latest tweet Rush also links back to the main Liberty League website and not his usual personal marketing page.

Liberty League co-founder Shane Krider is still used to welcome people to the Liberty League site so at this stage I'm not 100% on what's going on. I mean if Tony is still just another associate flogging the business, doesn't that seem like a huge unfair advantage being able to advertise right from the official Liberty League website?
Suddenly the playing field for associates doesn't seem so level anymore.
If anyone out there can shed some further light on this I'm all ears.
Update: I'm led to believe the reason I'm seeing Rush's personal messages on the site is due to his Twitter link being an affiliate link which must leave a cookie on the users system.
If I open a new browser window and type the manually type in the Liberty League website and do a hard cache reset it's still 'Tonyfied' so it must be a cookie.
If I open the site in Internet explorer (clean) I get a blank about page.