Liberty League a scam in Oz, Polaris Media Group next?

After being tipped off by OzSoapbox reader Rod late last week that the NSW office of fair trading had classified Liberty League International as a pyramid scheme, I lodged my own complaint and then called them up on Thursday.
In talking to a representative I was told a report had been concluded back on the 5th May, 2009 and that the finding was Liberty League was indeed a pyramid scheme.
When I went public with this information (Liberty League found to be pyramid scheme in Australia) news spread quite quickly. At the time all I had was my word and supporters of Liberty League pushed the point that nothing had been released in writing, nor made publicly available.
In my Thursday call to the office of fair trading I requested a copy of the report be sent to me in the mail. Over the last week I waited patiently for it to arrive whilst a barrage of disbelief attacked me from all directions.
After not receiving anything yesterday in the mail, as promised this morning I again contacted NSW Fair Trading. After looking me up on the system my information was passed onto another department (of which I was unable to get the name of) and told they would be in touch.
A few hours later I held in my hand written confirmation from the New South Wales government that Liberty League is a scam in Australia.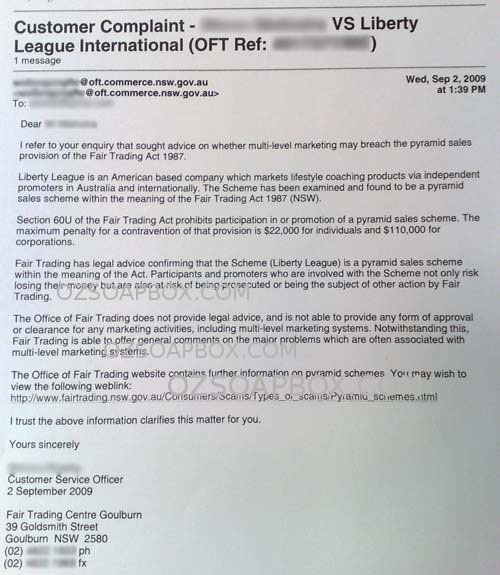 Of particular interest is the paragraph:
Fair Trading has legal advice confirming that the scheme (Liberty League) is a pyramid sales scheme within the meaning of the act.

Participants and promoters who are involved within the scheme not only risk losing their money, but are also at risk of being prosecuted or being of other action by Fair Trading.
You will note this is the exact same quote I referenced a week ago, confirming that I was actually referencing the report as it was read out to me.
The ramifications of these findings are huge. For the last two years Liberty League has been operating in Australia as a pyramid scheme and I'd imagine are now wide open to litigation based on these findings.
Disclaimer: I am not a lawyer and the above is not legal advice, merely my opinion.
Note that the findings haven't been tested in court, but I'd be feeling pretty confident rocking up to court with a government document stating the defendant was running a scam.
Having said that I am not an expert in legal affairs and I urge anyone considering legal action to seek appropriate counsel. As the intended recipient of the above letter I hereby authorise anyone to reproduce, distribute and make use of the document as they see fit.
I have edited out certain identifying markers of myself as well as those of the representative who helped me. For their trouble I'd rather the person I was in communications with isn't bombarded tomorrow by angry Liberty League associates.
Note that there is absolutely nothing stopping anyone from lodging a complaint against Liberty League and accessing the same information I was given. I do acknowledge though that some people have reported they didn't get anywhere when they called NSW Fair Trading.
The only thing I can think of is that I opened up a case via email beforehand and had a reference number to quote each time I spoke to them. Perhaps they need one of these before they can discuss specific companies – although I'm not 100% certain of this.
In any case, the written proof is there. Do with it as you will.
A good start is to contact anyone promoting Liberty League in NSW and forwarding this information to the Fair Trading departments in other states. A list of these departments can be found in 'Reporting Liberty League to the Australian Authorities'.
As an aside I was contacted this morning by a job listing website. They had received legal threats after pulling Liberty League ads and were seeking some clarification on my findings. I'm happy to report that after being reassured I had obtained written proof today, the company will no longer be listing Liberty League advertisements.
Nor will they be listing and Polaris Media Group advertisements in the future either.
This brings us to a very interesting point, does the fact that Liberty League are changing their name to Polaris Media Group completely absolve them of any legal action whilst they traded under Liberty League International?
Again, I'm not a lawyer but I'm tipping it doesn't.
As for the NSW Office of Fair Trading finding Polaris Media Group to be a pyramid scheme, I'm still in communications with the dept over this matter. One of the points I'm attempting to clarify is whether or not this finding carries over to the new company name or if a new investigation will have to be launched.
Thankyou to those readers who believed me, here's to ridding Australia of this scam once and for all.