PlatinCoin Ponzi rebooted as PlatinWorld with PLC Ultima

The PlatinCoin Ponzi scheme has been rebooted as PlatinWorld.
PlatinCoin was a Ponzi scheme launched in 2017 by Ponzi promoter turned founder, Alex Reinhardt.
Reinhardt modeled PlatinCoin on the collapsed SwissCoin Ponzi, which he was a top net-winner in.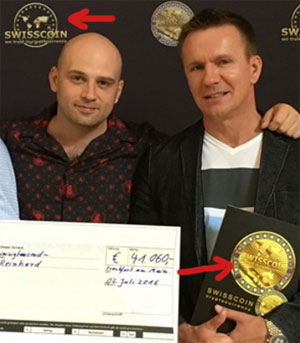 That's Reinhardt on the left, celebrating theft of €94,000 EUR from SwissCoin investors.
Launched as your typical Ponzi points come public exchange exit-scam later, here's how PlatinCoin went after it was dumped on exchanges: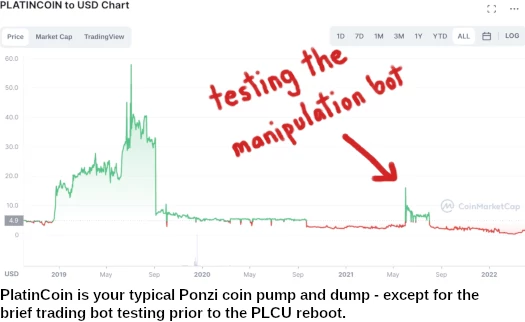 By early to mid 2021 recruitment of PlatinCoin victims had slowed such that Reinhardt decided to reboot his scam.
Enter PlatinWorld, whose website domain "platinworld.com" was registered on June 23rd, 2021.
After a few months of setting up PlatinCoin's reboot, PlatinWorld was officially announced in Dubai in November 2021.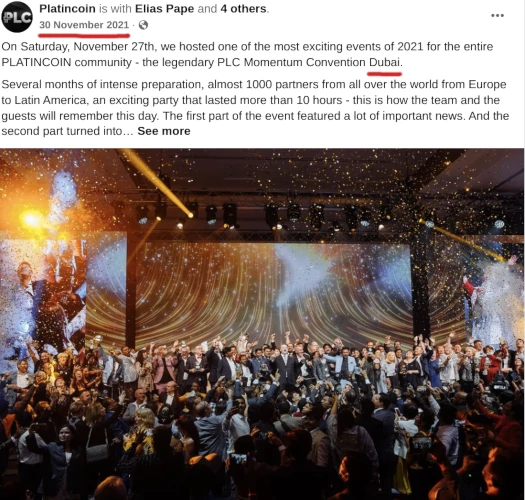 While PlatinCoin's website is still up, effectively the Ponzi scheme was abandoned in favor of PlatinWorld.
PlatinWorld saw Reinhardt launch a new Ponzi coin to scam people with, PLC Ultima.
Evidently aware Ponzi scam reboot coins tend to fare worse than their predecessors, PLC Ultimate currently has a hilarious public trading value of almost $60,000.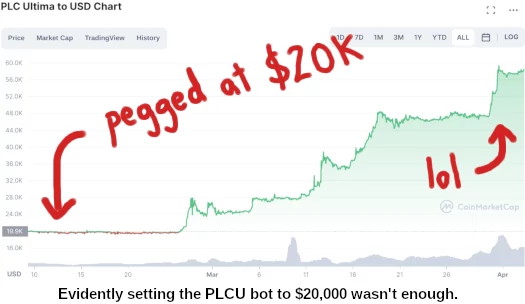 You can see the manipulation began around November, pegging PLCU to around $20,000. That's increased and been fine tuned to the current $58,684 value.
Should anyone withdraw even a modest amount of held PLCU, or the wash trading bot is turned off, the subsequent dump will be pretty epic.
Beyond wanting to reboot his Ponzi coin, Reinhardt's marketing story behind PlatinWorld is pretty lazy.
A community for enthusiasts of disruptive blockchain technology

Our technical team is actively analyzing the crypto market and developing their own unique solutions which have helped people all around the world to transform their lives!
On the promotional side of things, based on website traffic estimates from Alexa, PlatinCoin bagholders are in Germany (24%), India (17%) and Mongolia (14%).
Although it was launched in late 2021, PlatinWorld recruitment only picked up around January 2022. As per Alexa web traffic estimates again, PlatinWorld is being pushed in Germany (24%), Russia (17%) and Mongolia (14%). Not sure why India dropped off in favor of Russia.
There's no direct mention of MLM on PlatinWorld's website, but it appears PlatinCoin's MLM opportunity has been carried over:

The top scammer promoting PlatinWorld is German citizen Elias Pape.
Pape jumped into Ponzi scamming from Kyani. He was with Alex Reinhardt in SwissCoin and jumped over to PlatinCoin at launch.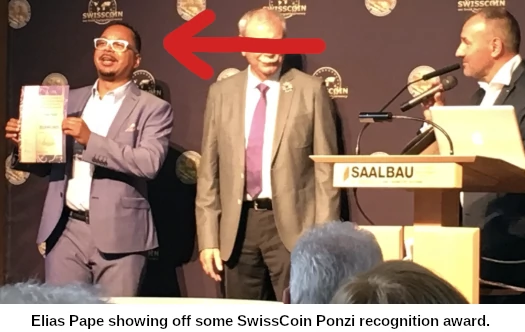 Together with Reinhardt, Pape appears to have fled Germany for Dubai.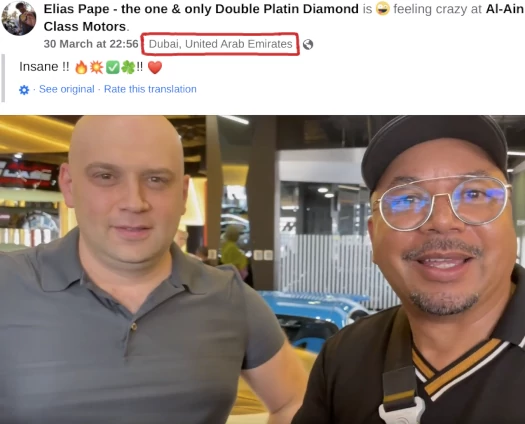 Dubai is the MLM scam capital of the world. Due to limited extradition agreements and non-regulation of MLM related securities fraud, the emirate provides a safe-haven to scammers.
With respect to MLM due-diligence, any company, executive or promoter operating out of Dubai raises an automatic red flag.
For the time being gullible PlatinWorld investors are likely being recruited on PLCU's manipulated public trading value. It looks good on paper but obviously isn't backed by anything.
Be it scammers like Elias Pape cashing out PLCU or PlatinWorld recruitment collapsing (again), PlatinWorld's house of cards crashing down will result in the majority of investors losing money.
Update 23rd May 2022 – A reader wrote in to ask about "Ultima Farm", running from "ultimafarm.com".
Ultima Farm is part of Reinhardt's PlatinWorld Ponzi scheme.
Through a smart-contract, investors are promised
monthly minting over the course of 12 to 36 months. The process is entirely on the PLC Ultima blockchain.
Specific PLC Ultima investment terms are not provided.
Ultima Farm is being run through Platinex LLC, a Georgian shell company.
Update 16th October 2022 – BehindMLM has published a separate article covering Ultima Farm and PLCUX.
The article notes PlatinWorld and PLCUX have effectively collapsed.
Update 30th November 2022 – Platin World has disabled PLCU withdrawals.