Platin World collapses, PLCU withdrawals disabled

Alex Reinhardt's Platin World Ponzi scheme has collapsed.
A visit to Platin World's website and social media pages suggest nothing is amiss. Instead, investors were informed of the collapse through PLC Ultima's official Telegram channel.
As per a November 29th post to the PLC Ultima – English Telegram group;
Due to important system training work, PLCU withdrawals and coin transfers between wallets will be suspended in mobile apps.

It may take the team up to two weeks to complete everything. All PLCUX operations are carried out as usual, including payments and transfers, entering into the minting contracts. PLCU transfers are only available to your own farm and back.

Also, all payment methods, PLCUX and PLCU exchange, as well as PLCUX, BTC and USDT withdrawals are still performed.
In a nutshell, existing withdrawals that haven't been cashed out are still available – new withdrawals are "suspended".
Christmas time is typically when Ponzi schemes see a rush to withdraw, so the timing of PlatinWorld collapsing isn't coincidental.
The game plan seems to be suspend withdrawals for a few weeks,  and hope enough new investment comes in to keep PlatinWorld going into 2023.
And Alex Reinhardt might just pull it off.
SimilarWeb tracked 1.4 million visits to Platin World's website in October 2022, up from 647,000 visits in September.
21% of Platin World's website traffic is from Germany (flat-lined), 18% is from Portugal (up 132% month on month), 11% from Italy (down 50% month on month) and 11% from Russia (down 39% month on month).
In addition to Portugal, Platin World recruitment is also taking off in Switzerland. Keep in mind this is from October though, and Platin World recruitment could have collapsed since.
Either way, whatever is coming into Platin World obviously isn't enough to cover withdrawals – and being a Ponzi scheme, Platin World's withdrawal liabilities will only get worse.
Platin World is a reboot of Reinhardt's PlatinCoin Ponzi scheme. Same schtick, different Ponzi coins; PLCU and PLCUX.
PLCU is tied to Platin World's traditional Ponzi pump and dump. PLCUX is used for Ultima Farm 12 to 36 month investment contracts.
PLCU is heavily manipulated with bot trading, reaching an initial pump of $104,805. That was back in April. Ponzi withdrawal pressure has since seen PLCU's artificially inflated value plummet to $1288.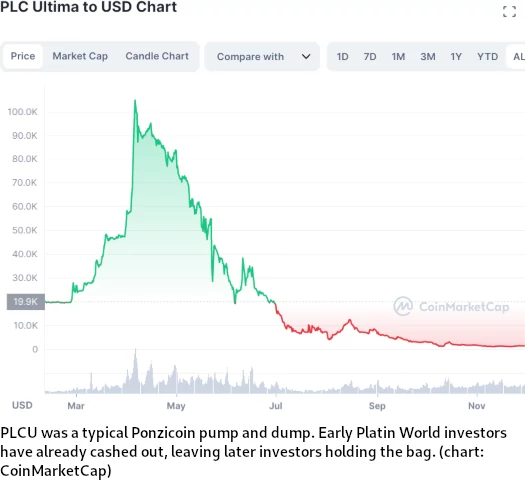 As Platin World investors learnt on November 29th, the actual value of PLCU is $0. For whatever baloney amount it's going for, PLCU can only be withdrawn if Alex Reinhardt says so.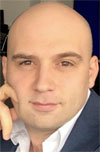 Reinhardt (right), a German national, fled Germany for Dubai after PlatinCoin collapsed.
Dubai is the MLM crime capital of the world. The emirate provides safe-haven to many MLM Ponzi schemes and the scammers who run them.
Thus far Platin World has thus far only attracted the attention of regulators in Mongolia. German authorities, namely BaFin, are particularly lazy when it comes to regulation of MLM related securities fraud.
Update 6th January 2023 – Alex Reinhardt has rebooted PlatinWorld with a "new" PLCU Ponzi token.