PlatinWorld & PLC Ultima fraud warning from Mongolia

PLC Ultima has received a fraud warning from Mongolia's Financial Regulatory Commission.
PLC Ultima is part of Alex Reinhardt's PlatinWorld Ponzi scheme.
As noted by the FRC on April 22nd;
As financial markets expand and products and services become more sophisticated, mechanisms such as financial fraud, fraudulent schemes, and multi-level financial pyramids evolve and become more difficult to identify.

However, the common denominator of these fraudulent schemes is that they allow for risk-free investments in the short term, promises of high returns, and incentives to recruit people through membership.

As financial fraud increases, the number of victims increases and only the first few investors or initiators benefit, so it is important for countries to establish a system to prevent, detect and stop them in the short term.

One example in Mongolia is the Platinum Coin (PLC) scheme, which persuades citizens to obtain official approval from the FRC, raises financial resources, provides bonuses for recruitment, and promotes the highest number of members.
PlatinWorld is a reboot of Reinhardt's PlatinCoin Ponzi scheme.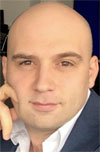 Reinhardt (right) solicits investment into PLC Ultima (PLCU), on the promise of passive returns.
Neither PlatinWorld, PLC Ultima, PlatinCoin or Alex Reinhardt are registered to offer securities in Mongolia.
Alex Reinhardt, the company's chief executive, previously owned SwissCoin or Platinum Coin is believed to have been one of the major members of the bankrupt Ponzi scheme shortly after its emergence.

Warnings and statements have been issued by financial regulators in other countries.

Platinum Coin Consumers believe that it operates through a number of umbrella companies around the world, including Dubai, Switzerland, Hong Kong and Slovenia.

Platinum Coin and PLC Ultima do not have any licenses or registrations from international organizations or foreign financial regulators due to their high risk nature and lack of investment in it, as well as the possibility of fraudulent schemes.
The FRC goes on to warn Mongolian residents that, due to Reinhardt operating his Ponzi scheme offshore, they are on their own when PlatinWorld and PLC Ultima collapses.
As covered in our article noting the PlatinCoin to PlatinWorld transition, Reinhardt operates his Ponzi scheme from Dubai.
This is not a coincidence, with Dubai being the MLM scam capital of the world.
Reinhardt is believed to be a German citizen. Additionally, Alexa ranks Germany as the top source of traffic to PlatinWorld's website (19%).
Despite PlatinCoin originally being launched in 2017, to date German authorities have taken no action against Reinhardt or his scams.
Update 16th October 2022 – PlatinWorld and PLCU are collapsing, prompting Reinhardt to reboot again as PLCUX.