Pedro Fort owns $1.2 million Miami mansion (Fort Ad Pays)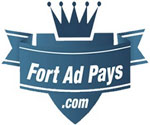 Last month saw the collapse of Fort Ad Pays, a Ponzi scheme launched by Pedro Fort in 2014.
Now an investigation into Pedro Fort by El Pais has, among other things, uncovered Fort owns a $1.2 million dollar Miami mansion.
Fort Ad Pays' collapse is estimated to have affected some 40,000 investors in the scheme.
With authorities from any specific country yet to move against the scheme, estimating total investor losses has been sketchy. A figure commonly reported is between $10 to $20 million.

Of that, Pedro Fort (right) purportedly withdrew at least $2.1 million dollars from the Fort Ad Pays. This easily makes Fort the largest net-winner of the scheme.
The Miami property Fort purchased
is located in an exclusive development with golf courses and (is) surrounded by lakes. The mansion, 500 square meters, is built on a shore on a plot of over 2,300 square meters and has five bedrooms, four bathrooms, a library and a gym or playground.
Fort purchased the property in February, 2015 through Fort Marketing Group LLC.
Fort Marketing Group LLC is incorporated in Florida, and is just one of seventeen known shell companies associated with the Fort Ad Pays Ponzi scheme.
The Fort Group is a conglomerate of 17 companies, nine domiciled in Florida, three in Spain (domiciled in Barcelona), two in the Dominica and one in Costa Rica, Panama and Colombia.
Fort has purportedly established a bank in Dominica, 'which under the law of the tax haven is required to maintain a minimum of one million dollars in funds to keep its banking license'.
Fort has also purportedly taken up Dominican citizenship.
Separately, Diaro Extra is reporting that Pedro Fort is under investigation by Spanish and US authorities.
Fort's current whereabouts are unknown.